These Banana Donuts are soo good! They're baked, making them really easy, they taste just like banana bread and have a cream cheese glaze.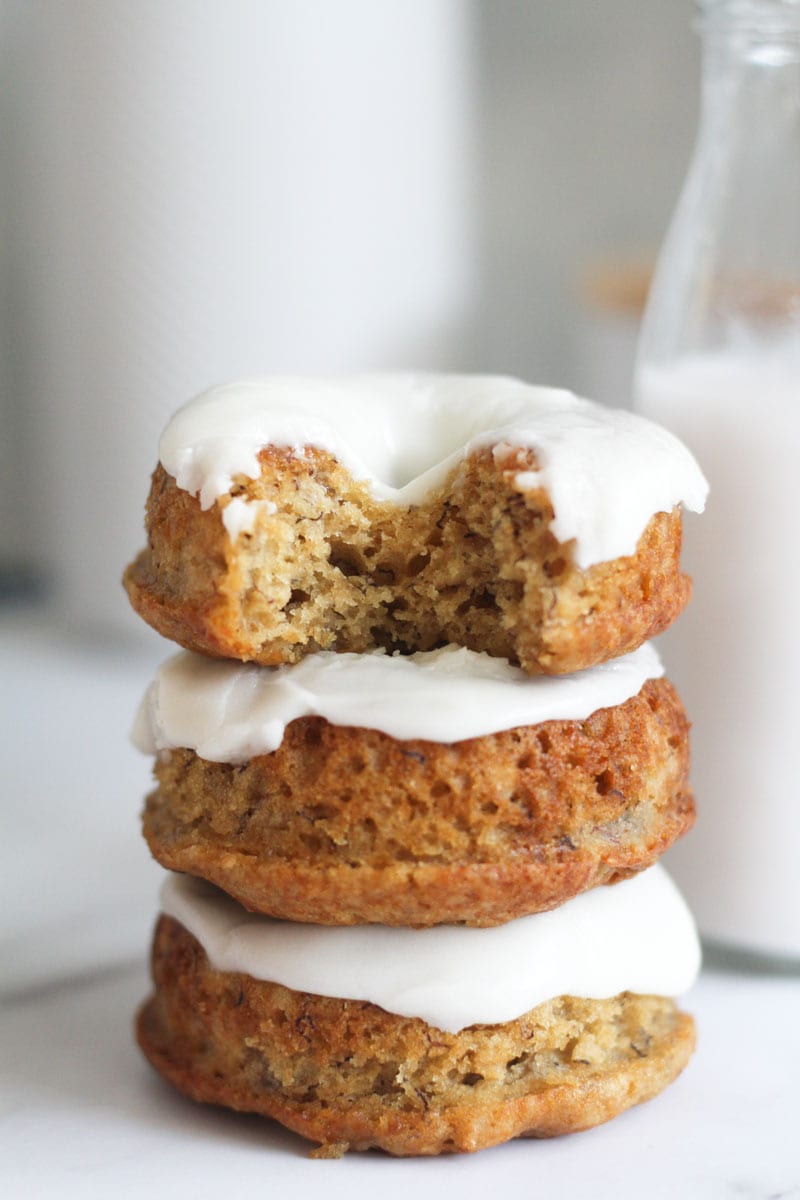 If you love donuts and would like to try more recipes, check out my Cardamom Donuts, Baked Cinnamon Sugar Donuts, Caramilk Donuts or for something a little more fruity my Raspberry White Chocolate Donuts.
If you love bananas try my Easy One Bowl Banana Bread, Biscoff Banana Bread or Banana Chocolate Chunk Muffins.
Why these Banana Donuts are great!
The banana bread donut batter is made in one bowl.
They're easy baked banana donuts so they're yeast free and don't need to be fried in oil.
They taste just like banana bread, a perfect special treat.
They delicious donuts have a soft fluffy texture.
Perfect for using up overripe bananas.
The fun donut shape means they're a little bit fancier than your average banana bread.
Kitchen tools needed.
Donut pans: I use 2 silicone pans with 6 holes in each. A metal donut pan will work too, spray it well so the donuts can be removed easily.
Bowl and whisk.
Cooling rack
Ingredients needed for the Banana Bread Donuts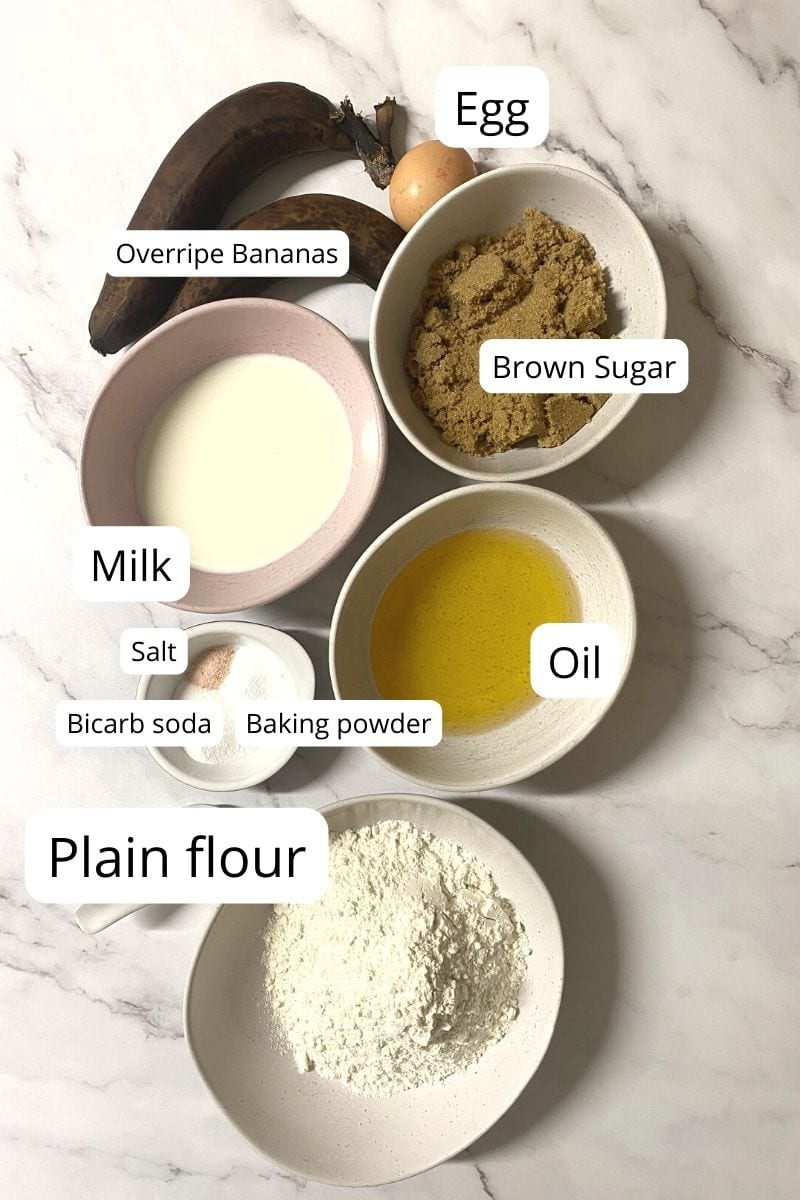 Overripe Bananas – they skin should be nice and brown and easy to mash
Egg – take this out early so it's at room temperature
Brown Sugar
Oil – use a flavourless oil like sunflower, canola or rice bran so it you can't taste it in the donut
Buttermilk – you could use milk instead
Vanilla extract
Flour – plain / all purpose flour measured correctly
Baking powder – to help the donuts rise
Bicarb soda
Salt – just a pinch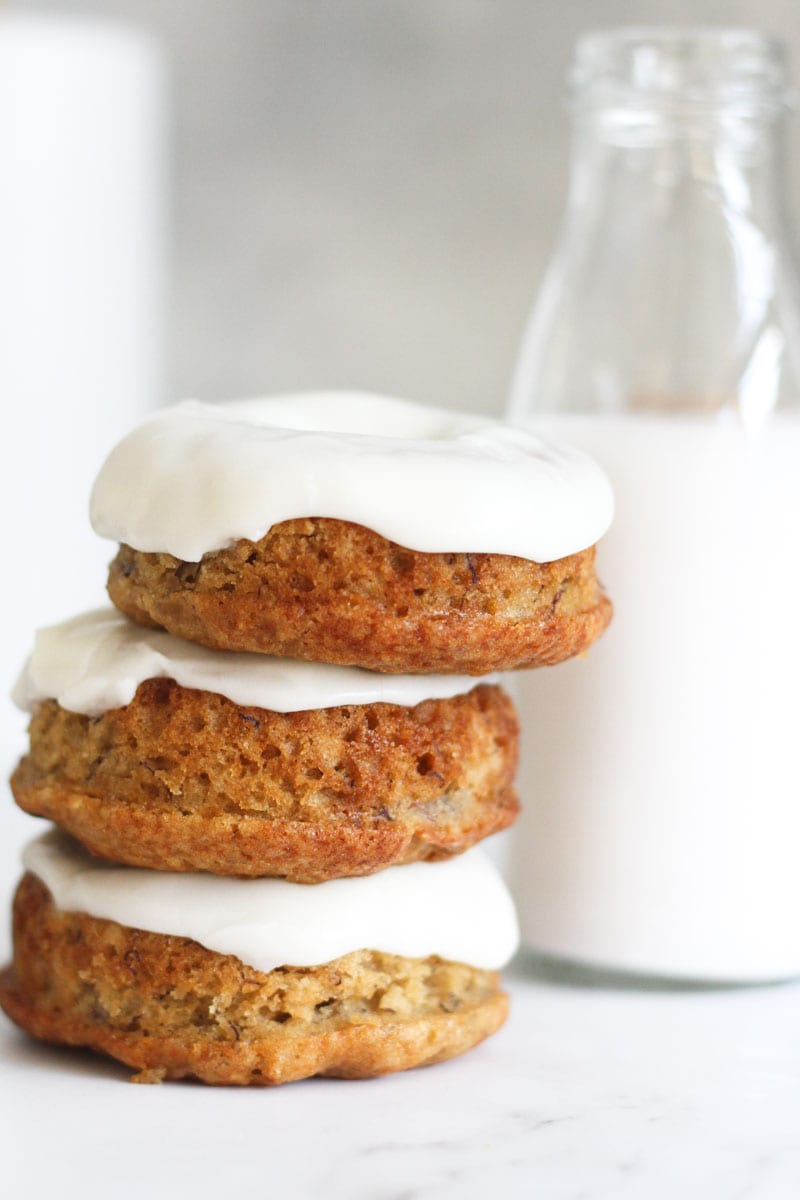 How to make Banana Donuts?
Full recipe with list of ingredients, measurements and instructions for this Banana Donut recipe is at the end of this post in the recipe card.
1: Preheat oven to 180c and give a 12 hole donut pan and spray with cooking spray.
2: Mash the bananas in a large bowl.
3: Add milk, egg, oil, vanilla and brown sugar to the mashed bananas. Whisk well until everything is combined.
4: Add the flour, baking powder, bicarb soda, salt. Gently mix the batter until it just comes together but don't over mix the batter as it can cause dry donuts. Scrape down the sides and bottom of the bowl to make sure the flour mixture is all mixed through.
5: Fill each donut mold with batter nearly to the top and place in the oven. Bake for 15-20 minutes until a skewer or toothpick comes out clean. It's best to place the skewer closer to the donut hole section as that tends to be the thickest part.
Ingredients needed for the Cream Cheese Glaze.
Powdered sugar (icing sugar/mixture) – if the sugar doesn't contain added starch, it will need to be sifted well first.
Cream cheese – softened
Milk
How to make Cream Cheese Glaze?
Combine the cream cheese, powdered sugar and milk in a medium bowl. Mix well until there are no lumps of powdered sugar.
Place the donuts on a piece of baking paper or a wire rack. Using a spoon evenly drizzle the glaze onto the donuts.
Other topping or add in suggestions
Chocolate glaze – banana and chocolate make such a great combo, this would be delicious.
Biscoff – I have a biscoff banana bread recipe, and a biscoff donut recipe, why not combine the 2 for extra deliciousness
Dark chocolate – this would be great added as chips, or even as a ganache drizzled on top.
Chocolate chips – added into the batter.
Peanut Butter Glaze – another great combination.
Melted Chocolate – for a simple topping, you could just melt some chocolate to drizzle on these donuts.
Cinnamon Sugar Coating – this would taste delicious, you can follow the instructions in my Cinnamon Sugar Donuts, if you'd like to coat these as well.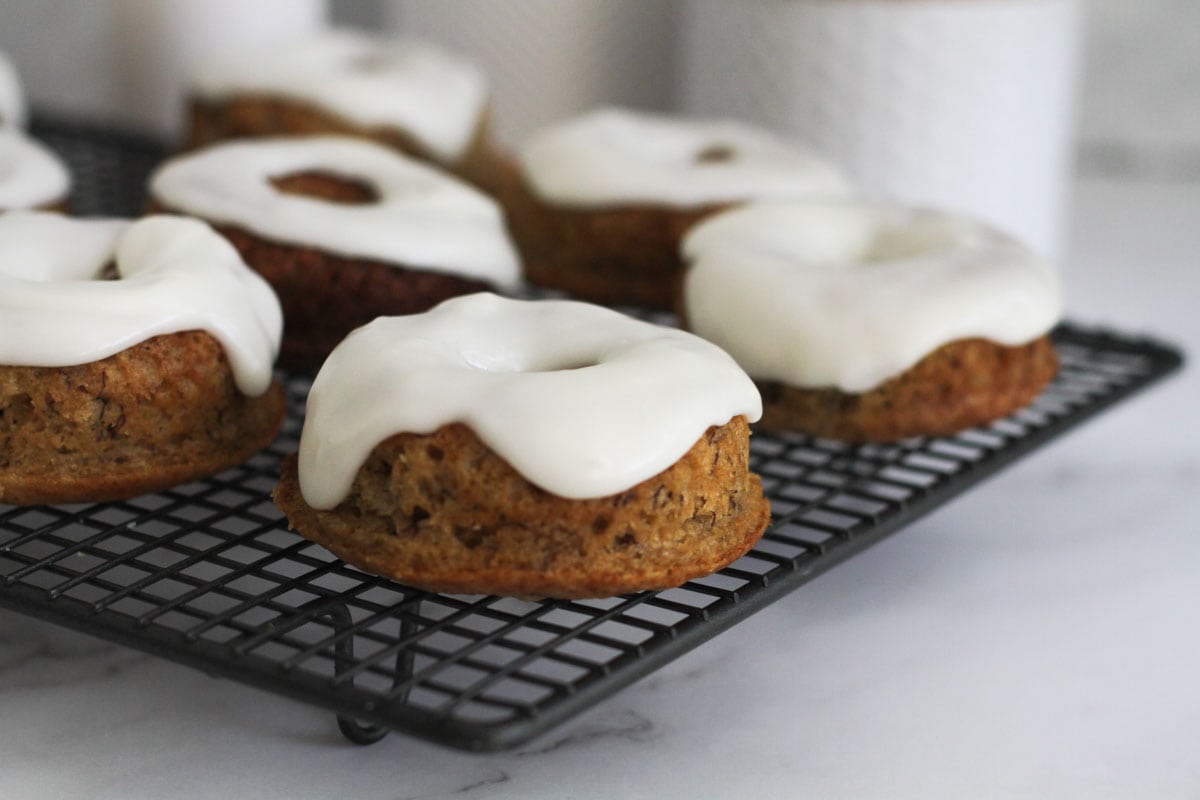 Tips and Tricks for making baked homemade donuts
Use room temperature ingredients
Using room temperature ingredients will ensure everything mixes well and incorporates together.
Measure the flour correctly
Measure flour by fluffing up the flour with the cup scoop before scooping up the flour, this will ensure the flour has aerated so the cup doesn't get packed with excess flour.
Don't overmix the batter
Baked donuts are a lot like muffins, the recipe works best if you don't over mix the batter. Over mixing can cause the donuts to be dense instead of light and fluffy.
Dipped or drizzled
I prefer to drizzle these donuts with the glaze instead of dipping them because they're so light and fluffy that dipping can cause some breakage.
Use a silicone donut pan
I find these to be the easiest to use and to remove the donuts from.
More Recipes to Enjoy
What can I use if I don't have a pan with donut holes?
You can make these in a regular muffin pan or even mini muffin pans. They may take a be a minute or 2 quicker in a regular muffin pan and about 5 mins quicker for mini muffins.
How do I store banana donuts?
These donuts can be stored at room temperature in an airtight container for 3-5 days. Do not store them in the fridge, this can dry the donuts out. The donuts can be frozen without the glaze for 1 month in an airtight container. Remove them and let them come to room temperature, 60-120 minutes. Make the glaze fresh and drizzle onto the donuts.
Do I need a silicone donut pan?
No, a metal one will work as well, but it can sometimes be harder to remove the donuts. Spray the pan well and let the muffins cool down completely. If they're stuck, use a spoon or palette knife gently around the sides to release the donuts.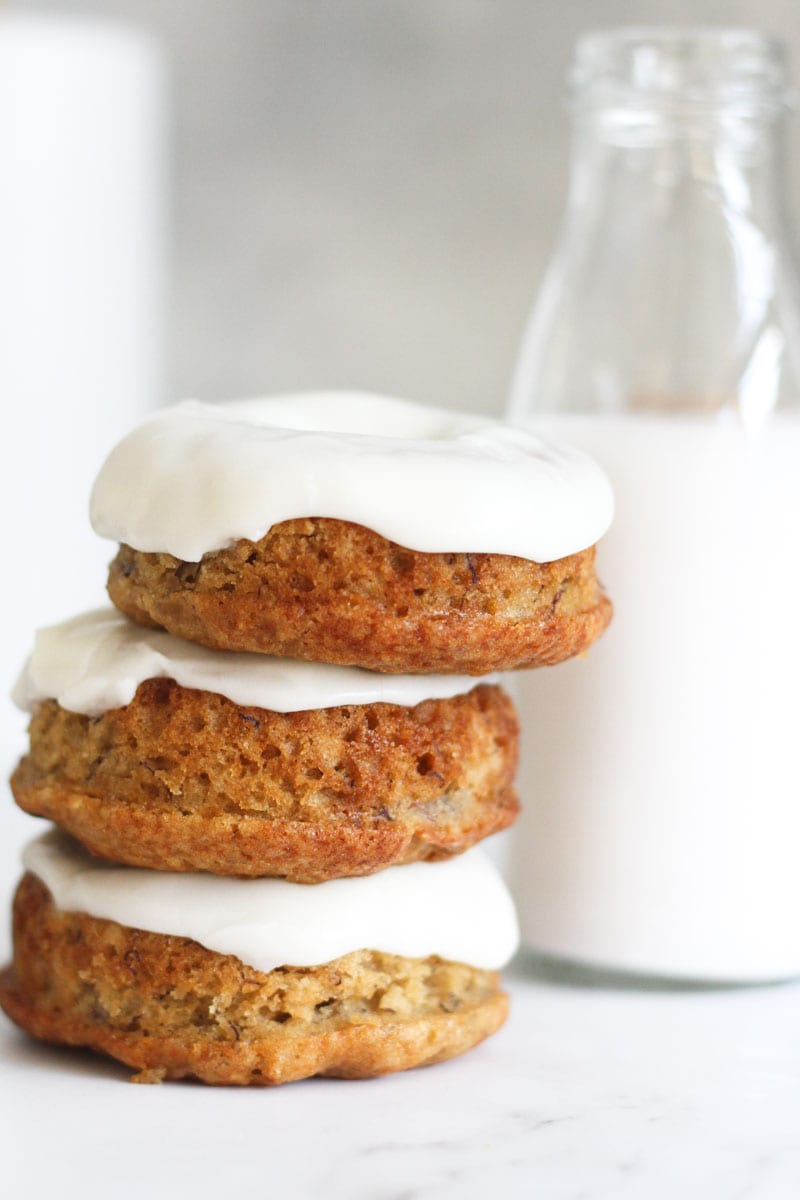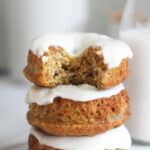 Print Recipe
Banana Donuts
Equipment
Bowl

Donut pan

Utensils (whisk and spoon)
Ingredients
2

Bananas

(large, overripe)

1

Egg

½

cup

oil

½

cup

buttermilk / milk

1

cup

brown sugar

1 ½

cups

all purpose flour

1

tsp

bicarb soda

1½

tsp

baking powder

pinch

salt
Cream Cheese glaze
1

tbsp

cream cheese

softened

1

cup

powdered sugar

1-3

tbsp

milk
Instructions
Preheat oven to 180c/350F.

Line the loaf pan with parchment/baking paper and a light spray of spray oil.

Peel bananas and place in bowl. Use a fork or whisk to mash the bananas well until there are no large chunks.

Add in the egg, oil, buttermilk / milk and brown sugar. Whisk well.

Add in the rest of the ingredients (flour, bicarb soda, baking powder, salt).

Mix well until the mixture just comes together and there are no longer any clumps.

Pour the batter into the donut pan.

Banana donut is is done when you place a toothpick in the thickest part and it comes out clean.

Allow to cool down completely.
Cream Cheese Glaze
Combine the cream cheese, milk and powdered sugar in a bowl.

Mix well until combined. Add addition milk to smoothen and loosen the glaze. The glaze should be thick like pancake batter so it is easy to spread.

Place the donuts on a wire rack or parchment paper. Spoon the glaze onto each donut. Set aside for the glaze to harden.
Notes
Storage: Banana bread can be stored in an airtight container for 3-4 days at room temperature. Banana bread can also be stored in the freezer for 3 months. Wrap it well and place in an air tight freezer safe container. 
Nutrition
By