About 8 years ago I was in Malaysia, we had arrived there late one night from India after my sister in laws wedding. We were travelling with my in laws and our 1 year old son. It was late, we were hungry and the only option was snacks from a convenience store, not the best for hungry, tired travellers but it was all we could get, so we ate and went to bed.  I remember clearly waking up the next morning and rushing down to get breakfast, we weren't staying in a place that offered it so we sought out the closest coffee shop, a Starbucks. I ordered their Chocolate Chunk Banana Muffin and my son and I inhaled it (Mr Munchies is not a breakfast person). It was a good muffin.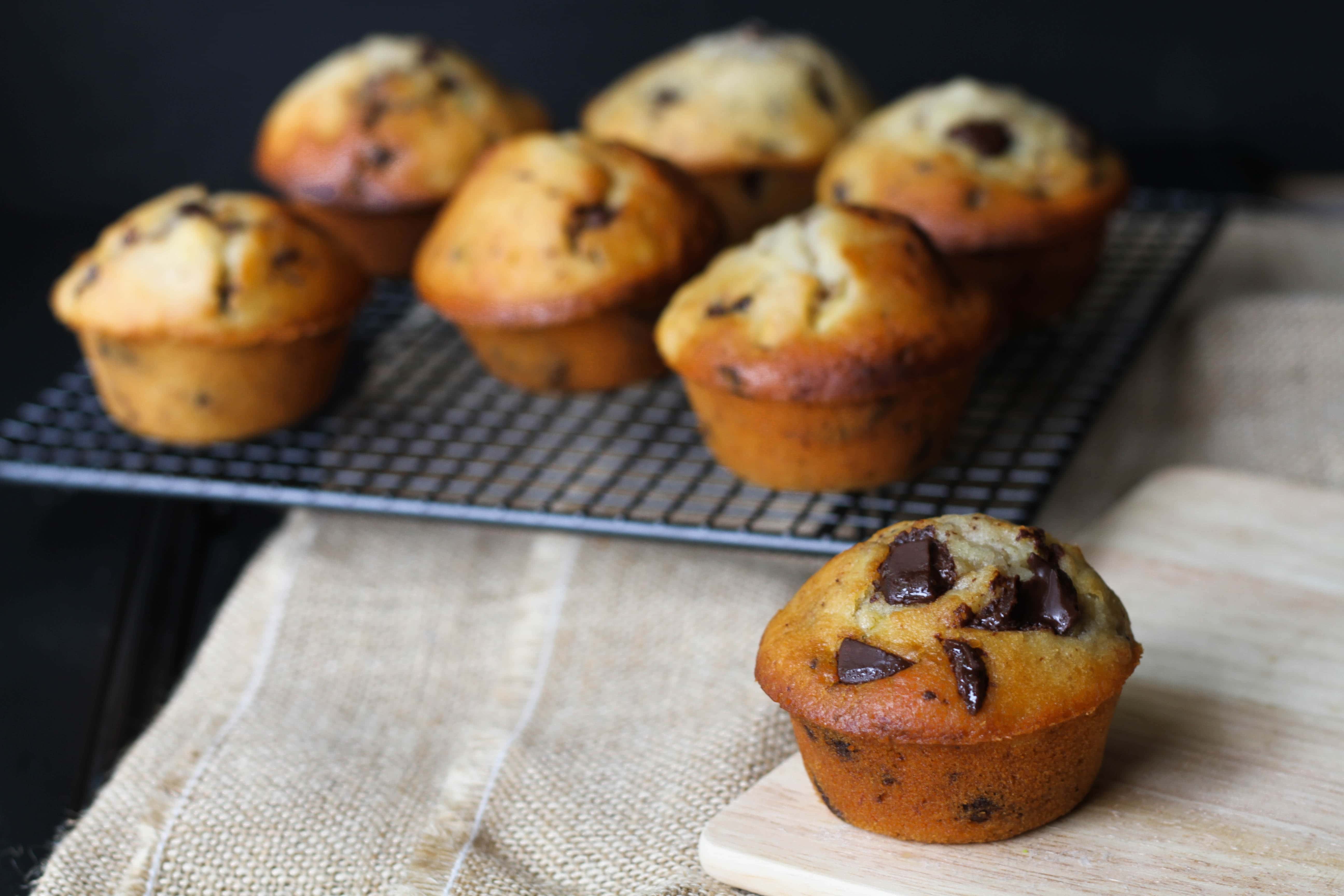 I had been wanting to recreate one since that day I tried it. A few years ago I had the opportunity to contribute to an eBook with recipes from Australian food bloggers. I knew this was the recipe I wanted to contribute. Unfortunately, the book never worked out and this recipe and it's photos were retired to a hard drive from a laptop changeover, never to be seen again. That is until I had to go through my old hard drive to find some old pictures. I couldn't believe this recipe had been lost along the way and I wanted to get it on here as soon as possible.
I noticed my photography style has changed a lot since then, but I do still love how these photos turned out, especially for someone who was still learning the ropes and fumbling her way through her photography. Was? Actually I still am. We're always learning.
These aren't an exact copy of those faithful Chocolate Chunk Banana Muffins, I think the original were chocolate chip, but the ooey-gooey big chunks make them so delicious if not better. Make them one night so you can wake up hungry and inhale them like I did, totally worth it!
Print Recipe
Chocolate Chunk Banana Muffins
Chocolate Chunk Banana Muffins Serves: 12
Ingredients
2

overripe bananas

1 2/3

cups

flour

2 1/4

teaspoons

baking powder

3/4

sugar

1

tsp

vanilla essence

2/3

vegetable oil

2

eggs

1

cup

milk

200

g

1 1/2 cups dark chocolate (you can use milk chocolate or chocolate chips if you prefer)
Instructions
Preheat your oven to 180c and line or grease a 12 whole muffin pan.

In a large bowl mash your bananas well.

Add in the oil, vanilla essence, egg and milk.

Add all your dry ingredients into a bowl and mix lightly with a whisk until smooth and just combined.

Chop your chocolate into chunks.

Throw in your chocolate and fold in gently until the chocolate is well dispersed through the mixture.

Spoon your mixture to the top of each muffin whole.

Place in the oven for 15-20 mins or until a skewer comes out clean.

Let the muffins cool in the pan.

Once cooled gently remove. Store in an airtight container.
By