You'll love these Pistachio Macarons filled with a pistachio buttercream filling. They're made using the french macarons method, so they're easy to make. The pistachio filling is full of pistachio flavor, making these so, so delicious.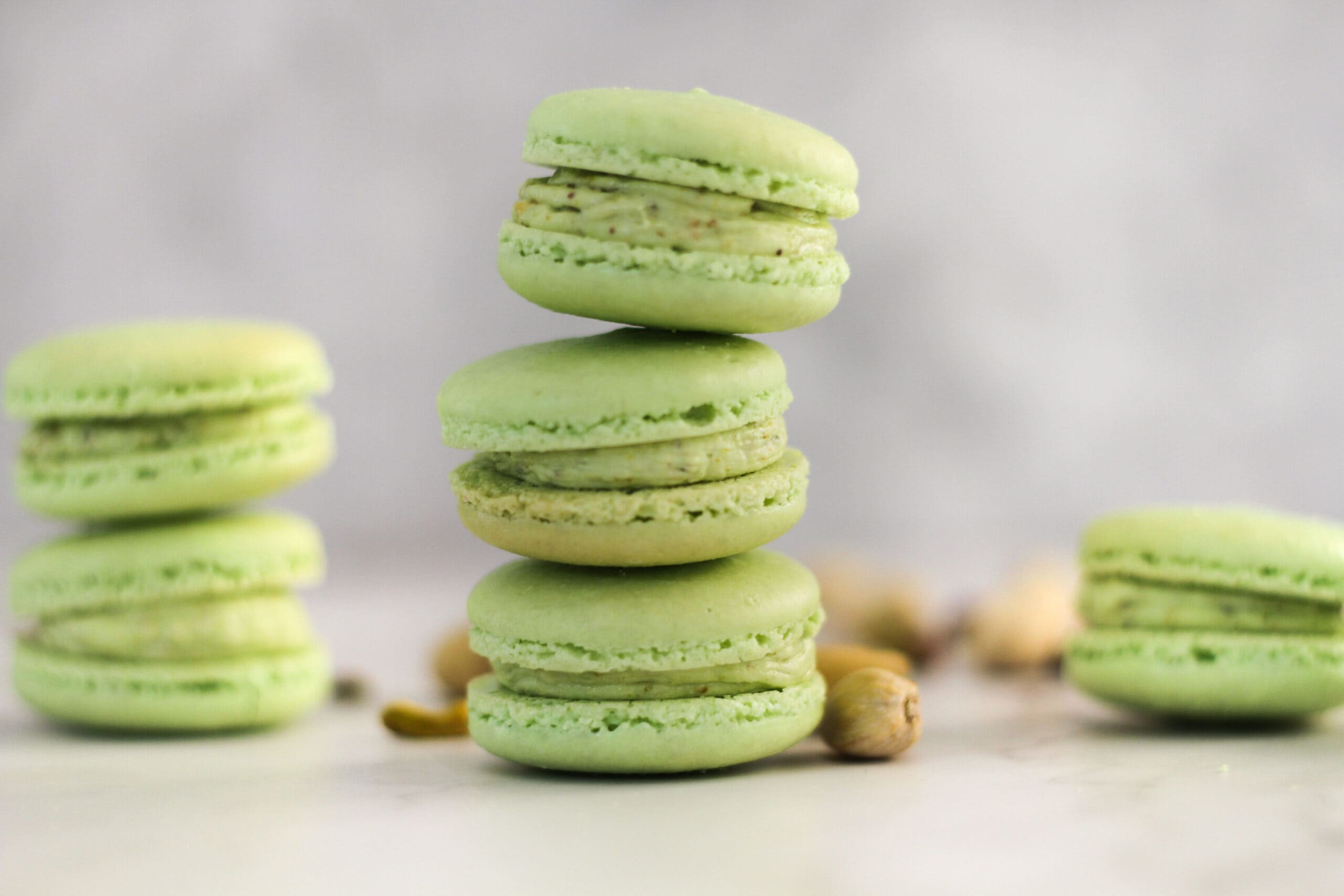 I love making macarons, it's possibly my favourite dessert to make and eat. Pistachio Macarons are actually close to my heart, when I first started making (and failing) macarons, pistachio filled was the first attempt that I actually got right. They're great to try for your first time making homemade macarons, there isn't any extra ingredients in the shell (aside from colouring), just a delicious pistachio buttercream filling for the macarons. Be sure to read the post for my tips and tricks for getting your macarons right. Macarons are actually quite easy to make but they can be temperamental. Hopefully the tips below will help you perfect your pistachio macarons at home.
Main Ingredients you'll need for this Pistachio Macaron Recipe?
Egg whites
Granulated sugar (superfine/scastor sugar)
Powdered sugar (icing sugar)
Almond flour /Almond meal
Yellow and green gel food colouring
Ingredients you'll need for Pistachio Buttercream ?
Unsalted butter
Confectioners/icing sugar
Roasted ground pistachios
Vanilla extract
Dot of green food coloring (use gel coloring)
Kitchen tools needed?
Large bowl (glass or metal)
Stand mixer or electric hand mixer with whisk attachment
Rubber Spatula
Fine-mesh Sieve
Standard size or small food processor (optional)
Parchment paper / baking paper or silicone mat
Flat cookie sheets (baking sheets)
Kitchen Scale
Pastry bag
Oven thermometer (optional) – I personally don't use one (yet), but they can be handy as home ovens have hot spots and don't always bake evenly
How do I make Pistachio Macarons?
Important steps are listed here, make sure to also read the recipe card at the end of this post as well as the Tips and Tricks section below for best results.
Step 1: Measure ingredients
Measure the castor/granulated sugar, almond meal and powdered sugar.
Step 2: Sift or process
Use a food processor to grind the almond meal and powdered (icing) sugar together. Alternatively in a separate bowl sift the almond meal and powdered sugar once when measured and a second time when being added to the meringue. Discard the larger bits of almond when sifting.
Step 3: Make a meringue
Whisk the egg whites on a low speed to start until it becomes foamy. Change to a medium to high speed and slowly add in the sugar until the meringue is stiff peaks form and the mixture looks glossy.
Step 4: Macronage
Macronage is the step if turning the meringue and almond meal into the right texture batter that enables it to pipe and bake well. Sift the almond meal and sugar into the meringue. Fold gently until the mixture the dry ingredients are incorporated into the meringue, making sure to fold and mix any meringue at the bottom of the bowl. To check the macronage, form a figure 8 with the spatula a few times, it should have the right flow to be able to do so without breaking easily.
Step 5: Piping
Fill the macaron batter into a piping bag fitted with a round piping tip (or cut the edge of the piping bag). Pipe 1 inch circles (3.5 cm) onto parchment paper/baking paper and set aside to rest, before baking. You can also use a silicone mat. Bang the tray lightly on a flat surface to remove any air bubbles
Step 6: Baking
While the macarons are resting preheat the oven 300 degrees f / 150C. Place the tray with the pistachio macaron shells in the oven and bake for 15-20 minutes.
How do I make Pistachio Macaron Buttercream Filling?
Place the butter and powdered sugar in a bowl of a stand mixer. Beat until smooth, add in the crushed pistachios, vanilla and a little bit of green gel colouring. Beat until smooth, a teaspoon of milk can be added to the buttercream to smooth it out further if it's too stiff. Fill into a piping bag and pipe a little mound into the one side of each macaron shell. Place the other shell on top. Store in the fridge filled. Macarons are best eaten the next day.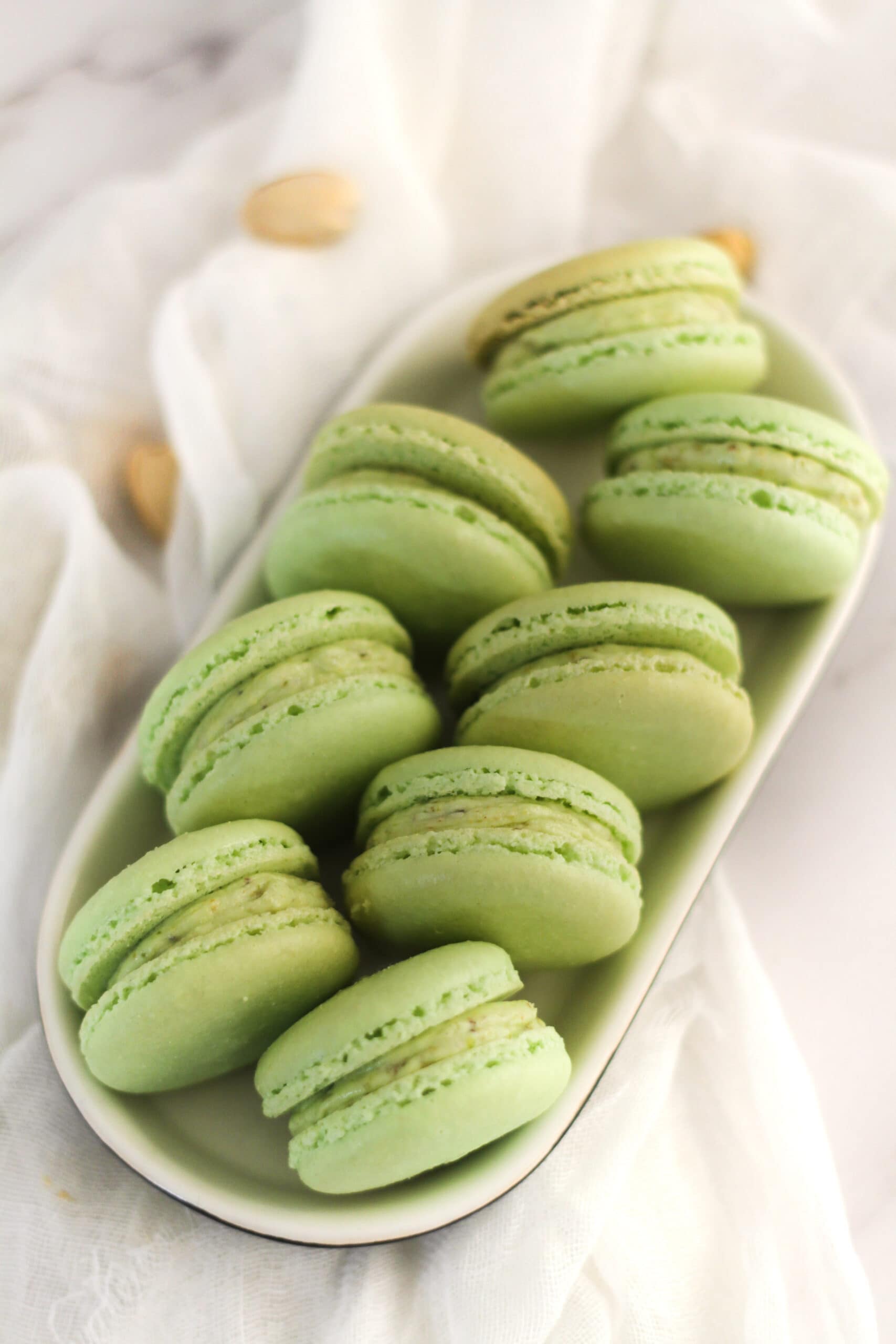 Tips and Tricks for Perfect Macarons
Macaron Egg whites
When making macarons it's best to use room temperature egg whites. This ensures the egg white will whip well when turning it into meringue. If the eggs are cold, place them in a bowl of warm water for 5-10 minutes to allow them to come up to room temperature quickly. If time permits age egg whites for best results. Break egg whites into a bowl and cover lightly with plastic wrap, place in the fridge for 1-2 days before using.
Measuring ingredients for Macarons
Since macarons can be temperamental it's important that the ingredients used are measured correctly. Using a digital scale is the best way to achieve accurate measurements for the ingredients used in macarons.
Best bowl to use for Macarons
Macarons are reliant on the whipping of the meringue, a meringue cannot form if there is any fat present. It is therefore important to ensure no egg yolks end up in the meringue. It's also important that the bowl you use is clean and free from any fat, the best way to clean the bowl is to give it a wipe down with some vinegar. It is also best to use a glass or metal bowl as fat is cleaned off the surface more easily. Plastic bowls can hold onto fat and are not as easily cleaned.
Mats for Macarons
I like to use silicone baking mats for Macarons. I do find them easy to use and macarons are lifted off easily. However before I had purchased these I used parchment/baking paper with no issues.
Resting Macarons
Macarons are best rested after piping. This is an important step in the macaron making process. The resting helps form a skin which then allows the macarons to rise and form feet. Depending on the temperature and weather where you are, the macarons may require different lengths of time to rest. Between 15-45 minutes. You can test if the macarons have rested by touching a macaron with the tip of your finger, if some of the macaron mixture sticks, they'll require a longer time, if nothing sticks then they are well rested.
Test the oven for Macarons
Macarons can be finicky about temperatures, yes, it's almost like they have a mind of their own. You may have to test a few times to see what works best with your oven. I've found macarons can be baked between 120c – 150c with great results, you just have to extend the cooking time when baking at lower temperatures.
Folding Macarons / Macaronage
The art of folding macarons is referred to as macaronage. This is where a lot can go wrong, it id best to mix your almond meal and confectioners/icing sugar in a gentle folding motion, until the batter flows like lava off the spoon and can form a figure 8 a few times before breaking.
More Macaron Recipes to check out
Frequently Asked Questions
How to store pistachio macarons?
Macarons can be stored in the fridge in an airtight container for a week or in the freezer for 3 months. In fact it is best to store filled macarons in the fridge for 1-2 days before eating as this matures the macarons, allowing the filling and shells to meld together to create a deliciously perfect morsel.
Why are my macarons hollow?
There can be many reasons for this, it's hard to say. Macarons can be over/under beated in the macaronage stage. They can be baked too high or too low. It can be a tricky thing to fix, and requires further testing.
Why are my macarons cracked?
This commonly happens if the macarons have not had enough time to rest or the oven temperature is too high. The best way to tell if the macarons have rested enough is to touch it with your finger, if nothing comes off onto your finger, they are rested.
How to avoid chewy macarons?
This can be quite normal. Fill your macarons and store them int the fridge in an airtight container for 24-48 hours, the filling melts into the macarons and softens the texture.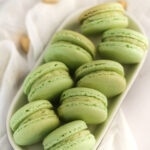 Print Recipe
Pistachio Buttercream Filled Macarons
Deliciously pistachio flavoured buttercream filled macarons.
Equipment
Electric hand mixer or stand mixer with whisk attachment

Food processor or sifter

Sheet tray

Kitchen scale
Ingredients
100

g

Egg white

(egg whites from 3 eggs)

80

g

Castor sugar

130

g

Almond meal

140

g

Confectioners (icing) sugar

drop

Green gel colouring

drop

Yellow gel colouring
Pistachio Buttercream
60

g

Unsalted softened butter

3/4

cup

Confectioners (icing) sugar

1/4

cup

Roasted pistachios

1/2

tsp

Vanilla extract

drop

green colouring
Instructions
Place egg whites in a bowl, whisk the egg whites on a medium until foamy.

Slowly add in the castor sugar.

Continue to beat until the egg whites are glossy and have stiff peaks.

Add in the yellow and green colouring and beat to mix in.

Sift the almond meal and confectioners sugar into the egg white.

Slowly fold the dry ingredients into the meringue, until the batter flows of the spatular with like lava and can form a figure 8 a few times without breaking.

Fill into a piping bag and pipe 1 inch (3.5cm) rounds onto baking paper or silicon mat.

Set aside to rest for 15-45 minutes, until a skin has formed on the macarons and touching them with your finger will not cause them to stick to your finger.

Heat oven to 150c/300F. The oven temperature may take some testing to get right.

Place in the oven for 20 minutes. If your oven has heat spots, it is best to flip the pan every 5 minutes while baking.

Remove the macarons if they no longer move when pushed on their feet.
Pistachio Buttercream
Crush pistachios by placing in a food processor or bullet blender. If roasted pistachios aren't available, this can be done by by placing the pistachios in a small pan on low heat for a few minutes, watch them carefully as they can burn easily. They'll be done when they start to change in colour and have a fragrant smell. Remove and place in a bowl to cool down completely before crushing.

Place butter and sugar in a bowl of a mixer. Beat until smooth and creamy.

Add in the crushed pistachios, vanilla and colouring and beat until well combined and smooth. A teaspoon of milk can be added to the buttercream to smoothen it out further if it is too stiff.
Assembling
Match each shell to a shell of a similar size.

Fill pistachio buttercream into a piping bag fitted with a round tip. Pipe a small mound into the centre of the one side of each shell, leaving room on the edges.

Place the top shell onto the bottom filled shell and press gently.

Put macarons into an airtight container and store in the fridge for 12-24 hours. This will mature the macarons making giving it a better texture and flavour.
Nutrition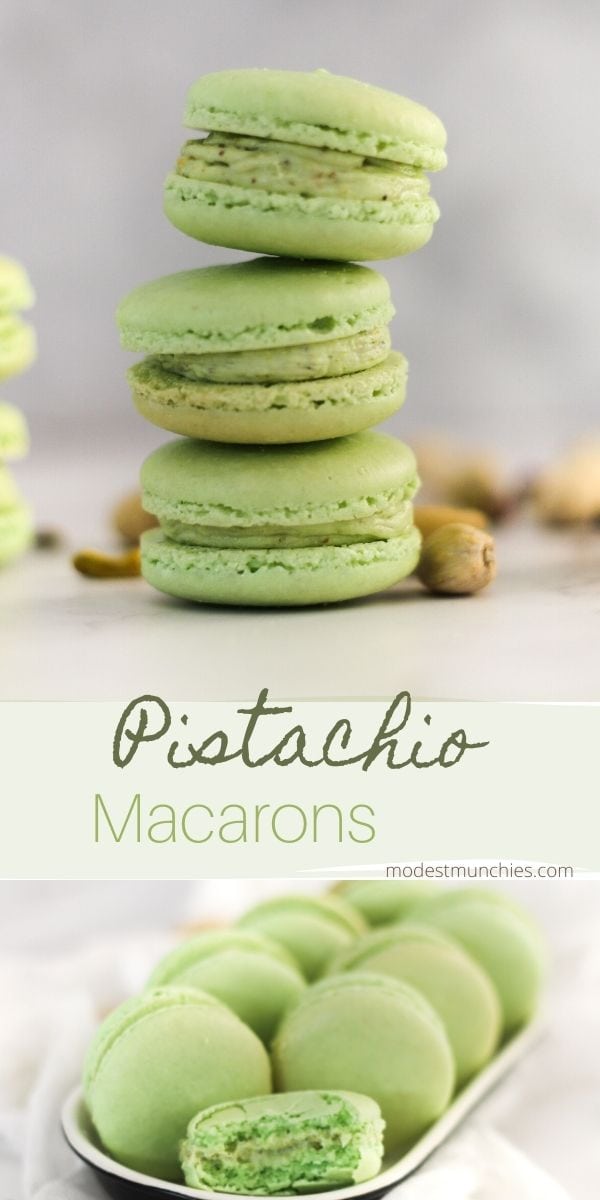 By