I was feeling for donuts recently but I didn't want the hassle of yeasted dough and frying so I opted for a baked version instead. Honestly, I was a little unsure of how these would turn out, but man was I pleasantly surprised. They were sooo good. Of course these won't taste like the real thing, they are baked after all. The shape and cinnamon sugar could definitely fool your eyes, while the texture and flavour could almost fool your tastebuds.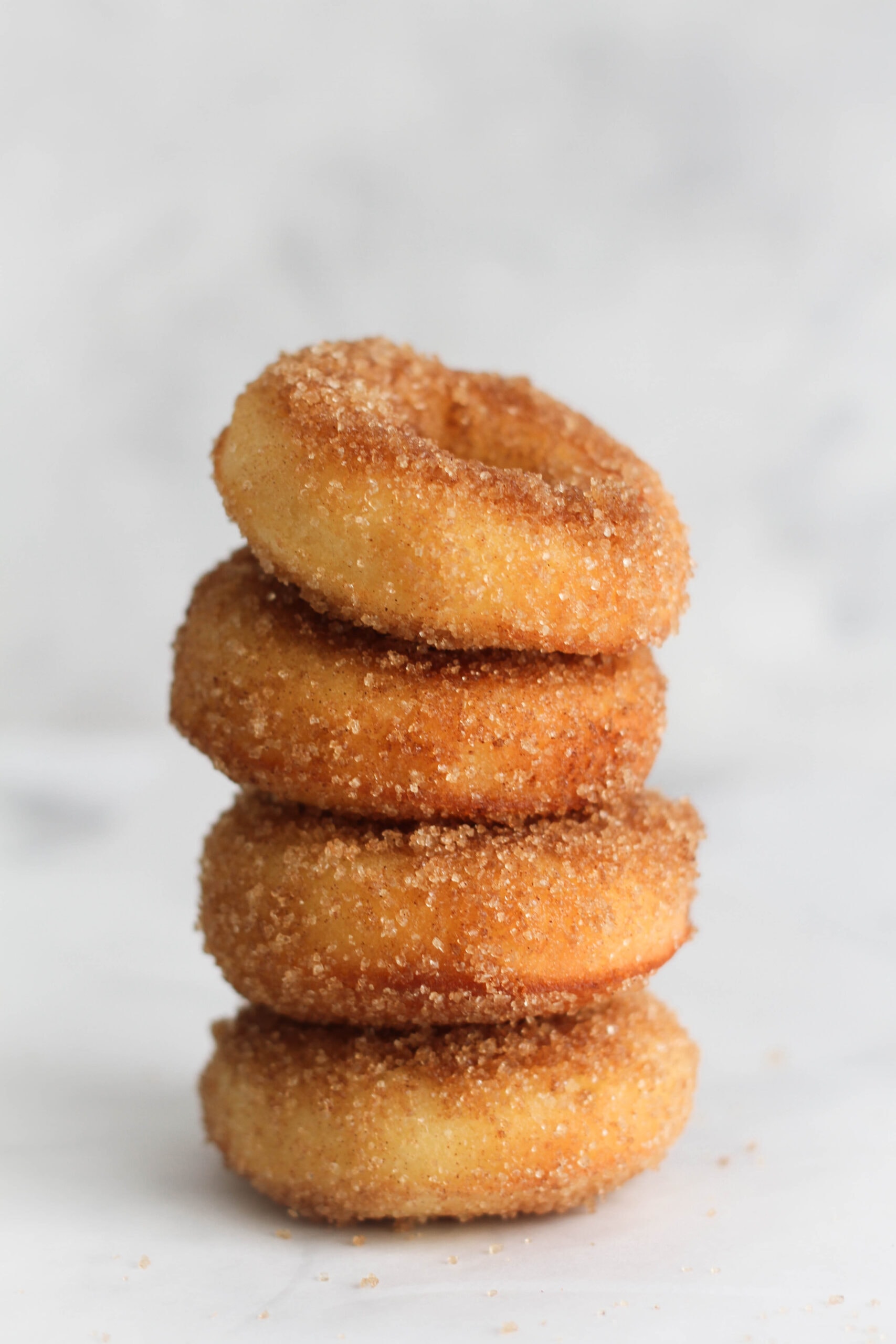 If you don't have yeast (which is hard to find at the moment) or you don't want to have to fry, then definitely give these a go. This recipe is based on my Raspberry White Chocolate Donuts, which are another baked donut option. They're packed full of yummy raspberry flavour with a white chocolate ganache glaze. The only special equipment required for baked donuts is a donut shaped pan. I use a silicone one which makes removing the donuts as well as clean-up super easy.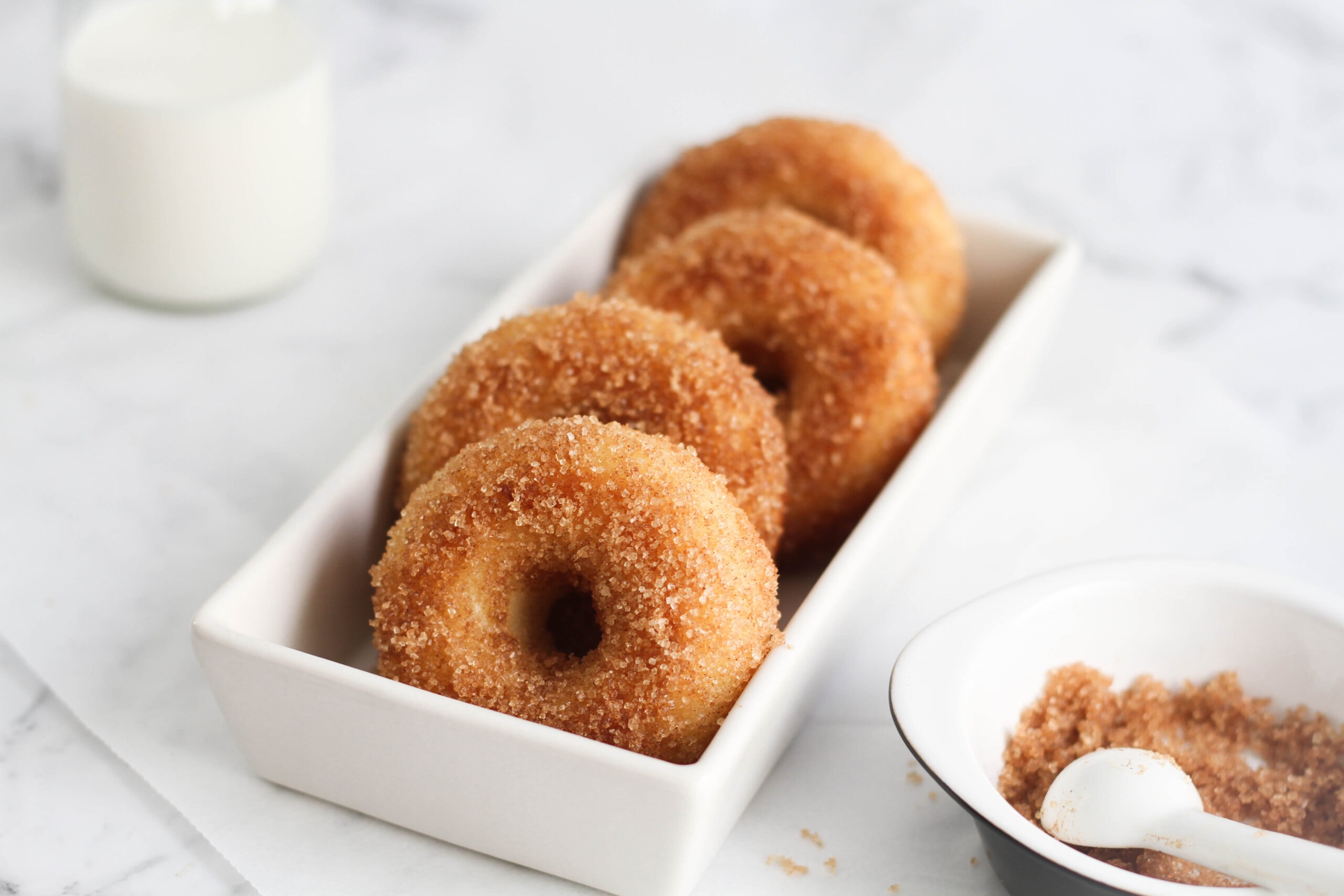 What do I do if I don't have a donut shaped pan?
A donut pan would be ideal for getting that authentic donut shape, but if you don't have one you could bake these in a muffin pan instead. Just reduce the bake time by about 5 mins. Yes, you won't get the same shape, but you'll still get all the deliciousness of the donut (ie. muffin) and it's cinnamon sugar coating.
How do I coat baked donuts in cinnamon sugar?
There is a small added step when it comes to baked donuts, because the donuts don't have the moisture from the oil that it would from frying. They require you to coat them in some melted butter first and then the cinnamon sugar. A small step for these donuts a giant leap for coating baked goods. (sorry, couldn't resist, ha).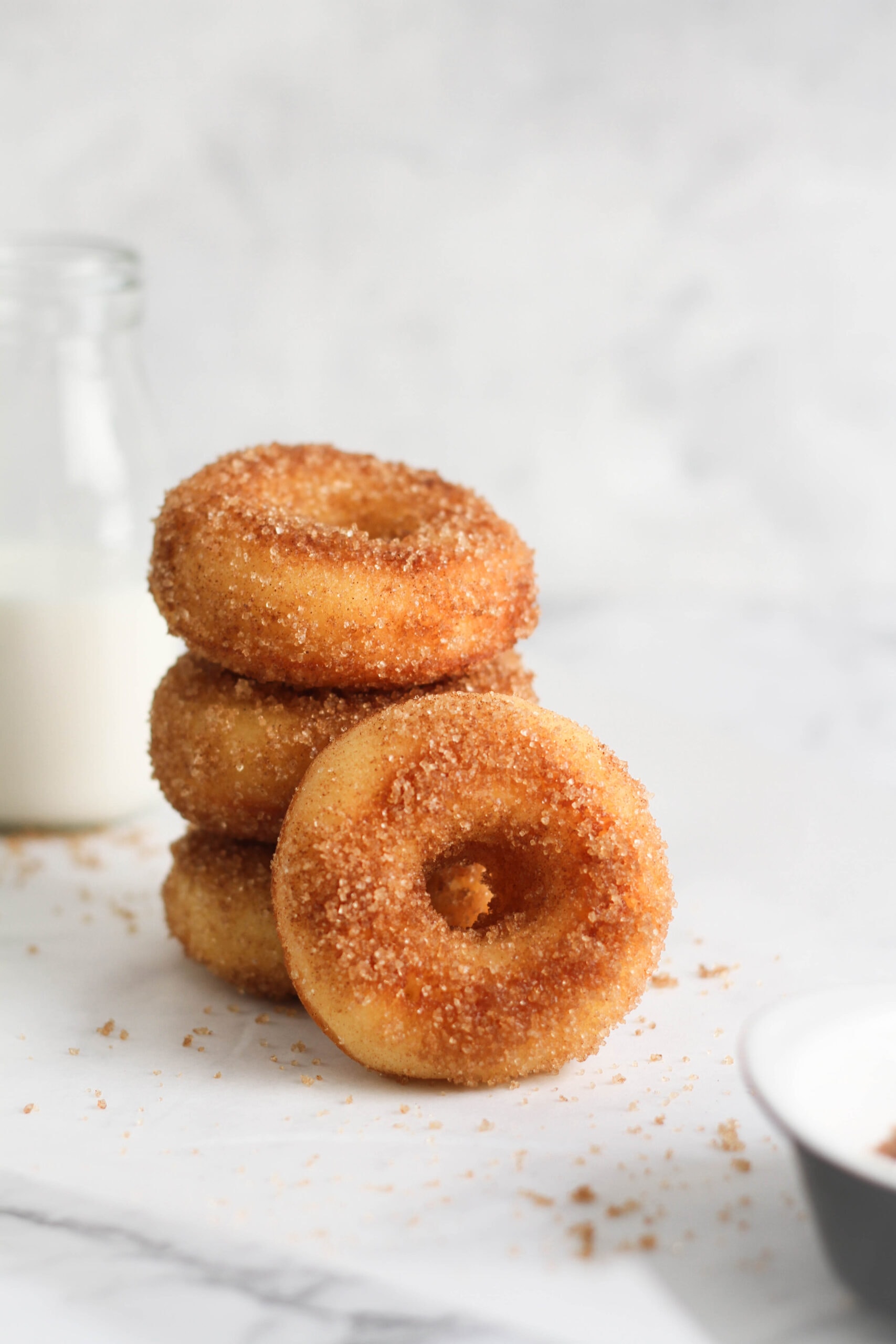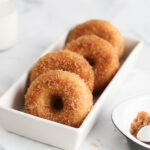 Print Recipe
Cinnamon Sugar Baked Donuts
Ingredients
1 1/2

cup

flour

2

tsp

baking powder

1/2

cup

sugar

1/2

tsp

vanilla

1/2

cup

oil

1 1/4

cup

milk

1

egg
Cinnamon sugar coating
75

g

unsalted butter

melted

3/4

cup

sugar*

1

tsp

cinnamon

*I used raw sugar. Raw sugar granules are larger compared to other sugars

if you prefer something smaller you could use castor sugar instead.
Instructions
Preheat oven to 180c. Spray donut baking pans with an oil spray.

Place all your dry ingredients in a bowl.

In a separate bowl or measuring jug, mix all your wet ingredients.

Add your wet ingredients to your dry and ingredients and mix till everything is combined, try not to over mix.

Pour the batter into your pans and fill almost to the top.

Place in the heated oven for 15 - 20 mins or until a toothpick poked in to a donut comes out clean.

Remove from oven and let cool down enough to touch.
Topping
Place your melted butter in a bowl big enough to hold a donut.

In a seperate bowl that is also big enough, mix together your cinnamon and sugar.

Coat each donut in melted butter, do the top side first (the top side is the side that was on the bottom of the baking pan) and just lightly dip in butter on the other side.

Then coat your donuts in the cinnamon sugar mix and set aside to cool completely.
By