I've been loving baked donuts recently, they're so much easier to make. I recently made baked Cinnamon Sugar Donuts, which had rave reviews on pinterest, Caramilk Donuts, and even Raspberry White chocolate Donuts. They're all delicious and so easy to make. I couldn't resist creating a Biscoff version, so today I'm brining you these Baked Biscoff Donuts. It's the donut recipe you didn't know you needed in your life, especially if you're a big Biscoff fan.
How do I make Baked Biscoff Donuts?
It's easy really. Mix up your batter, pour it into a silicone donut pan, bake and top with some luscious crunchy Biscoff spread. Yup, no need to make extra toppings, just pure Biscoff joy on this one. This recipe has the addition of cinnamon to give it that lightly spiced flavour that works so well with the flavours of Biscoff. You can find silicon baking pans online (Amazon – affiliate link).
How do I make Biscoff Donut topping?
Like I mentioned above, all you need is the Biscoff, there's no need to make a separate topping. You could definitely use smooth Biscoff instead, crunchy was all I could find at my local supermarket. I do think the crunchy adds a little extra to the eating experience. The little bits of crunchy cookie pieces in the Biscoff topping are amazing.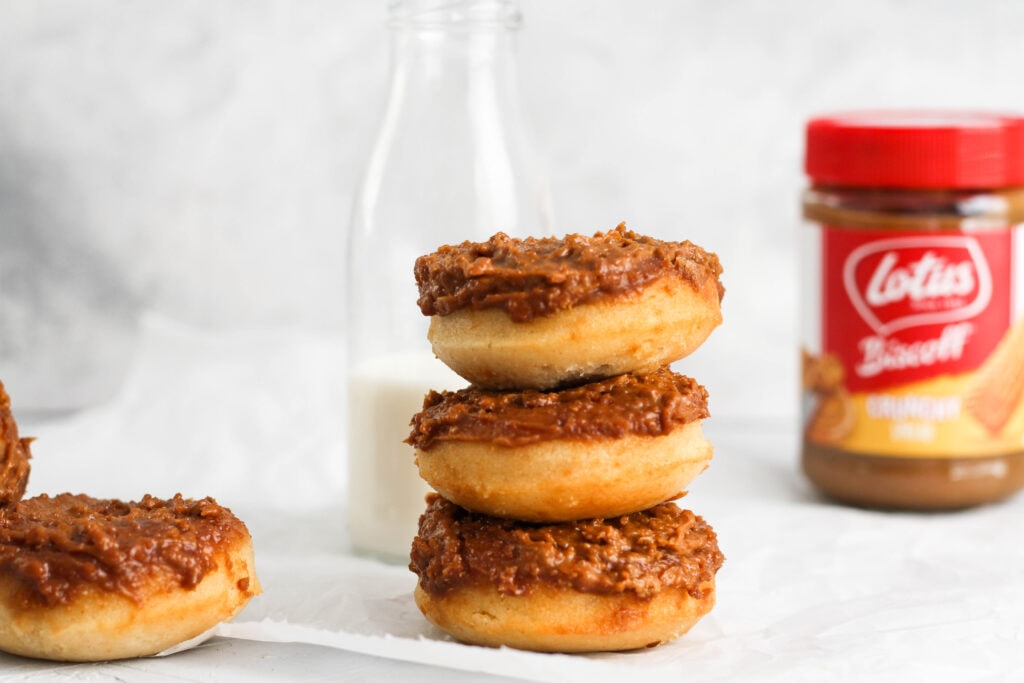 Print Recipe
Baked Biscoff Donuts
Ingredients
Topping
1

cup

Crunchy Biscoff (cookie butter) spread
Instructions
Preheat oven to 180c. Spray donut baking pans with an oil spray.

Place all your dry ingredients in a bowl.

In a separate bowl or measuring jug, mix all your wet ingredients.

Add your wet ingredients to your dry and ingredients and mix till everything is combined, try not to over mix.

Pour the batter into your pans and fill almost to the top.

Place in the heated oven for 15 – 20 mins or until a toothpick poked in to a donut comes out clean.

Remove from oven and let cool down enough to touch.
Topping
Place your biscoff in a microwave safe bowl and microwave for about 10-20 seconds. This helps soften the biscoff so it's easier to dip.

Dip each donut into the Biscoff, if you're using crunchy, you may have to smooth the sides with a butter knife.

Leave to set for 10-15 minutes. Serve immediately or store for up to 4 days in an airtight container.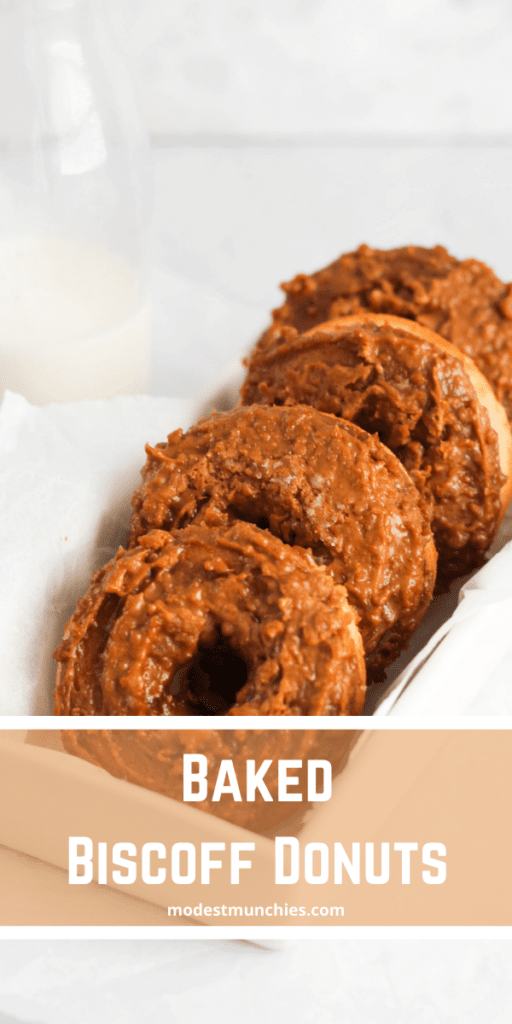 By