Caramilk is still going strong and I thought I'd better give you another recipe before it's gone for good. If it is going for good that is, I'm still not sure if it's here to stay or not, so let's make the best of it while we can. Today I'm bringing you these Baked Caramilk Donuts. They're an easy baked donut recipe dipped into a lush carmilk ganache.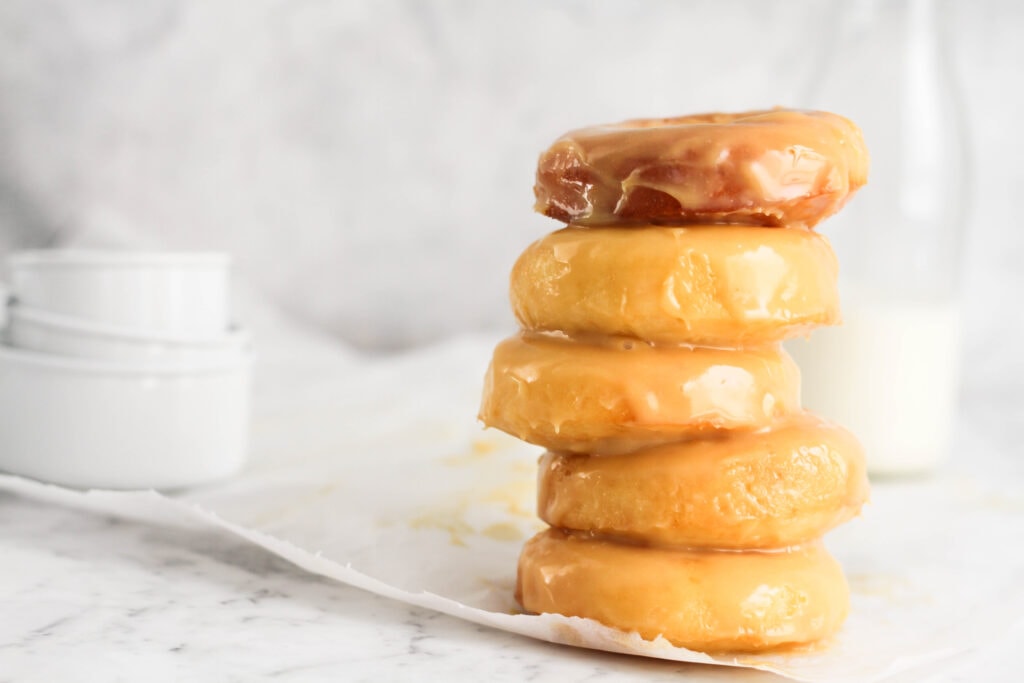 I love making baked donuts, they're so easy, you just need a donut baking pan and you're good to go. My favourite is my Raspberry and White Chocolate Donuts and I also have a Baked Cinnamon Sugar Donuts recipe that has been very popular.
If you love caramilk as much as me or the next person I also have a delicious Caramilk Chunk Cookie recipe. It's a soft cookie that's full of delicious caramilk chunks. I've still got a few caramilk recipes brewing in my head so lets see how many of them I can bring you while it's still available. Let me know if you have any requests!
How do I bake donuts?
Its' easy really, you just need a donut pan. I've seen many options online and in stores. I like the silicon pans as I feel you can get the donuts out more easily. It's a little tricky to pull the donuts away from the middle so silicon makes this a lot easier. I purchased mine from eBay but there are plenty of options on Amazon (affiliate link).
Can I make baked caramilk donuts if I don't have a donut pan?
Of course you can! Don't let the lack of a pan stop you! Just pour the batter into a muffin pan and have muffins instead. I know it's not the same as a donut, but at least you have an option.
Baked Caramilk Donuts
Ingredients
Baked Donuts
1 ½

cup

plain flour

2

tsp

baking powder

½

cup

sugar

1

tsp

vanilla

½

cup

oil

(flavourless)

1¼

cup

milk

1

egg
Caramilk Ganache
1½

cup

chopped Caramilk

⅓

cup

cream
Instructions
Donuts
Preheat oven to 180c. Spray donut baking pans with an oil spray.

Place all your dry ingredients in a bowl.

In a separate bowl or measuring jug, mix all your wet ingredients.

Add your wet ingredients to your dry and ingredients and mix till everything is combined, try not to over mix.

Pour the batter into your pans and fill almost to the top.

Place in the heated oven for 15 – 20 mins or until a toothpick poked in to a donut comes out clean.

Remove from oven and let cool down enough to touch.
Caramilk Ganache
Chop your caramilk and place into a microwave safe bowl with your cream (make sure your bowl is wide enough to fit the donuts).

Place in the microwave for 20 seconds at a time, mixing each time until almost melted.

Mix well and set aside to cool.

Dip your donuts into the caramilk ganache and set aside on a rack or piece of baking paper to set. You can place these in the fridge to set further if needed.

These are best served on the same or next day but can be stored in an airtight container at room temperature for about 5 days.
By