Knafeh Cheesecake is a delicious dessert that combines the best of both worlds – a creamy cheesecake and the crispy goodness of knafeh. Knafeh, also known as kunafa, is a traditional Middle Eastern dessert made of Kataifi (shredded phyllo dough), sweet cheese, and topped with a sweet fragrant syrup. It's the perfect fusion of flavors.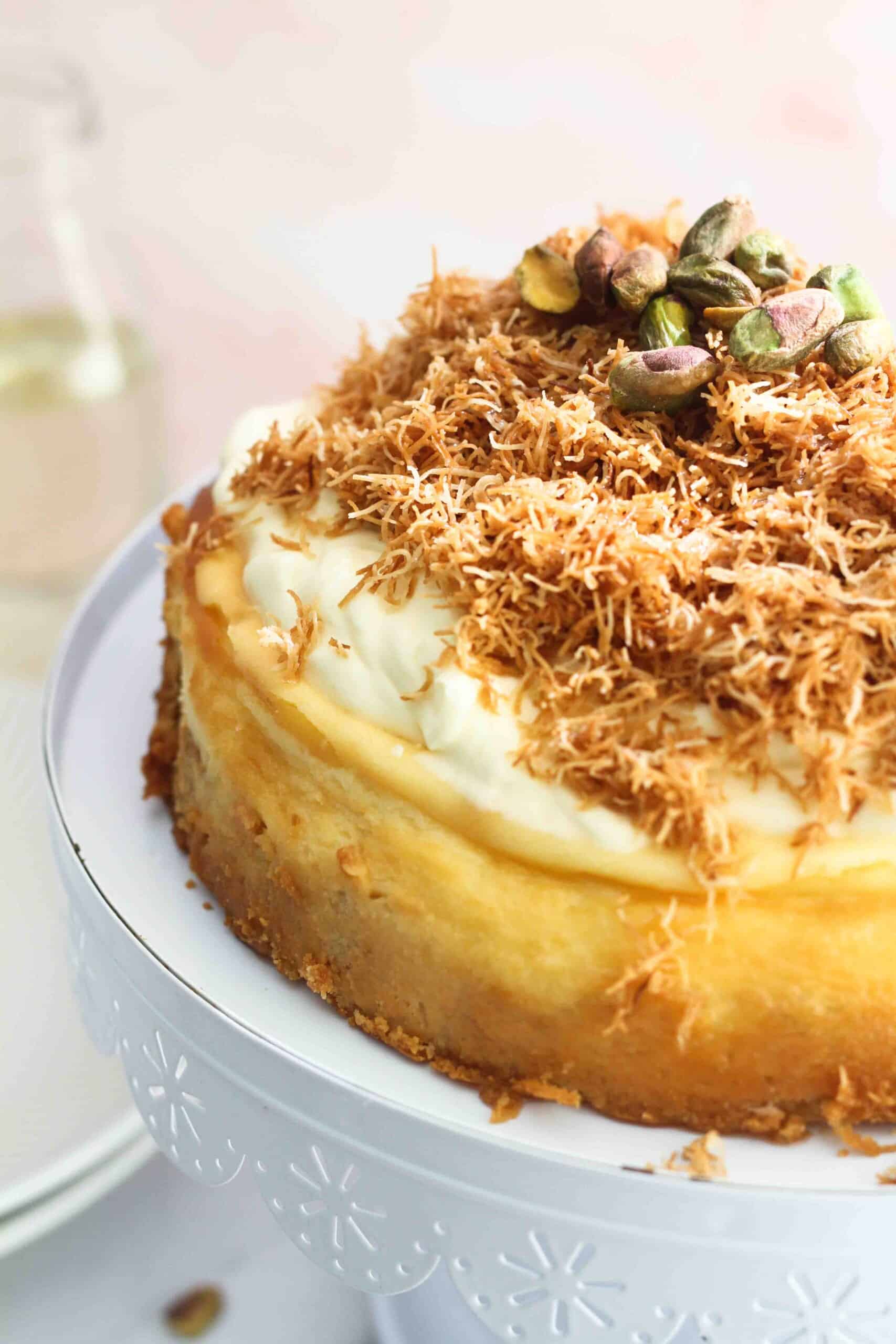 In this Middle Eastern Cheesecake, a layer of knafeh is used for the base of the creamy cheesecake filling instead of a graham cracker crust. The knafeh crust is made by mixing the kataifi with butter and powdered sugar and baking until it becomes crispy and golden.
The cheesecake filling is made using cream cheese, cream, sugar, and eggs, and is flavored with a hint of vanilla and orange blossom. The cheesecake is then baked on top of the knafeh crust until it is set, the cheesecake layer is similar to an NY cheesecake recipe.
To finish the cheesecake is topped with toasted kataifi and drizzled with a fragrant orange blossom sweet syrup giving the knafeh cheesecake a delicious and satisfying sweetness that will leave you craving more. This Knafeh Cheesecake is a dessert that is perfect for any occasion, whether you are looking to impress your guests or simply indulge in a delicious treat.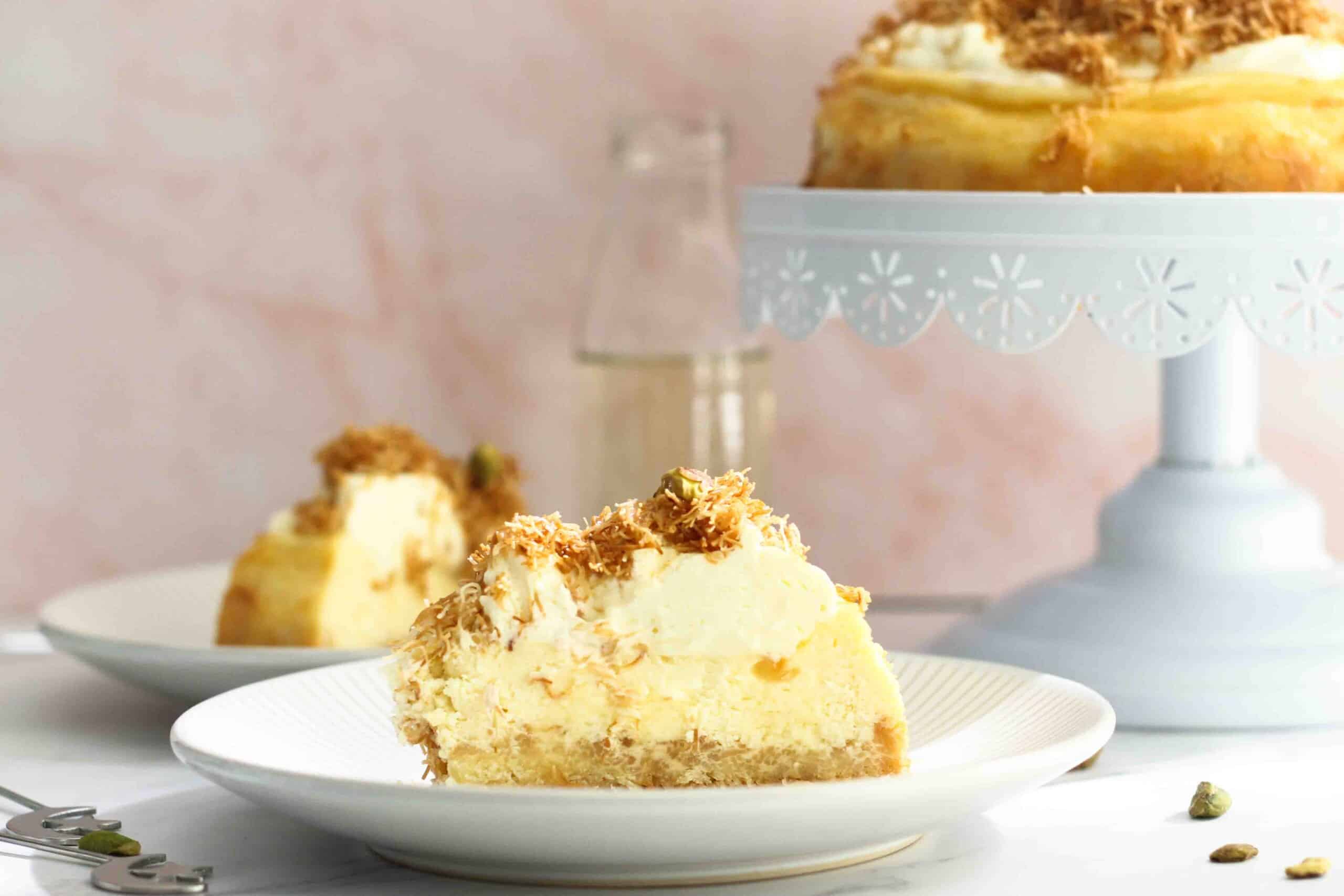 Why this Knafeh Cheesecake is great!
A great way to make something a little different with this east meets west fusion cheesecake
The crunchy Kataifi topping works so well with the smooth and creamy cheesecake
A twist on the classic New York cheesecake
Great for any time of year, but especially great for Eid or other Holidays
What is Knafeh?
Knafeh, also known as kunafa, is a traditional Middle Eastern dessert that is popular in many countries such as Palestine, Lebanon, Syria, and Turkey. It is made of shredded phyllo dough also called Kataifi that is layered with a sweet cheese filling and baked until the cheese is melted and the pastry is crispy and golden.
Knafeh is often flavored with rose water or orange blossom water and is served hot or warm, drizzled with a sugar syrup. Some variations of knafeh include adding nuts such as pistachios or almonds, it can also be made with a creamy filling instead of a cheesy filling. The knafeh pastry is sometimes left as is ot lightly coloured with orange food coloring.
Knafeh is a beloved dessert that is often served during special occasions such as weddings, birthdays, and during Ramadan and Eid. It is also commonly found in Middle Eastern bakeries and dessert shops, where it is enjoyed as a sweet treat alongside a cup of tea or coffee.
What is Kataifi?
Kataifi is a shredded phyllo/filo pastry. It is used in both sweet and savoury dishes. It is most commonly and most notably used for making tradtional knafeh/kunafeh.
Ingredients needed
Kataifi
Unsalted butter
Powdered sugar
Cream cheese – softened at room temperature
Sugar – granulated / caster
Large eggs
Vanilla extract
Orange blossom water
Cream
Chopped Pistachios
How to make Knafeh Cheesecake
Line a the bottom of the springform pan with parchment paper. I do the bottom and the sides. Preheat oven.
Melt butter and mix it well with the kataifi and sugar. Place it into the pan and bake till golden brown.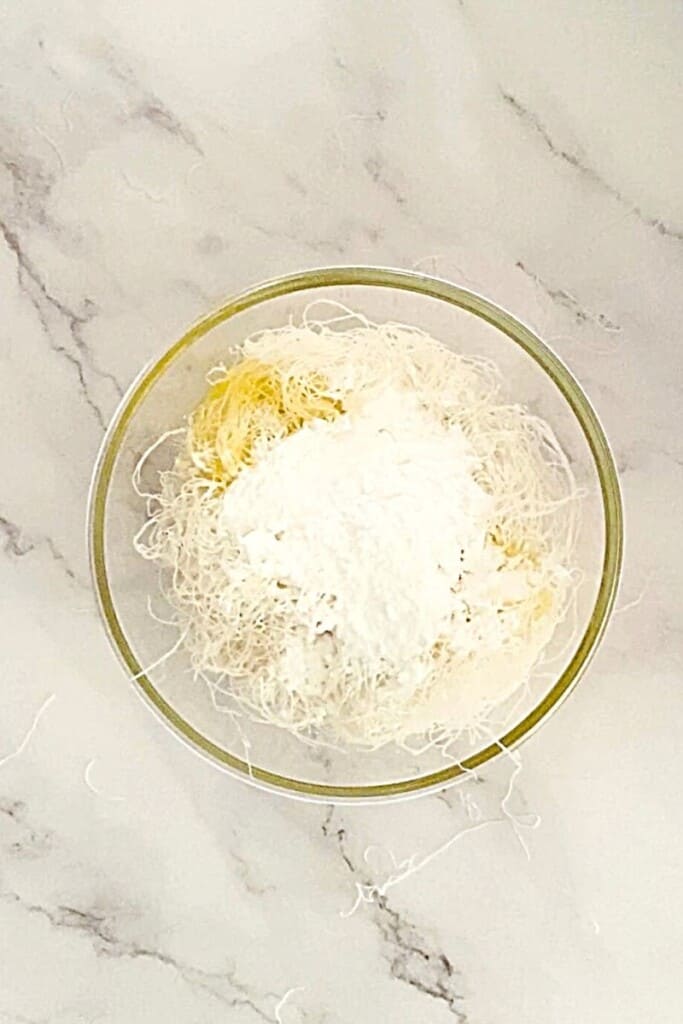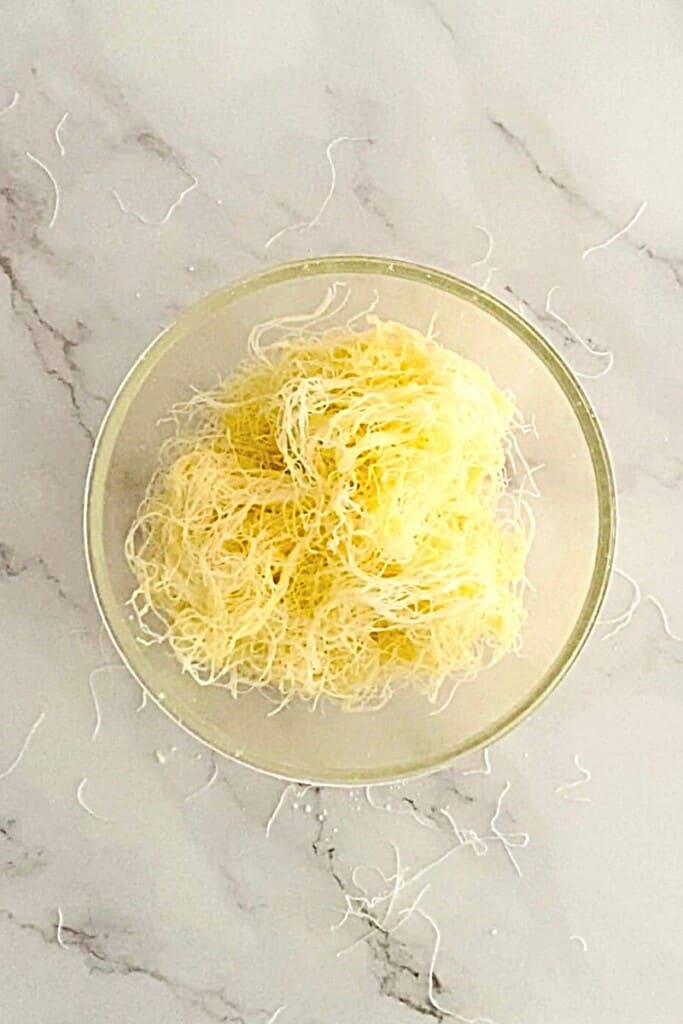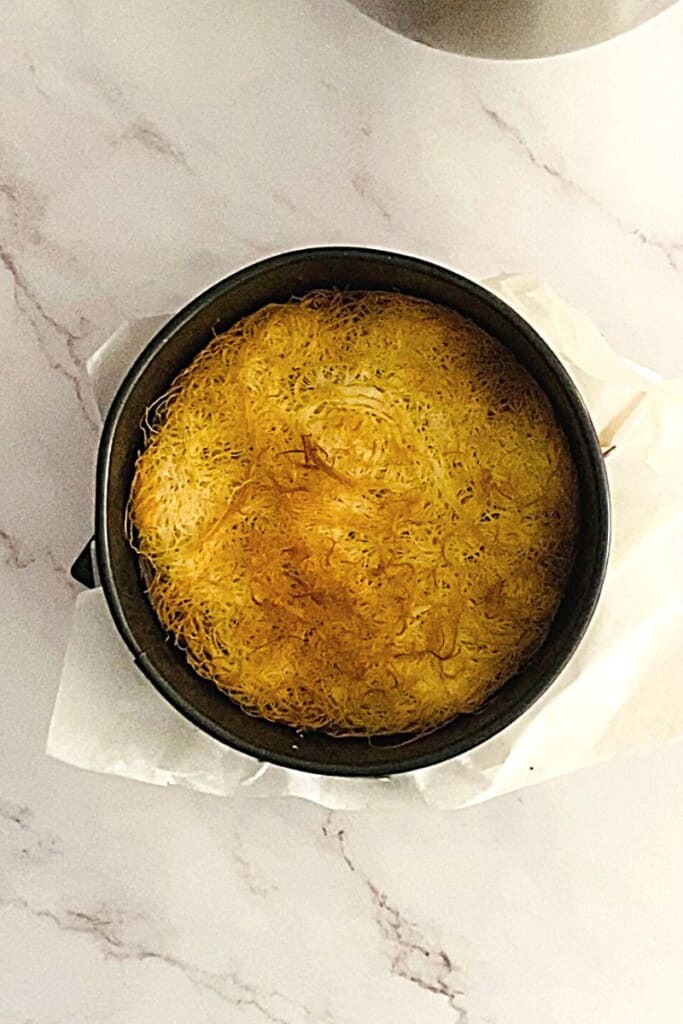 Fit a stand mixer with a paddle attachment and place in the cream cheese and sugar. Alternatively, place the cream cheese and sugar in a large bowl & use the beater attachments in an electric hand mixer. Beat until combined and the sugar has mixed in with the cream cheese.
Add in eggs, vanilla and orange blossom. Mix until smooth and creamy.
Add in the cream and mix again.
Pour the cheesecake mixture into the springform pan on top of the baked kataifi.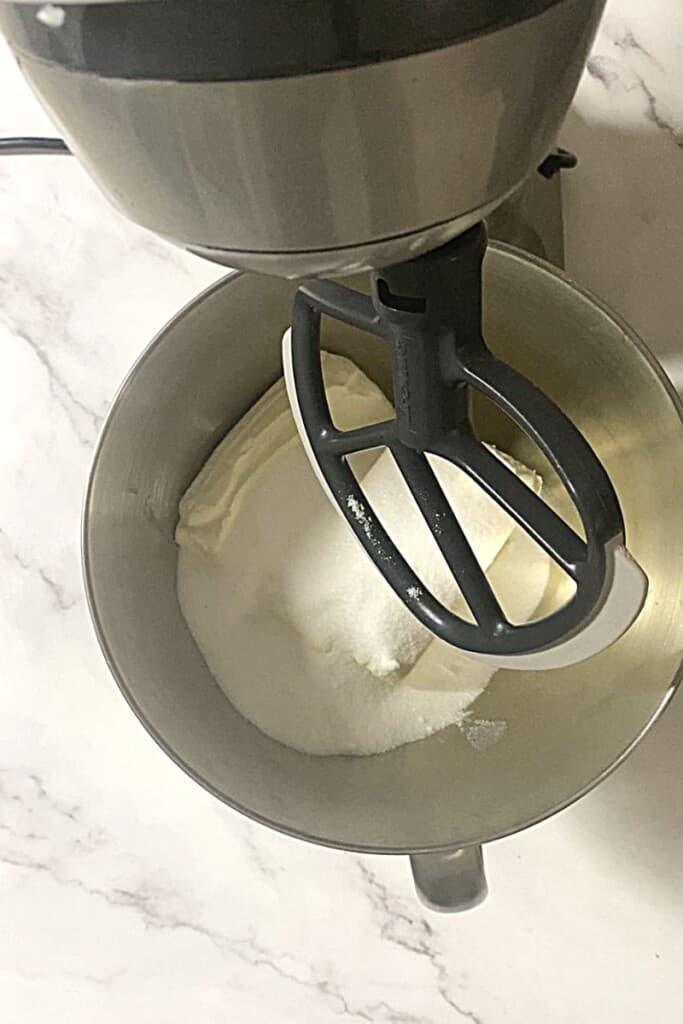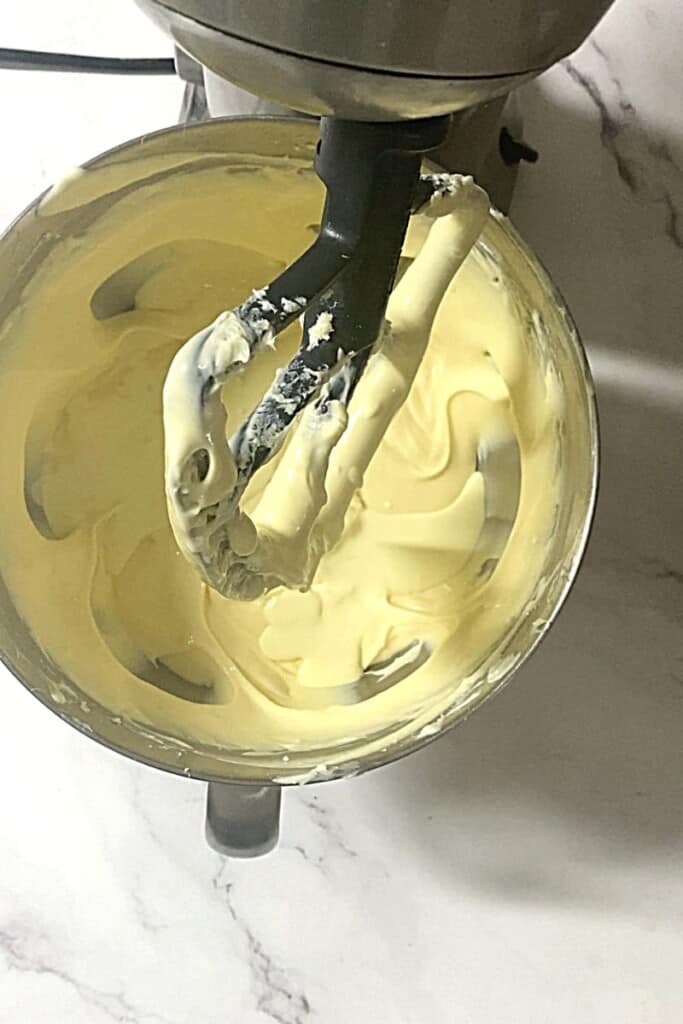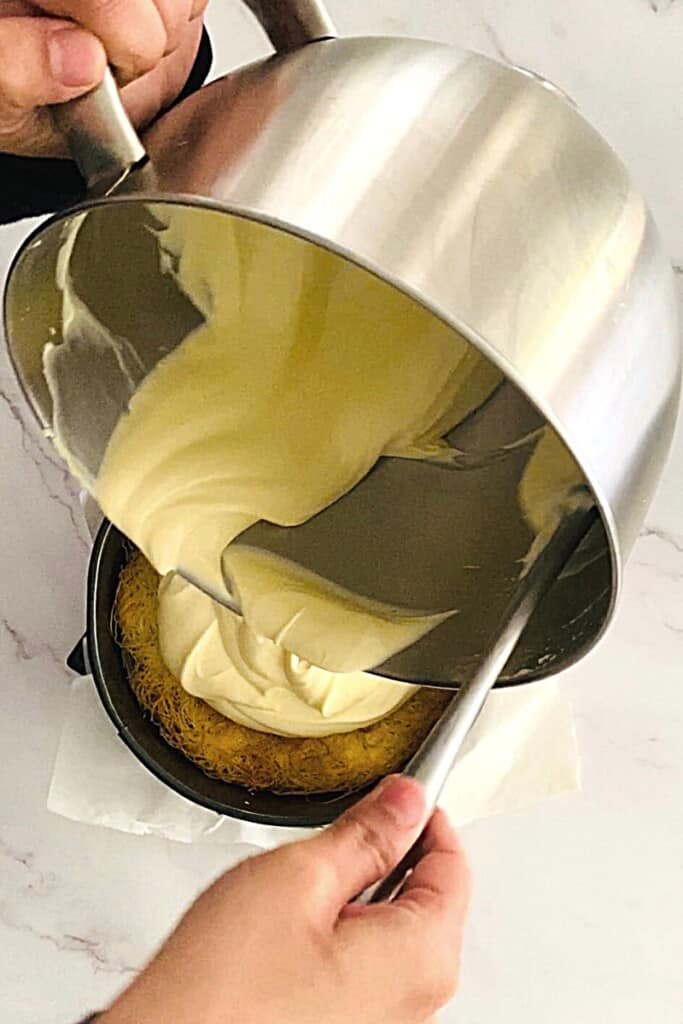 Place in the oven with a pan of hot water beneath it (read the full tips section below). Once baked, let cool completely in the oven.
The remaining Kataifi is toasted in some butter and cooled.
Top the cheesecake layer with whipped cream, toasted kataifi pastry, orange blossom simple syrup and ground pistachio.
Water bath hack: Most cheesecake recipes suggest using a water bath, this is a great tip. The water bath helps the cheesecake cook more evenly and keeps the cheesecake mixture smooth and creamy. This can be really fiddly, instead, fill an oven safe dish with water and place on the rack directly below the cheesecake.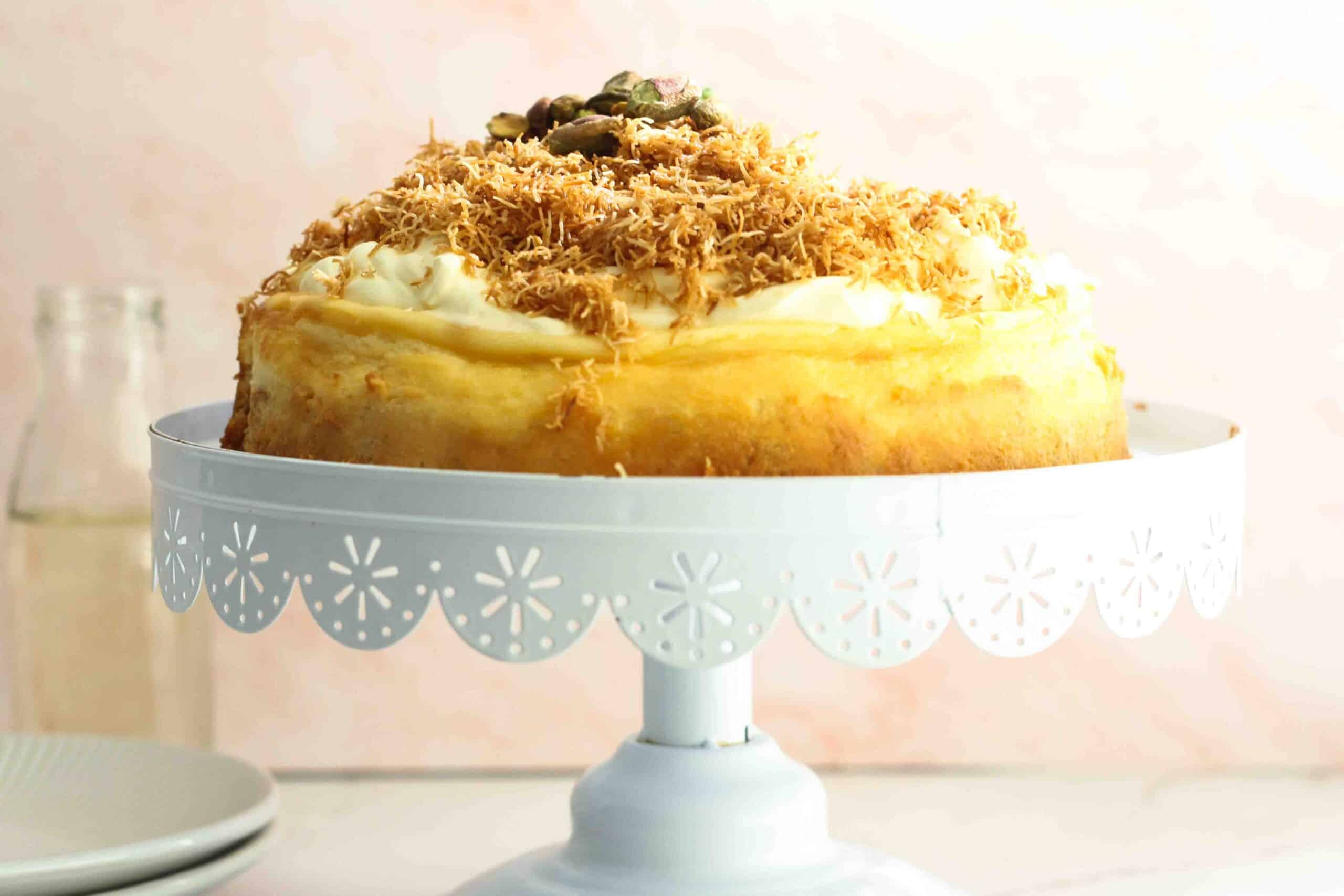 Tips for making cheesecake
Use room temperature ingredients: Make sure the cream cheese, eggs, and other dairy ingredients are at room temperature before mixing. This ensures a smooth and creamy texture in your cheesecake batter.
Prepare the knafeh crust properly: Toast the phyllo dough well and press it firmly into the bottom of the pan in an even layer. This helps create a sturdy base for the cheesecake.
Avoid over-mixing: Mix the cheesecake batter just until all the ingredients are combined. Over-mixing can whip excess air into the batter, this can lead to cracking.
Tap the cheesecake: After filling the cheesecake into the pan, gently tap it on the counter to avoid any air bubbles in the cheesecake.
Bake with water: You can use my tip above to avoid the hassle of a water bath or use the traditional water bath method, either way this helps to prevent cracking.
Bake slow: Cheesecakes benefit from a slower, longer cooking time. This will mean the cheesecake won't spike in temp and create cracks.
Allow proper cooling and chilling time: After baking, let the cheesecake cool at room temperature in the oven for about an hour, then refrigerate it for at least 4-6 hours or overnight. This allows the flavors to develop fully and gives the cheesecake time to set. Top with toppings before serving.
Use a hot knife for clean slices: Before cutting into the chilled cheesecake, dip a sharp knife into hot water and wipe it clean between each slice. This helps achieve neat and clean slices.
Bring cheesecake to room temperature before serving: For the best texture and flavor, remove the cheesecake from the refrigerator and let it sit at room temperature for about 20-30 minutes before serving. Bringing the cheesecake to room temperature also ensures a smoother, silkier texture. If its' cold, the texture will be more firm and dense.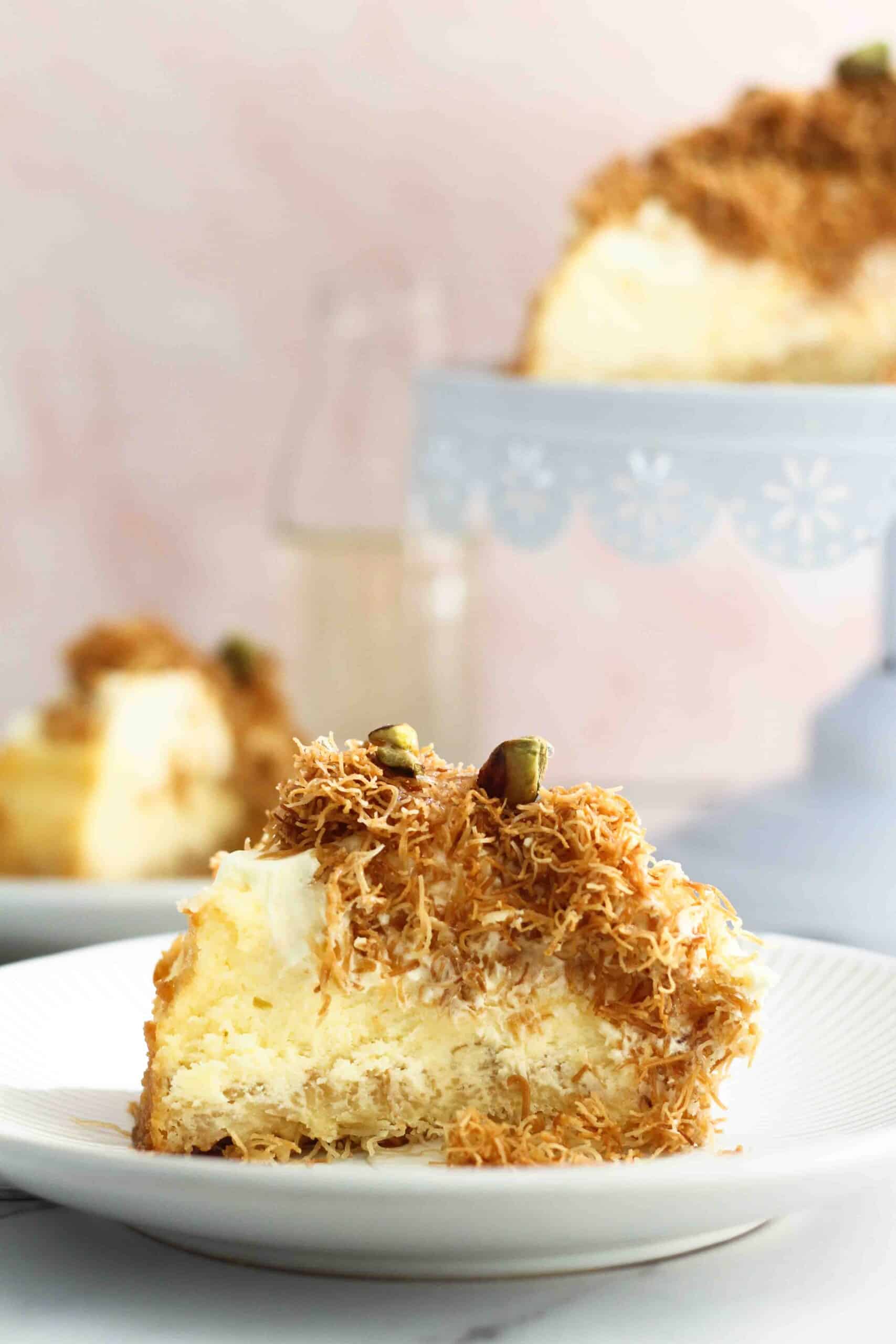 Substitutions and Variations
Use rosewater syrup instead of orange blossom syrup
Add more pistachios into the top, I love them so I would add tons of pistachios to mine
Top the cheesecake with ricotta cheese instead of cream
Decorate with rose petals
More Recipes to try:
Print Recipe
Knafeh Cheesecake
Knafeh Cheesecake is a Middle Eastern and indulgent fusion of creamy cheesecake, crispy kataifi and sugar syrup.
Ingredients
Kataifi Base
150

g

Kataifi (shredded phyllo/filo pastry)

5 oz

⅓

cup

powdered sugar

⅓

cup

unsalted butter

melted – 75 grams
Cheesecake Filling
750

g

cream cheese

24 oz

1

cup

sugar

3

eggs

½

tsp

vanilla

2

tsp

orange blossom water

¾

cup

cream
Sugar Syrup
1

cup

sugar

1

cup

water

1

tsp

orange blossom water
Kataifi Topping
100

g

kataifi

3.5 oz

55

g

unsalted butter

2 oz / ¼ cup
Other
½

cup

cream

2

tbsp

pistachios

chopped, ground or whole
Instructions
Line an 8 inch springform baking tin with baking paper on the bottom and sides.

Pre- heat oven to 150c/300F.
Kataifi base
Place kataifi in a bowl and pull and shred lightly. Add in the butter and powdered sugar and mix well.

Place into springform pan and press down to create an even layer.

Place in the oven for 20 minutes, the kataifi should be golden brown.

Remove and set aside to cool while making the cheesecake.
Cheesecake Filling
Place the cream cheese and sugar in to a bowl of a stand mixer. Beat until smooth and creamy and the sugar has dissolved.

Add in eggs, vanilla, orange blossom water and beat till smooth.

Add in cream and beat until thick and creamy.

Pour the mixture into the springform pan and place in the oven.

Place an oven safe bowl, dish or pan in to the oven beneath the cheesecake and fill it with hot water, this is a hack to create a water bath and will help to cook the cheesecake while keeping it smooth and creamy.

Once baked, leave the oven door slightly ajar while the cheesecake cools down, remove after an hour and let cool completely before chilling.
Sugar Syrup
Place sugar and water in a saucepan on a medium heat on the stove.

Let the sugar and water come to a boil. Making sure all the sugar has been dissolved.

After the sugar has dissolved, set the pan aside so the sugar syrup can cool. Let the syrup cool down slightly then add in the orange blossom water.

Once the syrup has cooled down completely, pour into a bottle to store.
Kataifi Topping
Place butter in a pan on a medium heat.

Use a knife or clean food safe scissors to shred the kataifi into small strips, about 1/2 inch pieces.

Place the kataifi into the pan with the butter and toast until crispy and golden.

Set aside to cool completely. Store in an airtight container until needed.
Topping and serving
Beat chilled cream with powdered sugar in a mixer with a whisk attachment. Whisk until thick and it has peaks.

Remove the cheesecake from the fridge 30 minutes before serving.

Top the cheesecake with cream, toasted knafeh, and pistachios. Generously drizzle on sugar syrup and even more onto each piece when serving.
Notes
Store in an airtight container in the fridge for 1-3 days. This is best served and eaten after it has been topped as the kataifi topping and base may soften when stored. 

By