If you're looking for a show-stopping dessert that's sure to impress, look no further than this Toblerone Cheesecake. Made with a rich and creamy filling, rippled with loads of melted Toblerone chocolate, all on top of a crunchy chocolate base, this cheesecake is a decadent treat that's perfect for any special occasion.
Why this Toblerone Cheesecake is great!
Use up all those large gifted Toblerone bars
It's a delicious baked cheesecake
It has a chocolate biscuit base made from Oreos – who doesn't love that?
An upgrade to a simple baked cheesecake with the Toblerone swirled through
What is Toblerone?
Toblerone is a Swiss chocolate. It is a Swiss milk chocolate base filled with honey almond nougat. This gives the chocolate depth with crunchy and chewy pieces spread throughout. The chocolate is known for it's triangular shape that matches the Swiss alps.
Do you ever get given those big bars of Toblerone as a gift? I do! This cheese cake is great way to use up the bar, my Toblerone cookies and Toblerone brownies are also great options!
Ingredients needed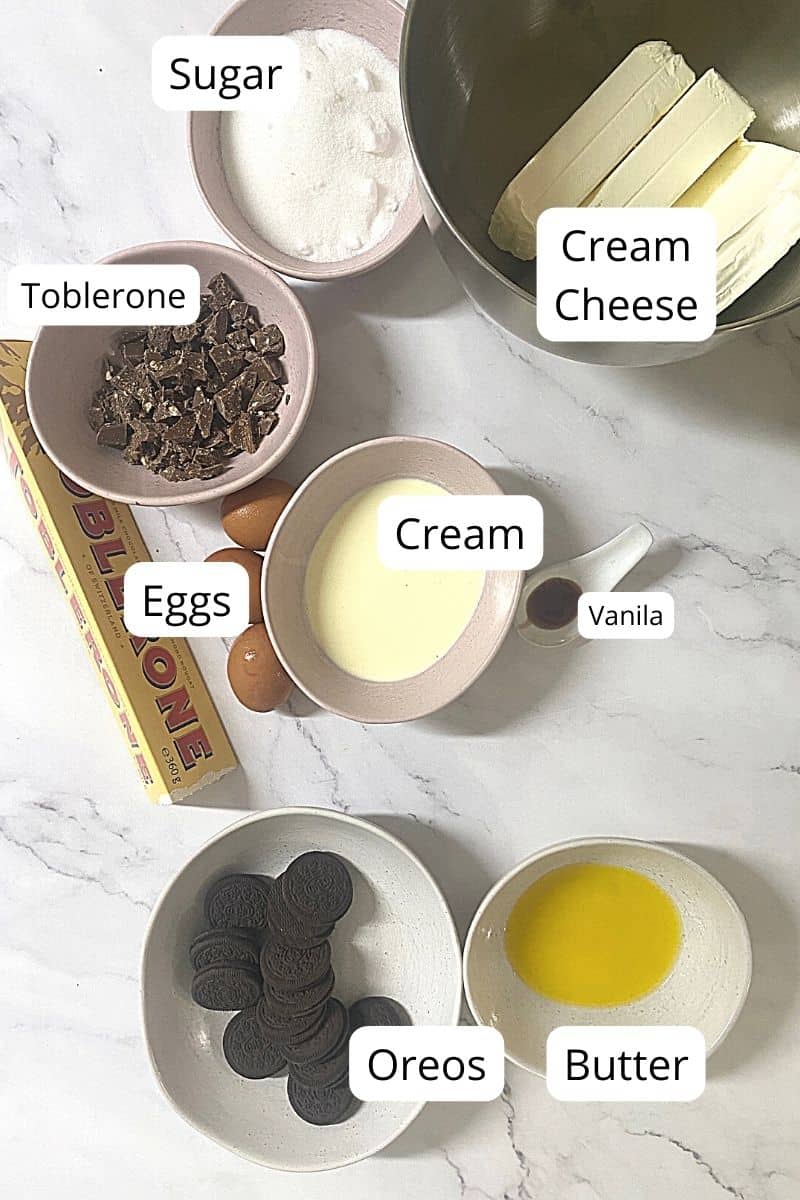 Oreos
Unsalted butter – melted
Cream cheese – softened at room temperature
Sugar – granulated / caster
Large eggs
Vanilla extract
Cream –
Chopped Toblerone chocolate – chopped then melted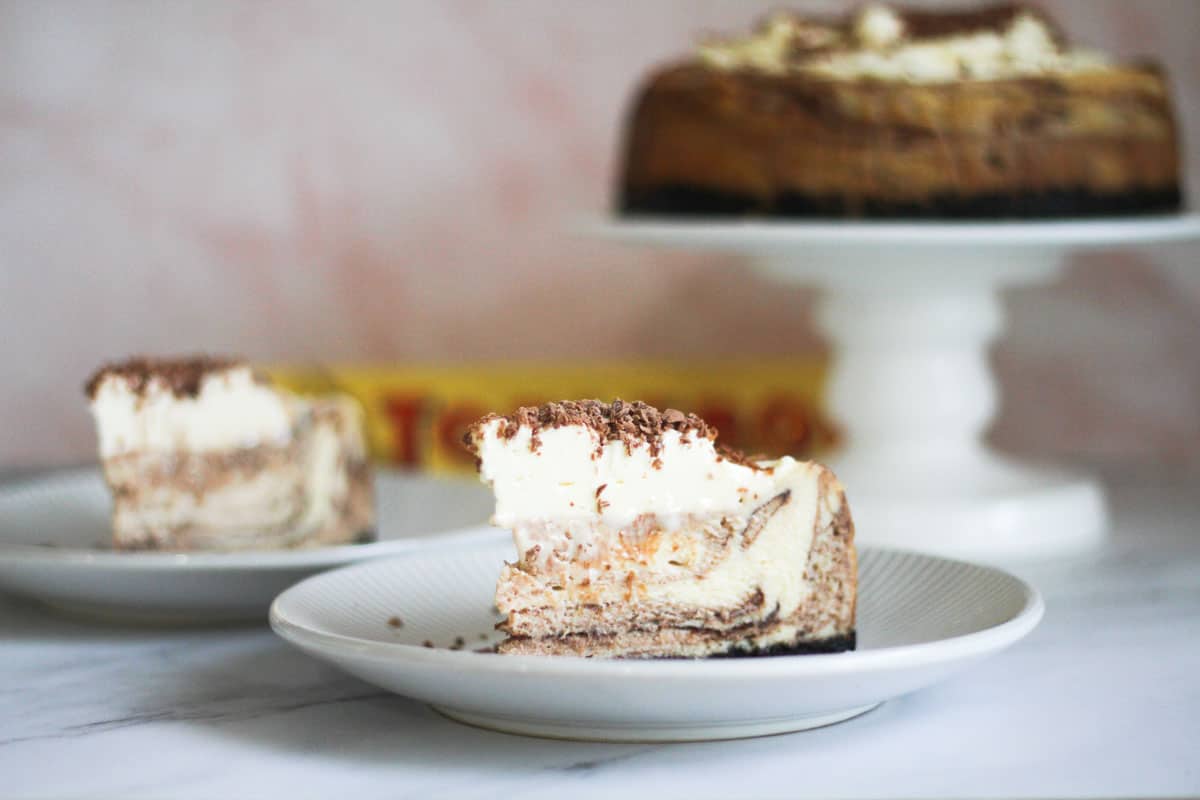 How to make Toblerone Cheesecake
Line a springform pan with parchment paper. I do the bottom and the sides.
Crush the Oreo cookies in a food processor or place them in a bag and hit it with a rolling pin until they're fine crumbs. I like to leave the filling inside. Melt the butter and pour into onto the Oreo crumbs. Mix well until combined.
Spoon the cookie mixture into the springform pan and smooth down to make one flat surface. Place in the fridge while you make the cheesecake filling.
Fit a stand mixer with a paddle attachment and place in the cream cheese and sugar. Alternatively you can place the cream cheese and sugar in a large bowl and use the beater attachments in an electric hand mixer. Beat until combined and the sugar has mixed in with the cream cheese.
Add in eggs and vanilla. Mix until smooth and creamy.
Add in the cream and mix again.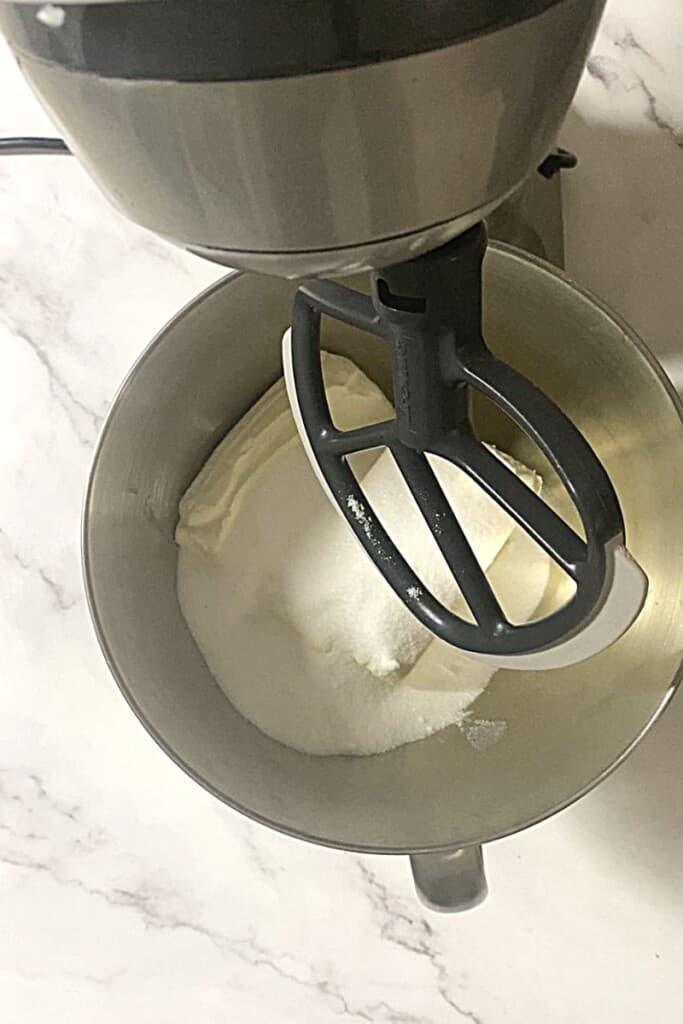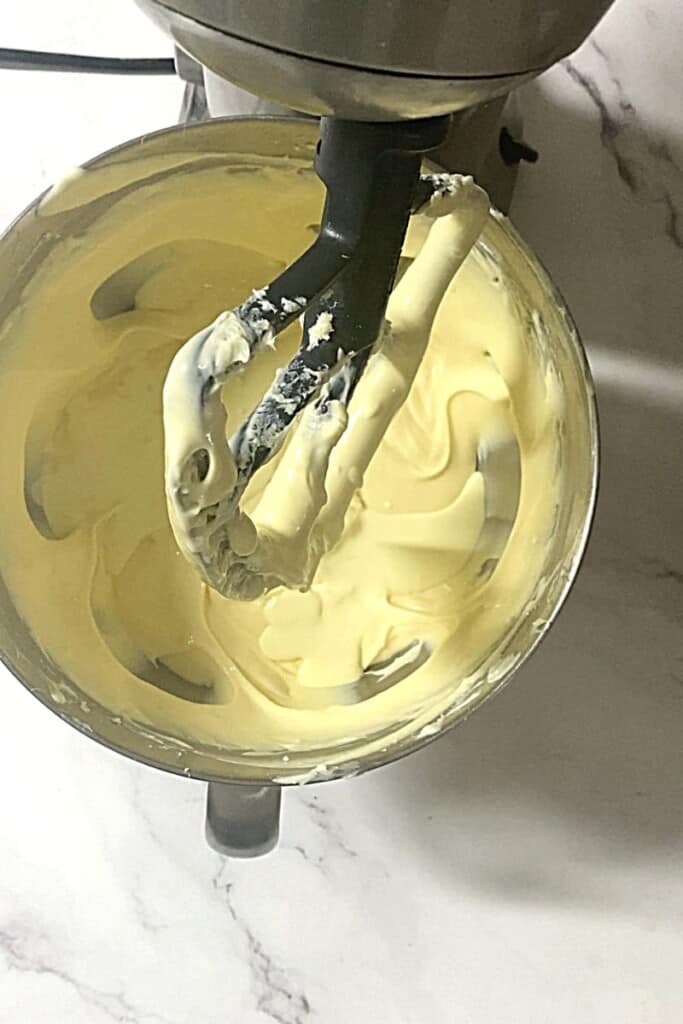 Chop up the Toblerone and place in a microwave safe bowl for 30 seconds at a time, mix in between and place back in the microwave until fully melted. Set aside to cool.
Pour the melted Toblerone into the cheesecake bowl. Give it a small swirl with a spoon or spatula. Pour the cheesecake mixture into the springform pan. The Toblerone will naturally ripple through the cheesecake.
Place in the oven with a pan of hot water beneath it (a water bath hack, read the full tips section below). Once baked, let cool completely in the oven.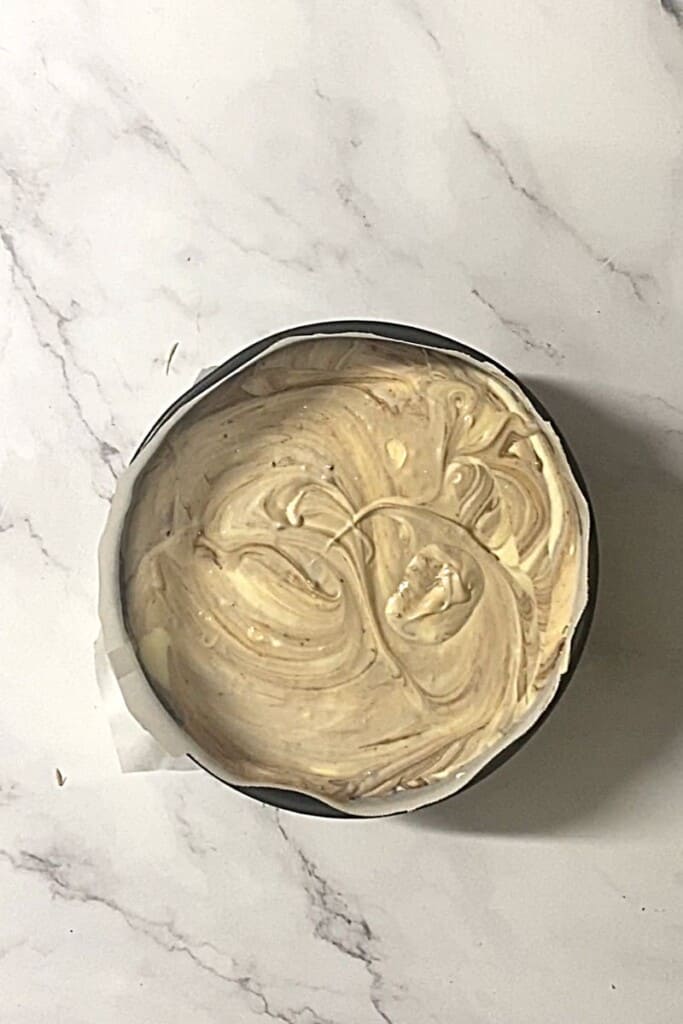 Cheesecake is cooked when the edges are firm and set and there is a slight wobble in the centre.
Tips for making cheesecake
Use room temperature ingredients: Make sure the cream cheese, eggs, and other dairy ingredients are at room temperature before mixing. This ensures a smooth and creamy texture in your cheesecake batter.
Prepare the crust properly: Press the crust mixture firmly into the bottom of the pan, ensuring it is evenly distributed. This helps create a sturdy base for the cheesecake.
Avoid overmixing: Mix the cheesecake batter just until all the ingredients are combined. Overmixing can whip excess air into the batter, this can lead to cracking.
Tap the cheesecake: After filling the cheesecake into the pan, gently tap it on the counter to avoid any air bubbles in the cheesecake.
Bake with water: You can use my tip above to avoid the hassle of a water bath or use the traditional water bath method, either way this helps to prevent cracking.
Bake slow: Cheesecakes benefit from a slower, longer cooking time. This will mean the cheesecake won't spike in temp and create cracks.
Allow proper cooling and chilling time: After baking, let the cheesecake cool at room temperature in the oven for about an hour, then refrigerate it for at least 4-6 hours or overnight. This allows the flavors to develop fully and gives the cheesecake time to set. Top with toppings before serving.
Use a hot knife for clean slices: Before cutting into the chilled cheesecake, dip a sharp knife into hot water and wipe it clean between each slice. This helps achieve neat and clean slices.
Bring cheesecake to room temperature before serving: For the best texture and flavor, remove the cheesecake from the refrigerator and let it sit at room temperature for about 20-30 minutes before serving. Bringing the cheesecake to room temperature also ensures a smoother, silkier texture. If its' cold, the texture will be more firm and dense.
More Recipes to try:
How to store cheesecake?
Store cheesecake in an airtight container in the fridge for 3-4 days.
Why does cheesecake crack?
There are a lot of factors, it can take a bit of trial and error to achieve cheesecakes without cracks. If you follow the tips above, it should get you on your way to achieving a crack free cheesecake. If all else fails, you can always cover the top with cream and toppings.
Can I freeze cheesecake?
If you have any left then yes you can. It's best to freeze cheesecake without any toppings and as soon as you can. Cut the cheesecake into slices and wrap in plastic wrap and foil. Place in a ziplock bag or airtight container and freeze for 1-3 months.
Is this cheesecake recipe halal?
Yes, if you use ingredients that are halal then it should be. Halal gelatine can be hard to find, this cheesecake is baked so it doesn't use gelatine to set.
Why did my cheesecake sink in the middle?
Cheesecake will sink in the middle if it hasn't fully cooked/set in the middle. This can happen if the cheesecake hasn't cooked for long enough or if the cheesecake has baked at a high temperature which cooks and puffs up the outsides which means the edges are cooked before the centre so it sinks.
Print Recipe
Toblerone Cheesecake
Rich and creamy cheesecake filling swirled with ripples of irresistible Toblerone chocolate, topped with cream and more grated Toblerone.
Ingredients
Oreo Base
26

Oreos

2 packets

75

g

unsalted butter

melted
Cheesecake Filling
750

g

cream cheese

1

cup

sugar

3

eggs

1

tsp

vanilla

½

cup

cream

200

g

Toblerone
Topping
½

cup

cream

2

tbsp

powdered sugar

50

g

Toblerone

grated
Instructions
Line an 8 inch springform baking tin with baking paper on the bottom and sides.

Pre- heat oven to 150c/300F.
Oreo Base
Crush Oreos in a food processor or place it in a bag and bash with a rolling pin.

Melt butter and add to the crushed Oreos. Mix well to combine.

Spoon Oreo mixture into springform pan and place in the fridge.
Toblerone Cheesecake Filling
Melt Toblerone in the microwave in 30 second bursts until melted. Set aside to cool slightly.

Place the cream cheese and sugar in to a bowl of a stand mixer. Beat until smooth and creamy and the sugar has dissolved.

Add in eggs and vanilla and beat till smooth.

Add in cream and beat until thick and creamy.

Add in the melted Toblerone and give it a gentle mix, don't over-mix this as you won't get the ripple effect. Just one or 2 mixes around the bowl is enough.

Pour the mixture into the springform pan and place in the oven.

Place an oven safe bowl, dish or pan in to the oven beneath the cheesecake and fill it with hot water, this is a hack to create a water bath and will help to cook the cheesecake while keeping it smooth and creamy.

Cheesecake is cooked when the edges are firm and set and there is a slight wobble in the centre.

Once baked, leave the oven door slightly ajar while the cheesecake cools down, remove after an hour and let cool completely before chilling.
Topping and serving
Beat chilled cream with powdered sugar in a mixer with a whisk attachment. Whisk until thick and it has peaks.

Remove from the fridge 30 minutes before serving.

Top cheesecake with cream and Toblerone and serve.
By