These Coffee donuts are delish! They've got that exquisite coffee aroma topped with a delicious coffee glaze. They are easy to make, they're baked and the donut batter is all made in one bowl. Have them on their own or with a mug coffee.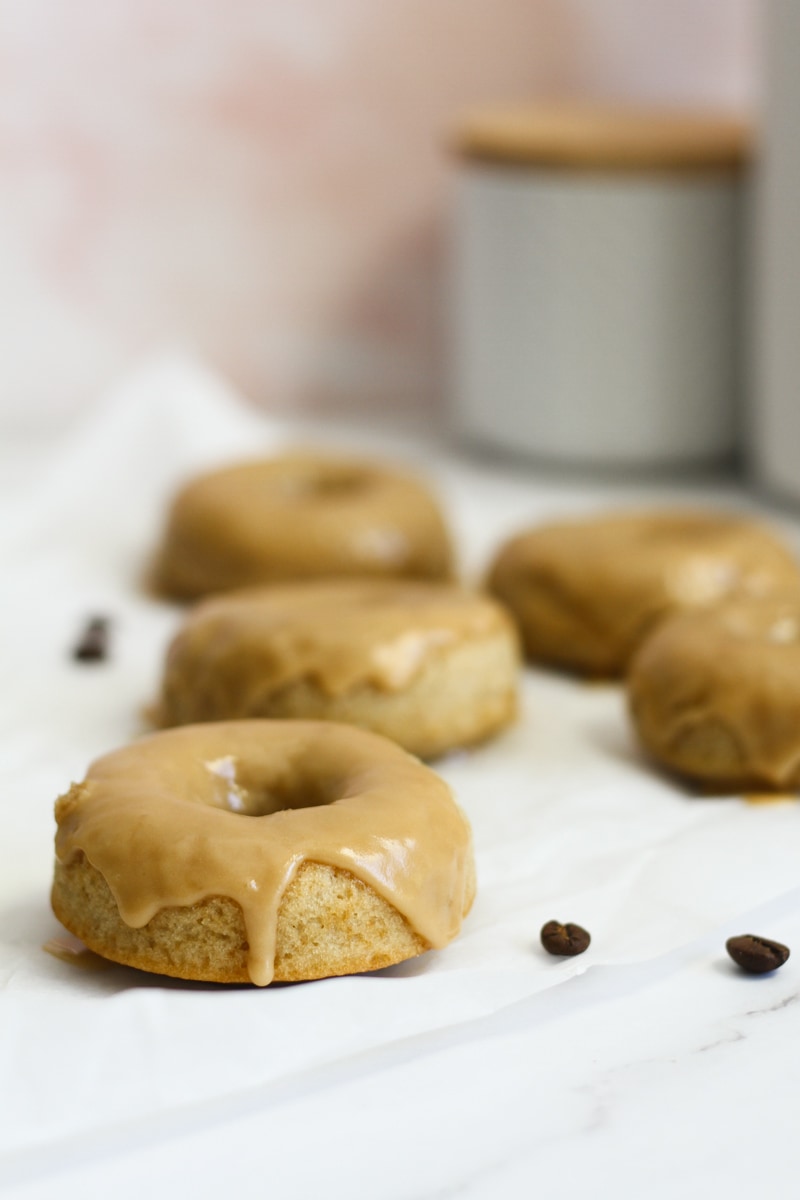 If you like baked donuts and would like to try more recipes, check out my Cardamom Donuts, Baked Cinnamon Sugar Donuts, Caramilk Donuts or for something a little more fruity my Raspberry White Chocolate Donuts.
Why these Coffee Donuts are great!
They are made in one bowl with a whisk so there's no need for an electric mixer.
They're baked, which makes them a lot healthier than a fried donut.
There's no need to deal with hot oil or yeast or dough proofing.
They're so easy to make.
Full of coffee flavour – your house will smell amazing when they come out of the oven.
Kitchen tools needed.
Donut pans: I use 2 silicone pans with 6 holes in each. A metal donut pan will work too, spray it well so the donuts can be removed easily.
Bowl and whisk.
Ingredients needed for the baked Coffee Donuts.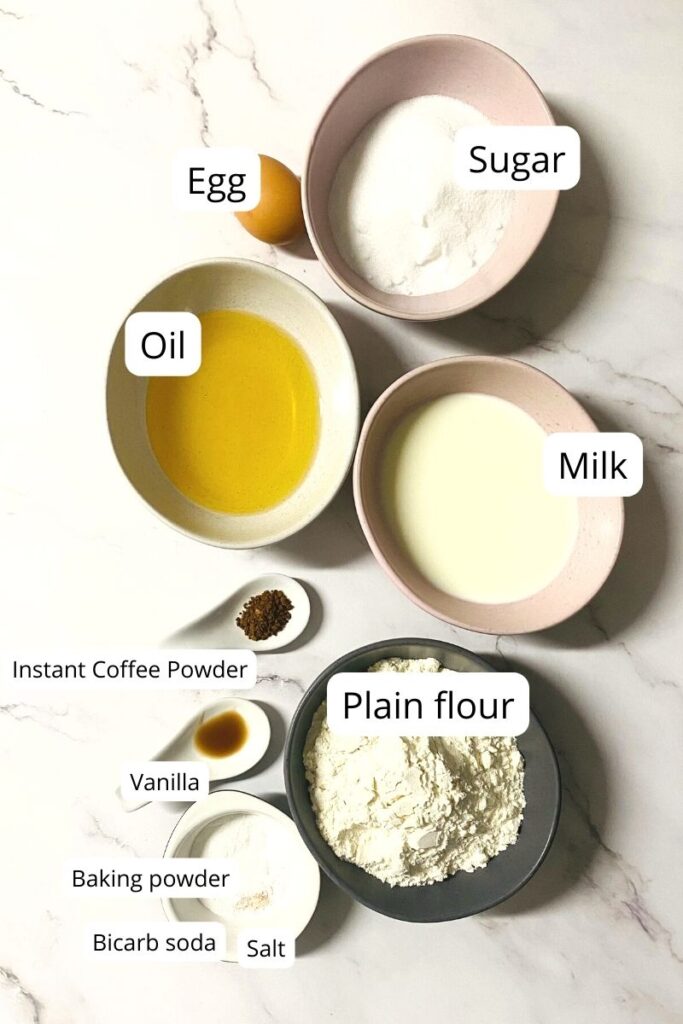 Egg – take this out early so it's at room temperature
Granulated sugar
Oil – use a flavourless oil like sunflower, canola or rice bran so it you can't taste it in the donut
Milk – I like to use full cream milk
Vanilla
Instant Coffee powder – I used hot water to dissolve this
Flour – plain / all purpose flour measured correctly
Baking powder – to help the donuts rise
Bicarb soda
Salt
How to make Coffee Donuts?
1: Preheat oven to 180c and give a 12 hole donut pan a spray with oil.
2: Add the egg and sugar into the bowl and whisk well.
3: Dissolve the instant coffee in 1/4 cup of hot water and set aside. Add the milk, oil, vanilla, dissolved coffee to the egg mixture and mix well.
4: Add the flour, baking powder, bicarb soda, salt. Gently mix the batter until it just comes together but don't over mix the batter as it can cause dry donuts.
5: Fill the donut pan with the batter nearly to the top and place in the oven. Bake for 15-20 minutes until a skewer or toothpick comes out clean. It's best to place the skewer closer to the donut hole section as that tends to be the thickest part.
Ingredients needed for the Coffee Glaze.
Powdered sugar (icing sugar/mixture) – if the sugar doesn't contain added starch, it will need to be sifted well first.
Instant Coffee
Milk
How to make Coffee Donut Glaze?
1: Warm the milk up in the microwave until it starts to bubble slightly, about 20-30 seconds. Add in the instant coffee and let it dissolve.
2: Add in the coffee milk into the powdered sugar and mix.
3: Place the donuts on a piece of baking paper or a cooling rack. Using a spoon evenly drizzle the glaze onto the donuts.
Tips and Tricks for making baked donuts
Use room temperature ingredients
Using room temperature ingredients will ensure everything mixes well and incorporates together.
Measure the flour correctly
Measure flour by fluffing up the flour with the cup scoop before scooping up the flour, this will ensure the flour has aerated so the cup doesn't get packed with excess flour.
Don't overmix the batter
Baked donuts are a lot like muffins, the recipe works best if you don't over mix the batter. Over mixing can cause the donuts to be dense instead of light and fluffy.
Dipped or drizzled
I prefer to drizzle these donuts with the coffee glaze instead of dipping them because they're so light and fluffy that dipping can cause some breakage.
Storage tips
These donuts can be stored at room temperature in an airtight container for 3-5 days. Do not store them in the fridge, this can dry the donuts out. The donuts can be frozen without the glaze for 1 month in an airtight container. Remove them and let them come to room temperature, 60-120 minutes. Make the glaze fresh and drizzle onto the donuts.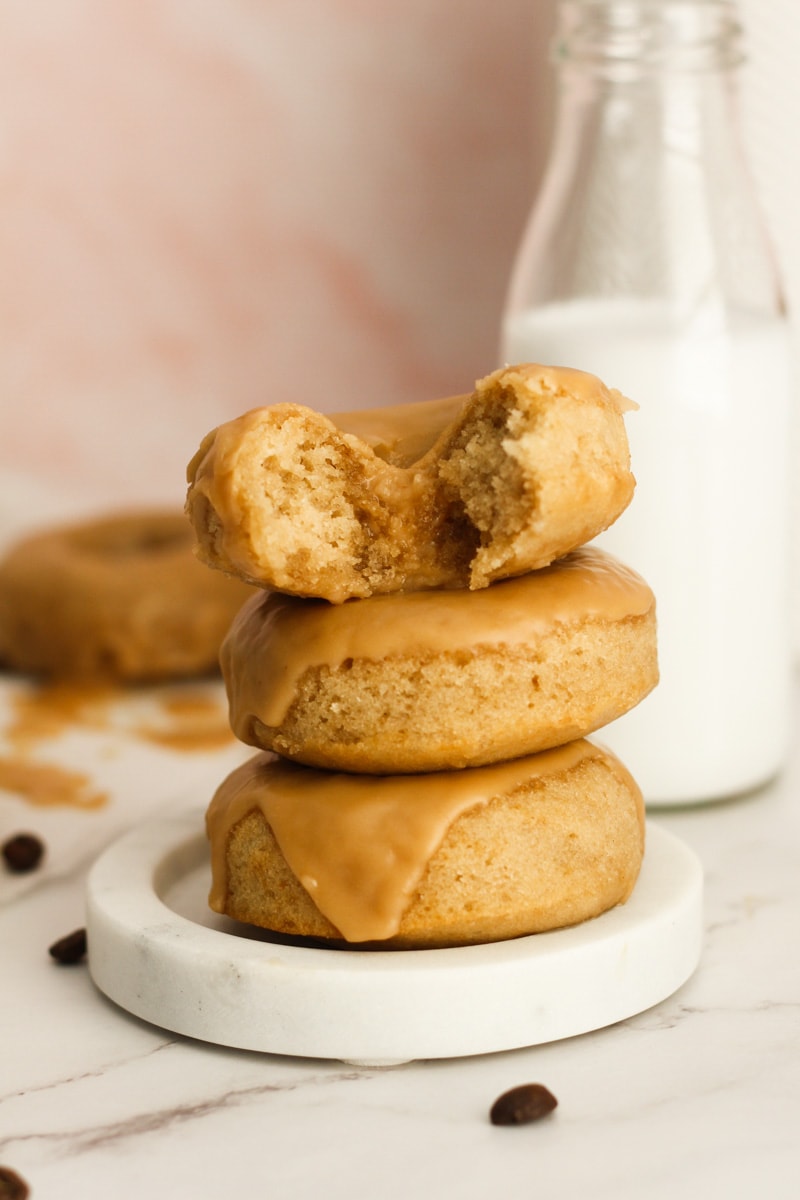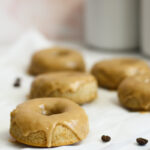 Print Recipe
Coffee Donuts
An aromatic coffee donut with a delicious coffee glaze.
Ingredients
1

egg

(room temperature)

3/4

cup

granulated sugar

1

tsp

vanilla extract

1/2

cup

oil

(plain flavourless)

3/4

cup

milk

1

tsp

instant coffee powder

1/4

cup

hot water

1 1/2

cup

plain / all purpose flour

1 1/2

tsp

baking powder

1/2

tsp

baking/bicarb soda

1/4

tsp

salt
Coffee Glaze
1 1/2

cup

powdered/icing sugar

(sift first if lumpy)

3

tbsp

milk

1

tsp

instant coffee powder
Instructions
Pre-heat oven to 180c/350F. Spray the donut pans on all sides to ensure easy removal.

Place the egg and sugar in a bowl. Mix well using a whisk.

Dissolve the coffee powder in a 1/4 cup of hot water.

Add the vanilla, oil, milk and dissolved coffee and mix well.

Add in the flour, baking powder, bicarb soda, salt.

Mix gently until all the ingredients just come together. Don't over mix the batter.

The batter will be runny, use a cup or jug to pour the batter into each donut hole. Fill till near the top

Place in the oven for 15-20 minutes until a toothpick removed comes out clean. Test this at the thickest part to ensure it's cooked all the way through.

Set aside to cool completely. Remove the donuts by gently twisting the donuts and pulling them off the centre.
Coffee Glaze
In a bowl combine the hot water and instant coffee powder.

Add the dissolved coffee into the powdered/icing sugar and mix well. The glaze should be thick.

Place the donuts on a cooling rack or piece of parchment/baking paper.

Using a spoon, drizzle the donuts with the glaze making sure the top of each donut is covered. Leave to set.
Notes
Store in an airtight contain at room temp for 3-5 days. Do not store in the fridge as this will dry them out. 
These can be dipped or spooned with the coffee glaze, however I prefer spooning the glaze on as it's easier to get full coverage and means the donuts are handled less.
Best eaten between days 1-3 but will last in an airtight container for up to 5 days, the glaze may soak into the donuts the longer they stay.
Nutrition
By