These Caramilk Brownies are an indulgent treat that anyone can make at home. These brownies are fudgy and rich and everything you want in a good brownie.
If you have a Cadbury Caramilk block on hand than you can make these right now because I'm sure you have the rest of the ingredients too. You can drizzle these with extra Caramilk or save a few pieces for the drizzle or skip it altogether. These brownies are just as good without it, but it does finish them off beautifully.
If you love Caramilk try my Caramilk Cookies, Caramilk Donuts or Caramilk Muffins.
About these Caramilk Brownies
They're fudgy and delicious.
They're quick and easy to make and come together in one bowl.
You don't need an electric mixer, just a heat proof bowl and a whisk.
They're rich and full of chocolatey flavour.
They have chunks of Caramilk, a full bar in fact.
You only need pantry ingredients, it just uses cocoa powder so there's no need for chocolate (apart from the Caramilk of course).
Did I mention they're fudgy?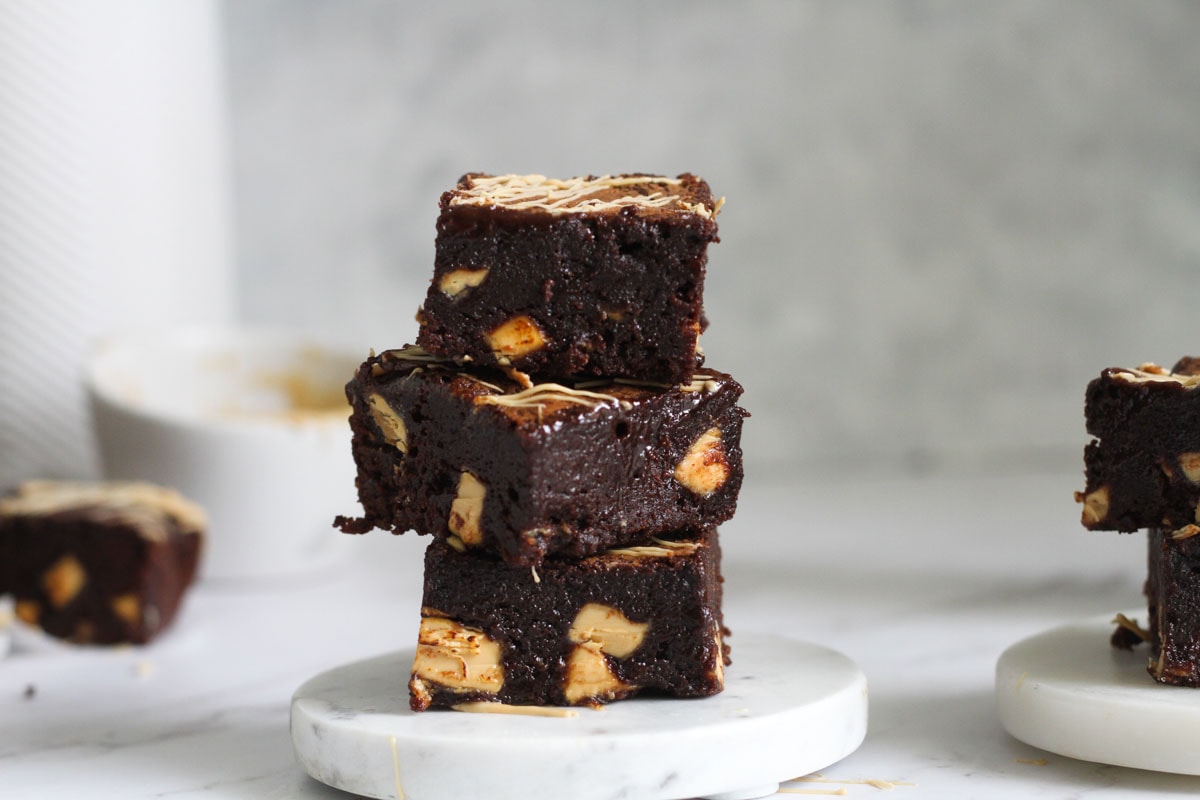 Ingredients
Butter: Unsalted butter works well in this recipe so you can control the amount of salt. There's no need to take this out early or wait for the butter to soften as it gets microwaved together with the sugar.
Sugar: White granulated/caster sugar works well in this recipe.
Vanilla: A must in all baked goods.
Eggs: Three eggs added one at a time.
Cocoa Powder: Use an unsweetened good quality cocoa or one you like the flavour of.
Salt: The addition balances out the sweetness of the Caramilk and the richness of the brownies, but not so much that you'll easily taste it.
Flour: This recipe requires half a cup of flour. Measure the flour correctly by aerating the flour (fluff the flour with the cup before scooping).
Cadbury Caramilk: The recipe uses a full 180g bar. You can use Caramilk chips instead of a chopped bar, measure 180g for the recipe and use an additional 1/4 cup for the drizzle.
How to make Caramilk Brownies?
First: Line an 8 x 8 inch (20cm) square pan with baking paper and preheat the oven to 160c (320F).
Step 2: Add sugar to the butter into a microwave safe bowl. Heat for 30 seconds at a time, mixing in between until the mixture is glossy.
Step 3: Crack each egg into the bowl and mix well between each addition.
Step 4: Pour in the vanilla and mix.
Step 5: Add in cocoa powder and salt and mix well until well combined.
Step 6: Add the flour into the batter and fold it in gently until just combined.
Step 7: Roughly shop the Caramilk into 1/2cm chunks and add to the batter. Gently fold through. Ensure the batter has cooled down before adding the Caramilk.
Step 8: Poor the batter into the pan and place into the oven for 30 minutes. Remove the brownies when the sides have moved away from the pan and the centre had just set. Let cool down completely before removing and cutting.
Tips for brownies
Cut the brownie squares with a hot knife (you can do this by dipping the knife in a tall glass of hot water), this will give you clean smooth cuts.
Drizzle these with extra Caramilk to elevate the look and flavour, but this is completely optional.
If you really want to pack the salty punch, you can sprinkle a pinch of salt onto the drizzled Caramilk while it's still wet, or on the batter before it's baked.
Don't over bake the brownies, or they'll end up dry and cakey, you want these under baked. If you're not sure take them out before you think, they'll usually set at room temperature. A toothpick pierced in the centre should have wet batter sticking to it.
They can be served as is or warmed up with a scoop of ice cream.
Substitutions and Variations
Caramilk is ideal in this recipe, however if you don't have any you can leave it out or use any other type of chocolate.
Add 1/2 a cup of nuts for added flavour and crunch.
Frequently Asked Questions about Caramilk Brownies
How do I get my brownies fudgy?
The process of melting the butter and sugar together is what makes these really fudgy brownies. Don't skip this step.
How do I cut my brownies cleanly?
Use a knife dipped in hot water to get a clean cut on your brownies.
How to store brownies?
Store in an airtight container at room temperature for 3-4 days or 5-6 days in the fridge. If storing in the fridge, microwave for 5-10 seconds before eating to bring it back to temperature or even a little longer to have a warm brownie. Can be stored in the freezer for up to 3 months, if wrapped well in foil and placed in an airtight container.
More recipes to try
Print Recipe
Caramilk Brownies
Delicious fudgy brownies filled with chunks of Caramilk.
Equipment
8 x 8 inch (20 cm) pan

Microwave safe bowl
Ingredients
150

g

unsalted Butter

1¼

cup

granulated/caster sugar

3

eggs

1

tsp

vanilla

¾

cup

unsweetended cocoa powder

½

tsp

salt

½

cup

flour

180

g

chopped caramilk

1 bar
Instructions
Line an 8×8 inch (20cm) square pan with baking paper and preheat oven to 160c (320F).

Chop Caramilk bar into 1/2 cm chunks.

Place butter and sugar in a microwave safe bowl and place in the microwave for 30 seconds at a time, whisk after every 30 seconds until the batter is glossy, this should take around 2-3 times in the microwave.

Set aside to cool slightly.

Add in each egg 1 at a time, mixing well between each addition.

Add in vanilla and mix well.

Add in the cocoa powder and salt and whisk well.

Add in the flour and fold in gently until it is just combined.

Throw in the Caramilk chunks and fold through gently. Make sure the batter has cooled down before the addition of the Caramilk.

Pout brownie batter into prepared pan and place in the oven for 25-30 minutes.

The brownies are done when the sides are starting to come away from the pan, and the centre is still a bit wet. You can test by placing a toothpick in the centre, it should have slightly wet batter stuck to it. Do not over bake the brownies. It' better to remove them early and let them set in the pan then to let them over bake.

Let brownies cool down completely before removing them from the pan and cutting into 16 squares.

Optional: Drizzle with additional melted Caramilk when brownies have cooled down before cutting.
Video
Notes
Tips:
Don't over bake the batter, the centre should be slightly under cooked when removed from the oven.
Cut brownies with a hot knife for clean squares.
Can be served warm by itself or with a scoop of ice cream.
Storage:
Store in an airtight container in the fridge for 5-6 days, 3-4 days at room temperature or up to 3 months in the freezer if each piece is wrapped well in foil and placed in an airtight container. 
Nutrition
By