Take the Baked Oats craze to the next level with this Brownie Baked Oats. A delicious baked oats recipe with added chocolate flavor and chocolate chips to give it that brownie taste.
If you're a big fan of desserty oat breakfasts and want more breakfast recipes, try my other oatmeal recipes, like Oreo Overnight Oats, Carrot Cake Overnight Oats, Biscoff overnight oats or Tiramisu overnight oats. They're all delicious and so easy to throw together.
Why this is a great recipe?
Throw this recipe together in less than 10 minutes
You only need 7 simple ingredients for an easy breakfast
It's a perfect way to start the day and also satisfy that sweet tooth without having to make a batch of brownies
Delicious breakfast treat – like having a taste of brownies for breakfast
Great make ahead breakfast for busy mornings
What are Baked Oats?
Baked oats is a delicious cake like breakfast. It became popular thanks to going viral on TikTok, Instagram and other social media sites. It's not only delicious but also nutritious and filling and a great breakfast to start your day, it's sweetened with a touch of maple syrup. You can make all sorts of different flavors but this brownie baked oats is a real winner, it goes great with a cup of tea or coffee. The best part is you don't even need a large mixing bowl, just a blender and you're good to go! You can even use it as a way to satisfy your sweet tooth instead of baking a batch of brownies. It's also a great one to give the kids, it's so filling with healthy fat. It's become a breakfast time favorite at our house, I get requests all the time.
Ingredients needed
Full list of ingredients and amounts for this Brownie baked oatmeal recipe is in the recipe card below.
Rolled Oats – it's best to use rolled oats, instant or steel cut don't work the same
Ripe banana – ripe bananas or even overripe bananas work really well
Egg – to help bind the batter – use a flax egg for a vegan option
Baking powder – to help create a fluffy texture
Maple syrup– or other sugar substitute
Cocoa Powder – for that chocolatey flavor, use unsweetened cocoa powder or cacao powder
Chocolate Chips – I like to use dark chocolate chips, but milk chocolate chips would work really well too.
Kitchen equipment needed
Blender or bullet blender (or food processor)- this is to blend up the ingredients into a smooth batter.
Bowl – this needs to be about 1 cup in size and safe for either microwaving or putting in the oven.
How to make this Brownie Baked Oatmeal Recipe
In a blender, place in the oats, banana, egg, baking powder and cocoa powder. Blend until smooth and creamy, like a brownie batter.
Add in the chocolate chips into the wet ingredients and give it a quick mix with a spoon (do not blend again).
Pour into the baking dish. Place in the oven. Cool slightly and serve. Serve as is or top with more chocolate.
This is best eaten warm, if you want to prep it ahead of time, it's best to do this the night before. Then store covered with plastic wrap or in airtight container in the fridge. Place in the microwave for 15-30 seconds to warm up before eating.
Alternatively, you can make this in the microwave. Pour into a microwave safe bowl and heat for 1:20 – 1:30 minutes. Times may vary depending on your microwave.
Expert tips for making Brownie Baked Oats
Blend until very smooth and all bits of oats have been completely broken down
Add a little bit of milk if the batter is too thick. It should be similar to a runnier pancake batter
Make sure to add the chocolate chips after so they don't get blended into the batter
Use an egg substitute and dairy-free chocolate chips for a vegan alternative
Sweetener – use any sugar or sweetener of choice eg. honey, maple syrup, agave syrup or even sugars like coconut sugar, brown sugar or stevia or xylitol
Topping / Add-in ideas for brownie oatmeal
Hemp seeds / hemp hearts – for added nutrition
Protein powder – will add more protein and keep you fuller – chocolate protein powder would be great
Nuts – peanuts would work so well here
Peanut butter – peanut butter and chocolate are such a great combo (almond butter or cashew butter would be great as well – you could also try a seed butter)
Flax seeds
Vanilla extract will add extra flavor
Plain Greek yogurt or sweetened plain yogurt or plant-based yogurt
Unsweetened shredded coconut
White chocolate chips – I feel these go so well with
Cacao nibs – add in some extra crunch
Banana slices
Fresh fruit – like strawberries or raspberries work so well
Drizzle on some melted chocolate for a last touch of chocolatey goodness
Frequently Asked Questions
Can i make this into a vegan brownie?
This version isn't vegan, however if you're familiar with using an egg replacer or egg substitute or flax egg and want to give it a try I'm sure it will work well, though I haven't tried it myself. Don't forget to use dairy-free chocolate chips too.
Is this recipe gluten free?
Yes, if you use a gluten free rolled oats as oats can contain gluten.
Can I use quick oats?
Yes, you can use instant oats or quick oats.
How do I store Baked Oats?
Store in the fridge covered overnight. Can stay in the fridge for 2-3 days before it needs to be eaten. Top it with your toppings before eating as this can get soft or mushy if staying in the fridge.
Is this a healthy breakfast?
Depends on your definition of healthy, this is nutritious and filling and is made with good for you ingredients.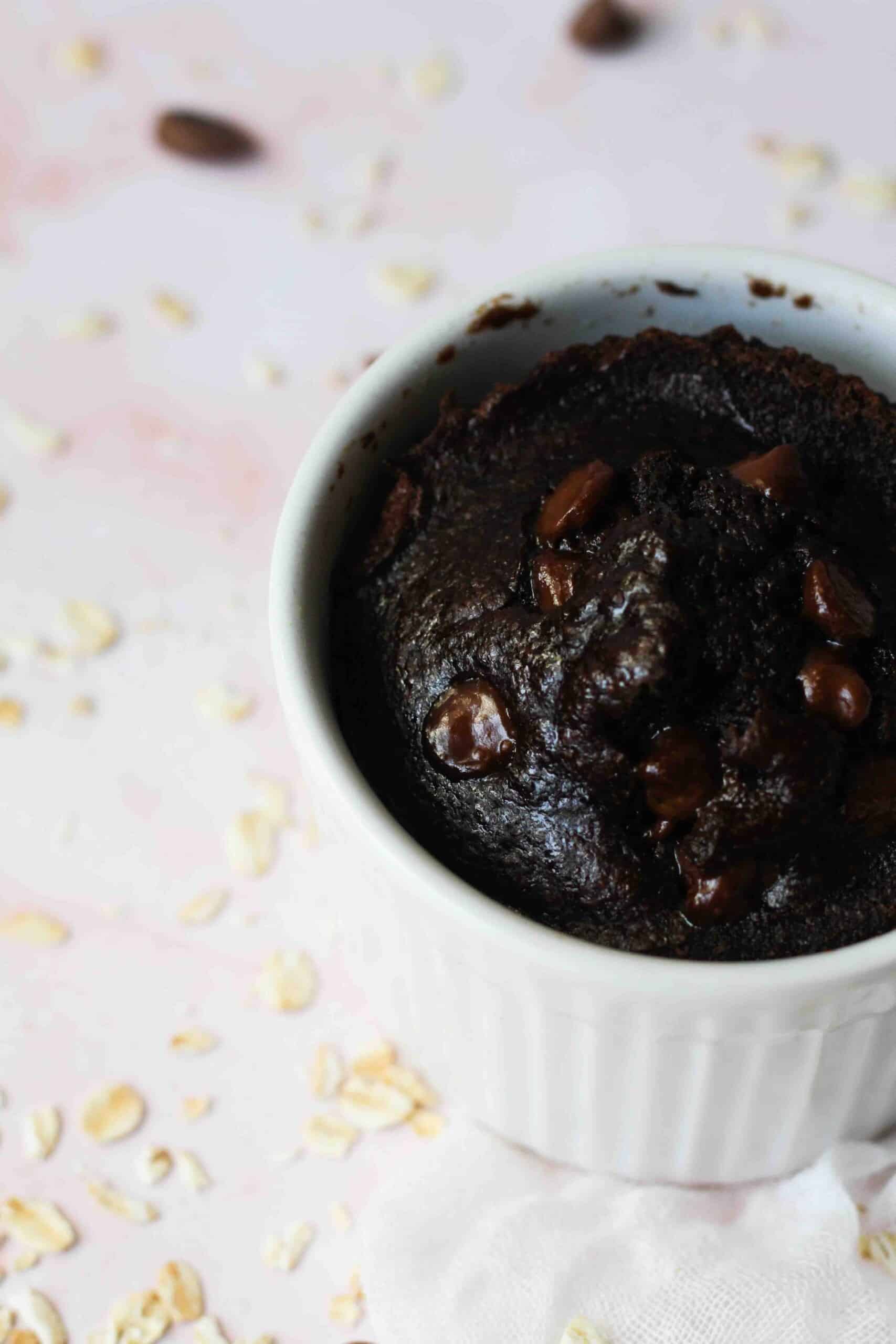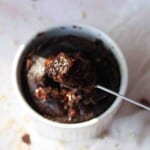 Print Recipe
Brownie Baked Oats
Easy throw together overnight oats with Biscoff for a delicious breakfast tomorrow.
Ingredients
1

over ripe banana

½

cup

rolled oats

½

tsp

baking powder

1½

tbsp

maple syrup

1

large egg

1½

tbsp

cocoa powder

2

tbsp

chocolate chips
Instructions
Place banana, oats, baking powder, maple syrup, egg and cocoa powder in a bullet blender or small food processor.

Add in chocolate chips and mix through with a spoon.

Place in the microwave for 1:30 minutes. Or in a preheated oven for 25 minutes at 180c/350F.

Times may vary, so check that it is cooked through.
Notes
Store covered in the fridge covered for up to 3 days.
Tip: Add in a little milk if a smoother texture is needed. The size of the banana, how ripe it is, or the size of the egg can affect the end texture, so a little milk may be needed. 
Nutrition
By