These Oreo Overnight Oats are a delicious way to start your day. It's like having dessert for breakfast, who wouldn't want that?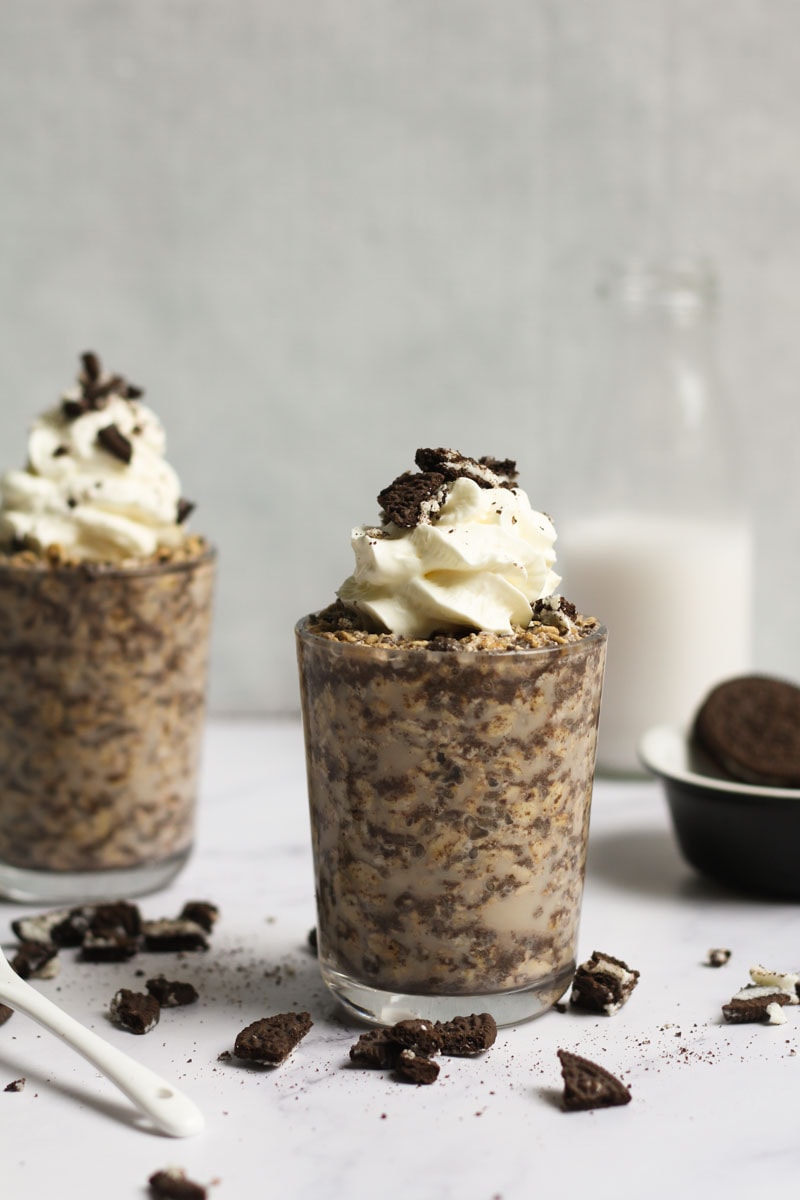 If you're a big fan of overnight oats recipes, try my Carrot Cake Overnight Oats, Biscoff overnight oats or Tiramisu overnight oats. They're all delicious and so easy to throw together.
Why this recipe is great?
Throw this recipe together in less than 10 minutes
You only need 5 simple ingredients for the easiest breakfast
It's a great way to start the day, it's like having a decadent dessert
Tastes like your favorite cookies and cream flavor dessert
Great make ahead breakfast for busy mornings
What are Oreos?
Oreos are a chocolate cookie with a cream filling. The cookies are used to flavor a multitude of desserts. Cookies and cream is the generic term for the cookies and is also the term that's used with desserts that are flavored with it. It's one of my favorite flavors and I wish I could flavor everything with it! If you feel the same, you're going to love these overnight oats!
Ingredients needed
Full list of ingredients and amounts for this Oreo overnight oats recipe is in the recipe card below.
Rolled Oats – it's best to use rolled oats, instant or steel cut don't work the same
Chia Seeds – black or white chia seeds are fine
Oreos – place them in a bag and hit them with a rolling pin, I like the mixture of texture with crumbs as well as big and small chunks
Milk – I use plant based milk but any type of milk will work – I used unsweetened almond milk
Maple syrup– or other sugar substitute
Kitchen equipment needed
Mason jar – this recipe makes 2, so you can use 2 small jars or glasses (approx 250ml-300ml, 8-10 oz)
Large bowl – for mixing the oats before pouring into jars
Bag and rolling pin – to roughly crush the cookies, alternatively you could just chop them up for bigger chunks
How to make Oreo Overnight oats
In a bowl, start with the dry ingredients, pour in the rolled oats, chia seeds and crushed Oreos. Add in the milk and maple syrup. Mix well until the oats and seeds are coated.
Pour into 2 mason jars or bowls (approx. 250-300ml / 8 – 10oz) – and store in the fridge overnight or for a minimum of 4 hours.
Remove the next day, top oats with a bit of cream and additional chopped Oreos for a hit of crunchy cookies.
Expert tips for making cookies and cream overnight oats
Add additional milk to loosen the oats if they've thickened too much
Top with additional Oreos for added decoration and flavor
You can use any plant milk whether it be soy milk, oat milk, almond milk, coconut milk, rice milk or any milk of choice.
Cream – use coconut cream to keep this vegan (the cream topping is optional anyway)
Sweetener – use any sugar or sweetener of choice eg. honey, maple syrup, agave syrup or even sugars like coconut sugar, brown sugar or stevia or xylitol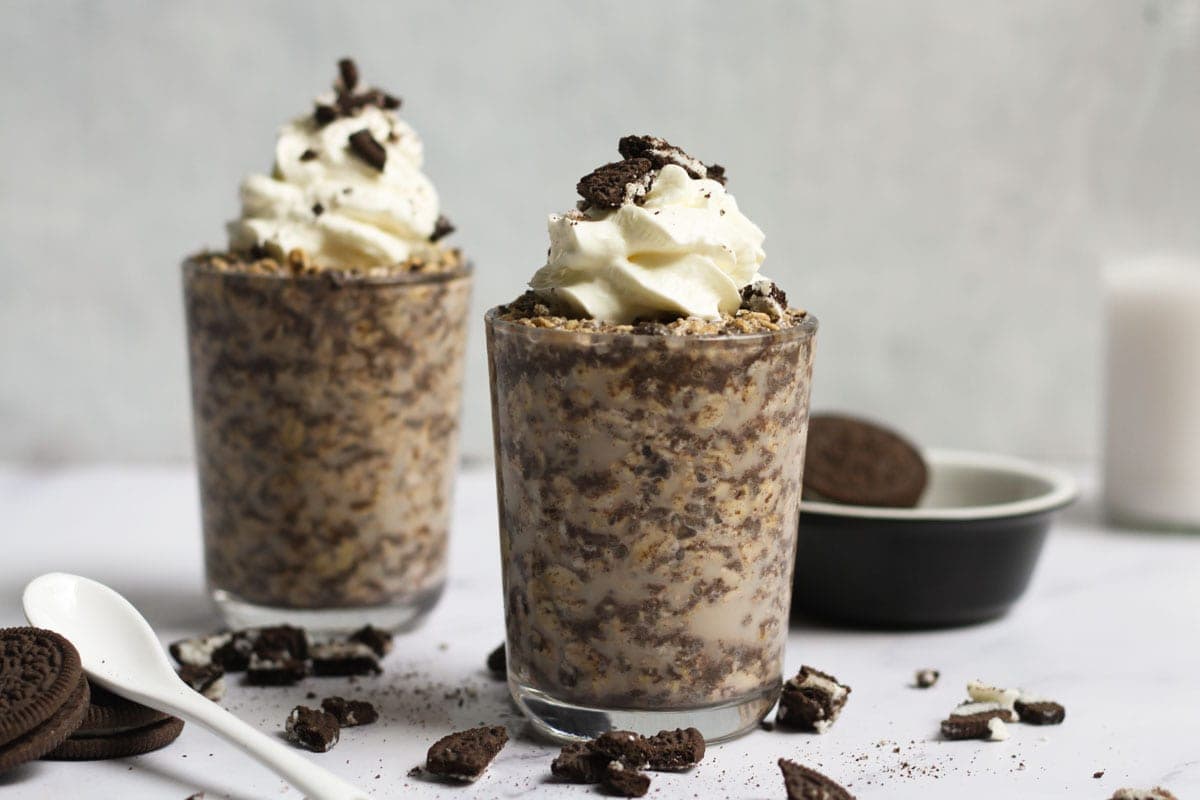 Add in ideas
Hemp seeds / hemp hearts – for added nutrition
Protein powder – will add more protein and keep you fuller
Nuts – peanuts would work so well here
Flax seeds
Peanut butter or almond butter – who doesn't love Oreo and a peanut butter combo? This would be amazing
Plain Greek yogurt or sweetened plain yogurt or plant-based yogurt
Unsweetened shredded coconut
Dark chocolate chips – add in more chocolate flavor
Cacao nibs – add in some extra crunch
Frequently Asked Questions
Are these Oreo oats vegan?
If you stick to a plant based milk, and plant based toppings, then yes, this will be vegan.
Are these overnight oats gluten free?
No as Oreos contain gluten, however if you use gluten-free oats and gluten free cookies and cream cookies then it would be gluten free.
Can I warm up the overnight oats?
Yes, if it's colder where you are, you can place this in the microwave for 15-30 seconds to take the chill out of it.
Can I use quick oats?
Yes, you can use instant oats or quick oats, but it's best eaten within 1-2 days of making as they can turn mushy.
How do I store Oreo Overnight Oats?
Store in the fridge covered overnight. Can stay in the fridge for 3-4 days before it needs to be eaten. Top it with your toppings before eating as this can get soft or mushy if staying in the fridge.
Is this a healthy breakfast?
Depends on your definition of healthy, I don't necessarily consider Oreos healthy, but it is delicious and filling and a good option to change up your breakfasts for something fun. Kid's will love this too.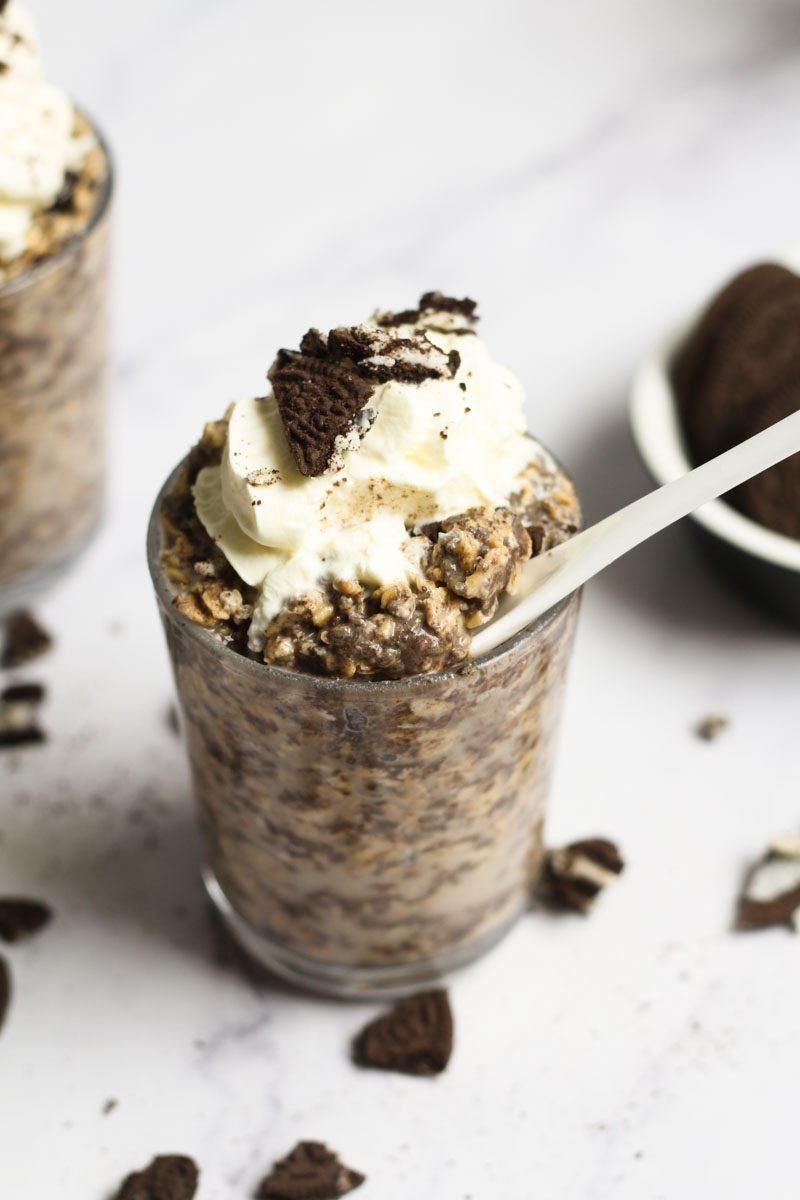 Print Recipe
Oreo Overnight Oats
These Oreo Overnight Oats are a delicious way to start your day. It's like having dessert for breakfast, who wouldn't want that?
Ingredients
1

cup

rolled oats

1

tbsp

chia seeds

1 ¼

cup

milk

I used almond

2

tbsp

maple syrup

4

Oreo cookies
Optional
extra chopped Oreo cookies

whipped cream
Instructions
Place oats, chia seeds, chopped cookies in a bowl. Combine with a spoon or whisk until everything is mixed in.

Add in the milk and maple syrup and mix thoroughly.

Pour into 2 glasses or jars (approximately 1 cup/250ml in size).

Place in the fridge covered for 4 or more hours. Ideally overnight.
Optional
Top the overnight oats with whipped cream and additional chopped Oreo cookies.
Notes
Store covered in the fridge for 3-5 days. If adding toppings, do this before eating.
Nutrition
By