We've all heard of the viral baked oats trend on TikTok right? Well here is a Biscoff Baked Oats, let's take the trend and make it even more delicious with Biscoff.
If you're a big fan of desserty oat breakfasts and want more breakfast ideas, try my other oatmeal recipes , like Oreo Overnight Oats, Carrot Cake Overnight Oats, Biscoff overnight oats or Tiramisu overnight oats. They're all delicious and so easy to throw together.
Why this is a great recipe?
Throw this recipe together in less than 10 minutes
You only need 6 simple ingredients for the easiest breakfast
It's a great way to start the day, it's like having a decadent dessert
Delicious breakfast treat – like having a Biscoff cake for breakfast
Great make ahead breakfast for busy mornings
What are Baked Oats?
Baked oats is a delicious cake like breakfast. It became popular thanks to going viral on TikTok, Instagram and other social media sites. It's not only delicious but also nutritious and filling and a great breakfast to start your day. You can make all sorts of different flavors. It goes great with a cup of tea.
What is Biscoff?
Biscoff, sometimes called Lotus Biscoff Spread is a delicious peanut butter like spread made from lotus biscoff cookies. It comes in both smooth and crunchy versions. It is also referred to as cookie butter or speculoos spread. Biscoff spread can be found in a general grocery store, but if you have trouble finding it there, look out for it at speciality grocery stores or it can be purchased online. It can also be found under the generic name of cookie butter spread.
Ingredients needed
Full list of ingredients and amounts for this Biscoff oats recipe is in the recipe card below.
Rolled Oats – it's best to use rolled oats, instant or steel cut don't work the same
Ripe banana – ripe bananas are best or even overripe bananas
Egg – use a flax egg for a vegan option
Baking powder – to keep the cake fluffy
Maple syrup– or other sugar substitute
Biscoff – the delicious spread
Kitchen equipment needed
Blender or bullet blender (or food processor)- this is to blend up the ingredients into a smooth batter.
Bowl – this needs to be about 1 cup in size and safe for either microwaving or putting in the oven.
How to make Biscoff Baked Oatmeal
In a blender, place in the oats, banana, egg, baking powder and Biscoff spread. Blend until smooth and creamy, like a pancake batter.
Pour into microwave / oven safe bowl. Place in the oven. Cool slightly and serve. Add on some crushed Biscoff biscuit crumbs or a drizzle of melted Biscoff cookie spread.
This is best eaten warm, if you want to prep it ahead of time, it's best to do this the night before. Then store covered in the fridge. Place in the microwave for 15-30 seconds to warm up before eating.
Expert tips for making Biscoff Baked Oats
Blend until very smooth and all bits of oats have been completely broken down
Top with extra melted Biscoff spread or Biscoff cookies for added decoration and flavor
Use an egg substitute for a vegan alternative
Sweetener – use any sugar or sweetener of choice eg. honey, maple syrup, agave syrup or even sugars like coconut sugar, brown sugar or stevia or xylitol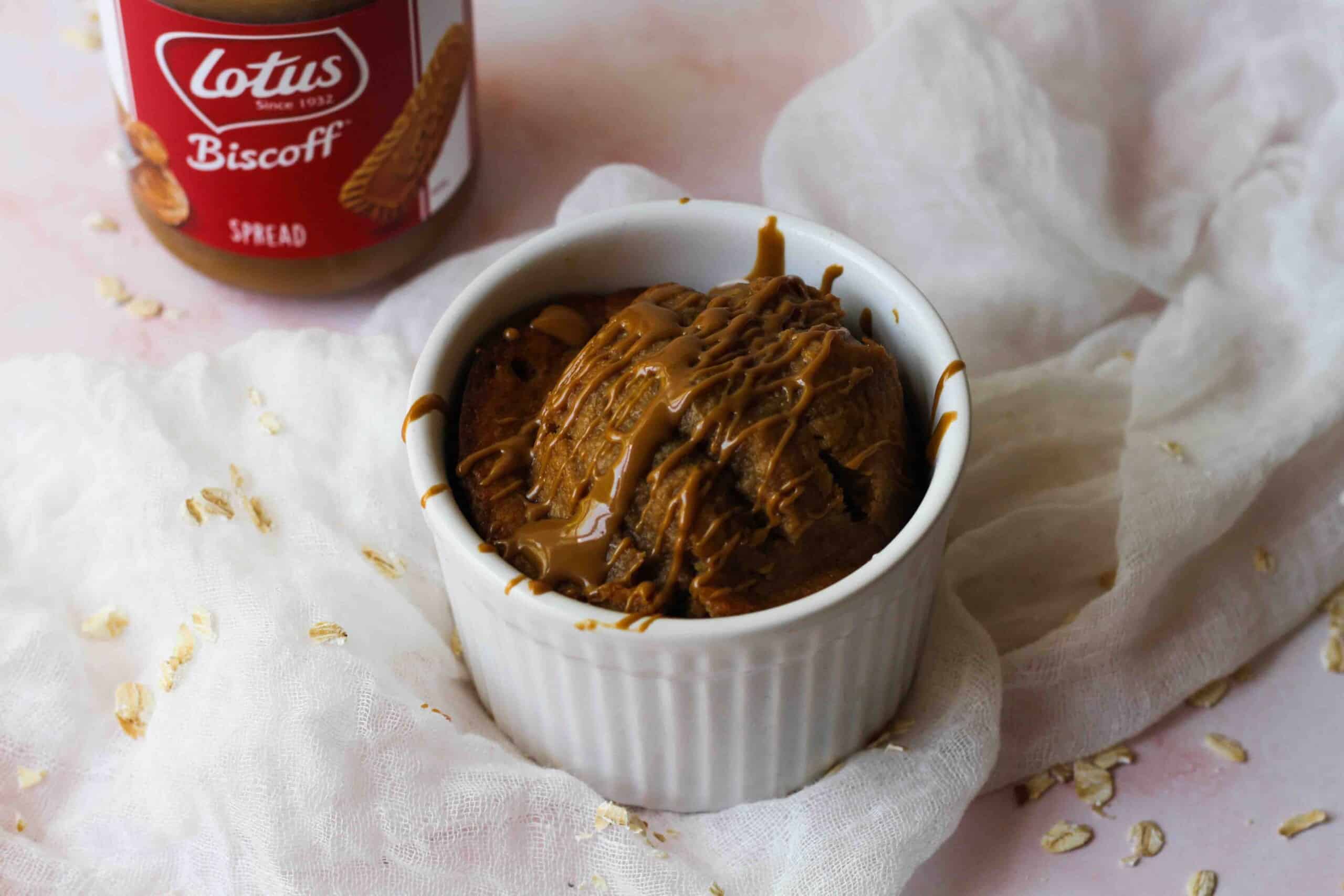 Topping ideas
Hemp seeds / hemp hearts – for added nutrition
Protein powder – will add more protein and keep you fuller
Nuts – peanuts would work so well here
Flax seeds
Plain Greek yogurt or sweetened plain yogurt or plant-based yogurt
Unsweetened shredded coconut
Chocolate chips – add in more chocolate flavor
White chocolate chips – I feel these go so well with Biscoff
Cacao nibs – add in some extra crunch
Banana slices
Frequently Asked Questions
Is Biscoff Baked oats vegan?
No, not this version, however if you're familiar with using an egg replacer or egg substitute or flax egg and want to give it a try I'm sure it will work well, though I haven't tried it myself.
Is this baked oats gluten free?
No, as Biscoff spread contains gluten. Oats can also contain gluten.
Can I use quick oats?
Yes, you can use instant oats or quick oats.
How do I store Baked Oats?
Store in the fridge covered overnight. Can stay in the fridge for 2-3 days before it needs to be eaten. Top it with your toppings before eating as this can get soft or mushy if staying in the fridge.
Is this a healthy breakfast?
Depends on your definition of healthy, I don't consider Biscoff healthy, but the baked oats are delicious and filling and a good option to change up your breakfasts for something fun. Kid's will love this too. It is higher in calories because of the Biscoff, you could split this in half to make 2 serves which would split the calories in half.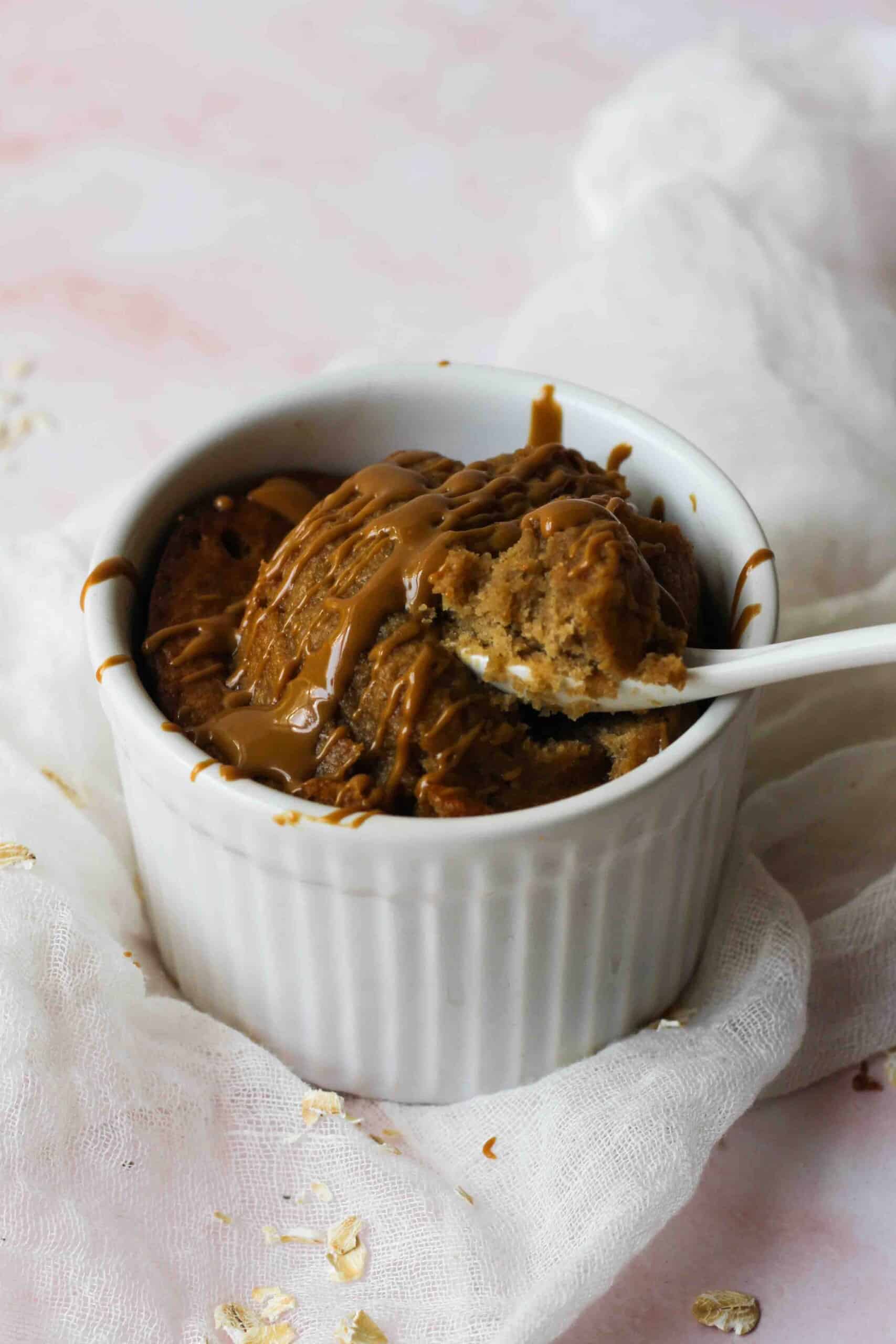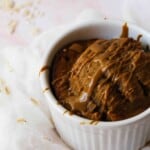 Print Recipe
Biscoff Baked Oats
Ingredients
1

over ripe banana

½

cup

rolled oats

½

tsp

baking powder

1

tbsp

maple syrup

1

large egg

2

tbsp

biscoff spread
Instructions
Place banana, oats, baking powder, maple syrup, egg and Biscoff in a bullet blender or small food processor.

Place in the microwave for 1:30 minutes. Or in a preheated oven for 25 minutes at 180c/350F.

Times may vary, so check that it is cooked through.

Optional: Drizzle with some extra Biscoff spread to serve.
Notes
Store covered in the fridge covered for up to 3 days.
Split in half to split the calories, but note cooking times may vary if halved.
Tip: Add in a little milk if a smoother texture is needed. The size of the banana, how ripe it is, or the size of the egg can affect the end texture, so a little milk may be needed. 
Nutrition
By