These Rose Shortbread cookies are sweet and crisp. They have a light rose flavour from the added rose water and are topped with white chocolate and rose petals.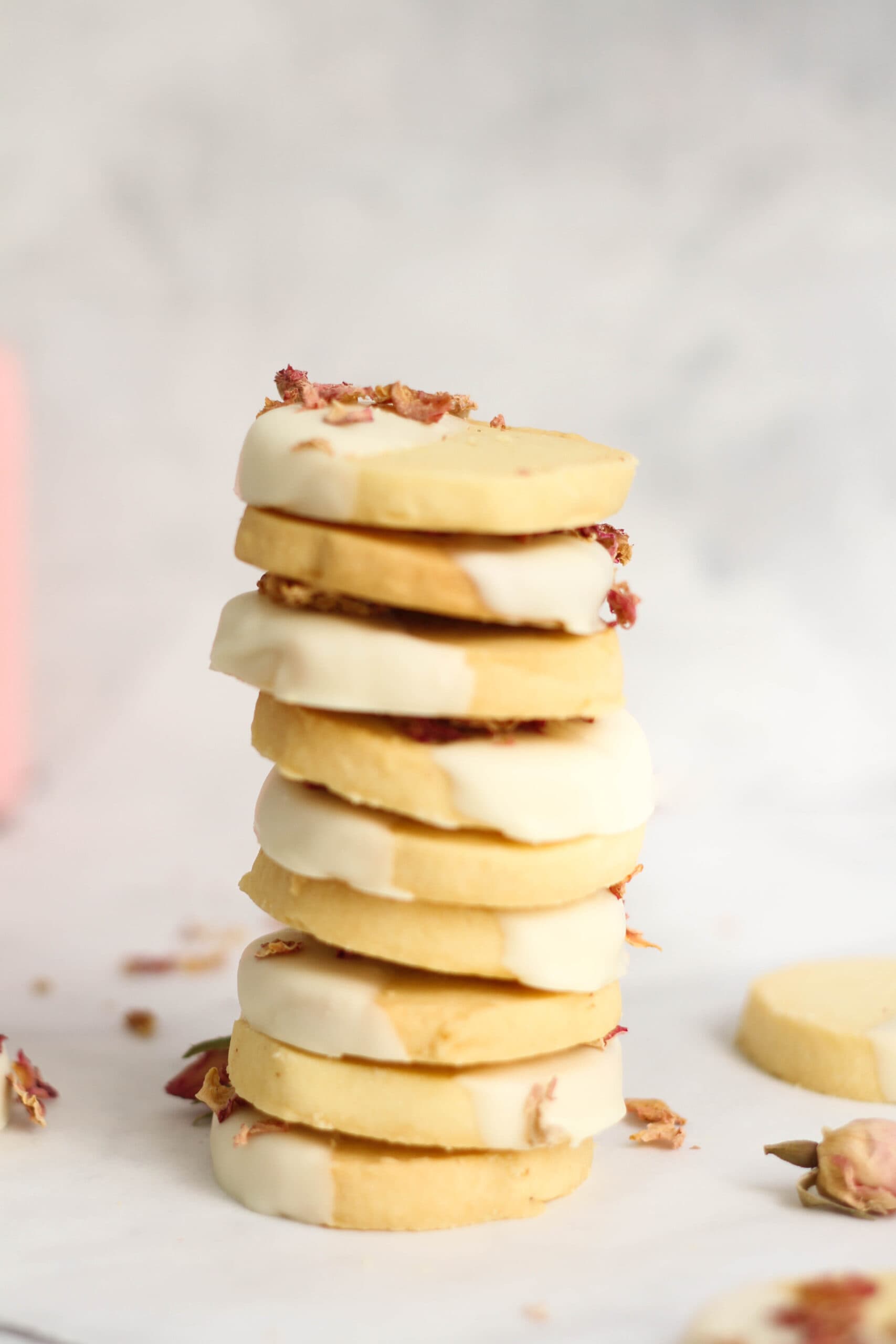 Check out more cookie recipes like, Kinder Cookies, Toblerone Cookies, or Cardamom Chocolate Cookies.
Why this recipe is great
Really easy recipe to make with simple minimal ingredients
No need for cookie cutters or a rolling pin, it's a slice and bake shortbread recipe
Can be stored in the freezer so it's great to use when a craving strikes or when you have unexpected guests
Egg free – this is especially great if you have egg allergies or don't eat eggs
Great with a cup of tea.
What is Rose water?
Rose water is made from from rose petals. It is a fragrant liquid that is used in cooking or perfumes.
Where to find rose water?
Rose water can be found in most grocery stores. If not, check an Indian or Middle Eastern grocer or any speciality grocer should carry it. It can also be purchased online if you can't find it in stores. Make sure the rose water you buy is made for food.
What is a slice and bake cookie?
Slice and bake cookies are cookies that don't require cookie shapes cutters or a rolling pin. Instead of using cookie cutters, the cookie batter is rolled into a log and placed in the fridge or freezer to firm up, once firm you can slice it into rounds and bake. They're a great option to try if it's one of your first recipes.
Ingredients needed for Rose Shortbread Cookies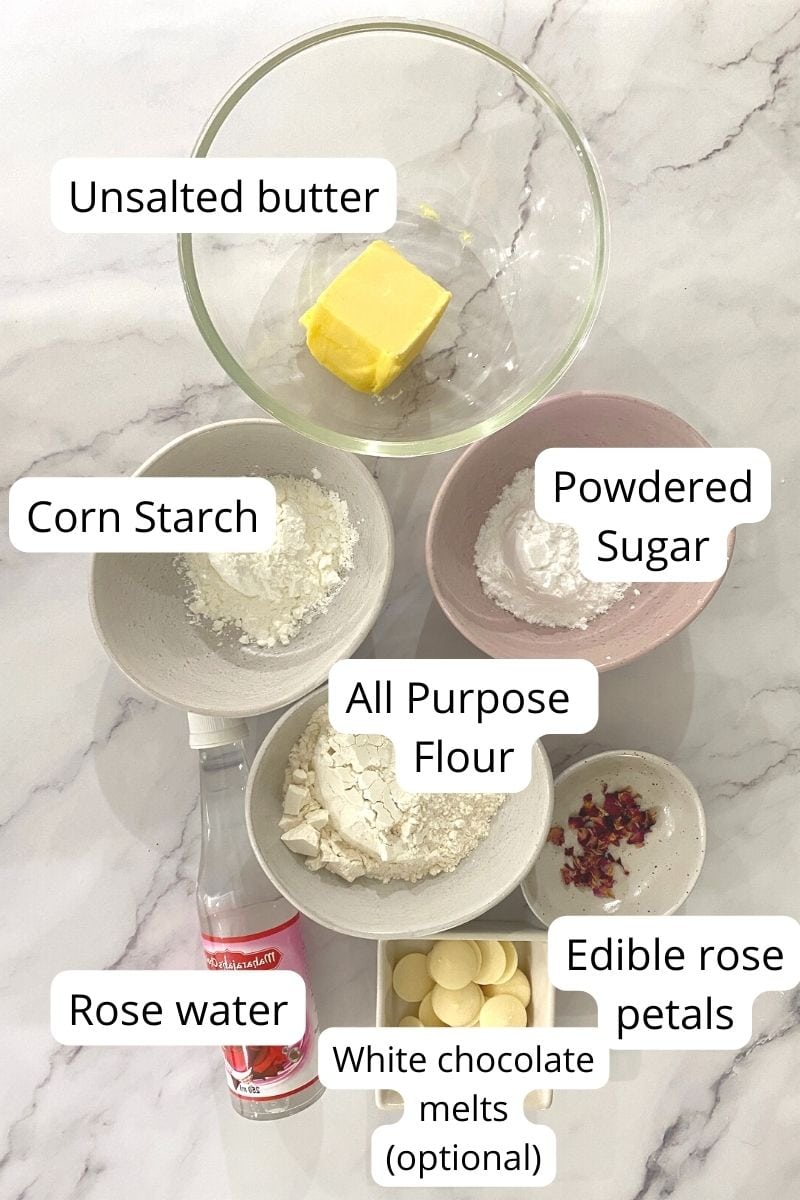 Unsalted butter – softened at room temperature- take this out 30-60 minutes before you need to use it, this may need longer in cold weather
Powdered sugar – for sweetness
Corn Starch – Also known as corn flour
Plain / All Purpose flour – measured correctly – fluff the flour with your cup scoop before measuring and scooping.
Rose water – for a delicious fragrant taste
White Chocolate – see my other topping and filling ideas lower down in this post
Edible Rose Petals – see more ideas at the bottom of this post – it's best to used dried rose petals from a food store, don't use fresh rose petals as they can contain pesticides
How to make Rose Shortbread Cookies
Full instructions for these rose biscuits in the recipe card below.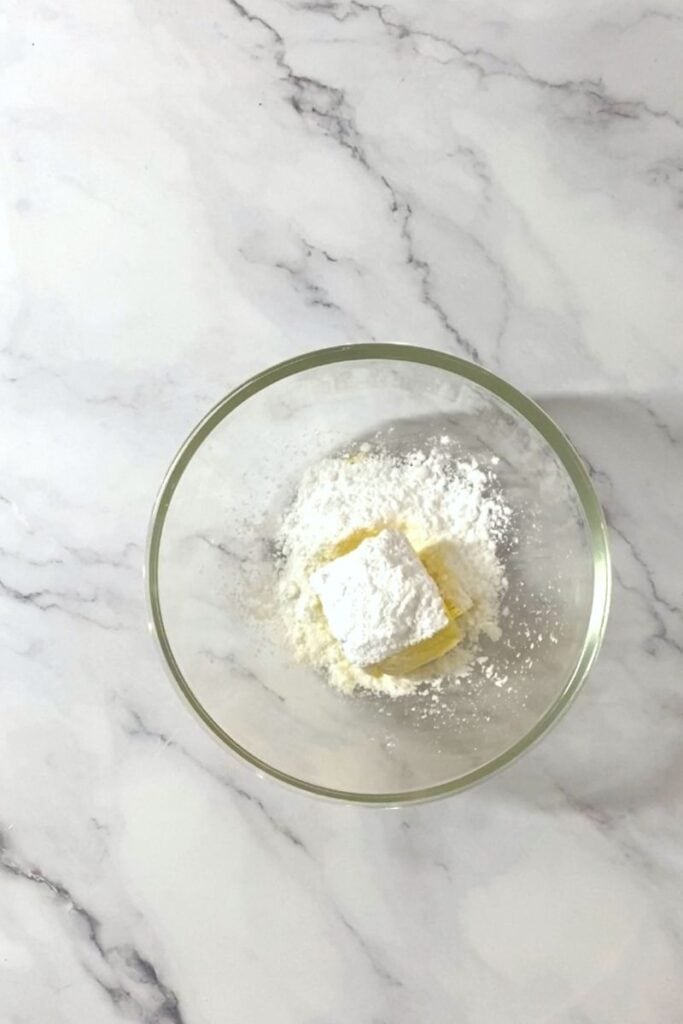 Place your butter and sugar sugar in a bowl of an electric mixer or a large bowl for an electric hand mixer. Beat on a medium speed until smooth and creamy.
Add in the dry ingredients (flour and corn starch) along with the rose water. Beat on a low speed (so flour doesn't fly everywhere) until it forms a dough. If it doesn't form a dough, you can pour it out onto a lightly floured surface and bring the dough together by kneading with your hands.
Remove the cookie dough from the bowl and lay on your work surface, roll it into a log approximately 4cm x 20cm.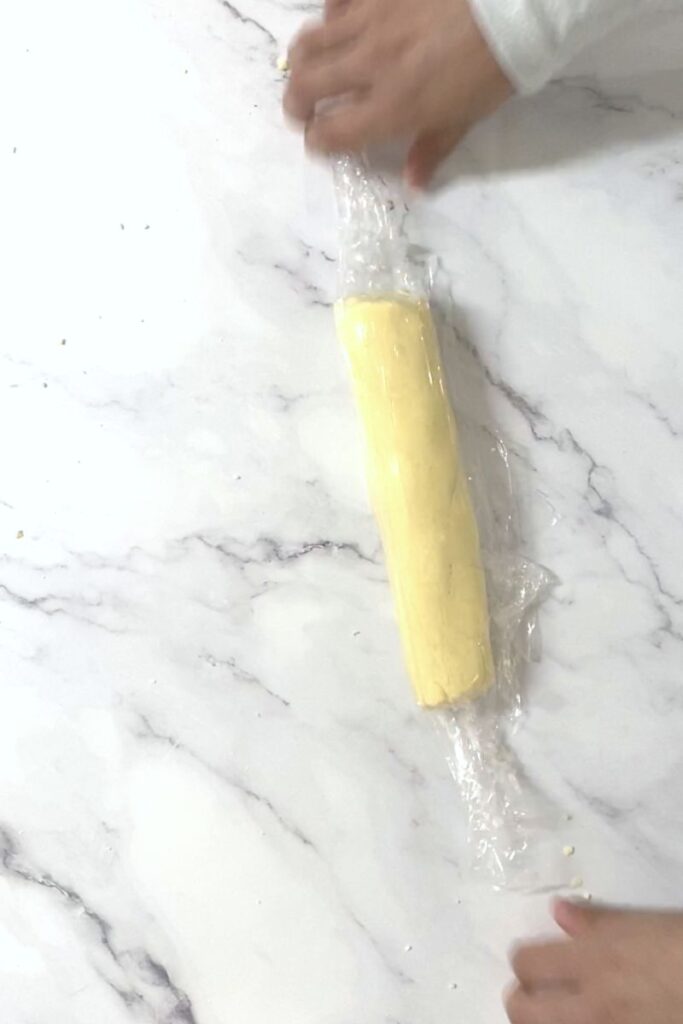 Cover in a piece of plastic wrap and place in the freezer for 1 hour or until firm.
Lay the baking tray with a sheet of parchment paper. Slice into the Rose cookies into 1cm discs and bake in a preheated oven. (If the dough is too firm to cut, leave it to soften for 5-10 minutes before slicing).
Let cool in tray or wire rack.
Melt white chocolate in a small bowl in the microwave for 30 seconds at a time until melted. Add in some flavorless oil if needed to smoothen out the chocolate. Dip each cookie edge into the chocolate and sprinkle with rose petals.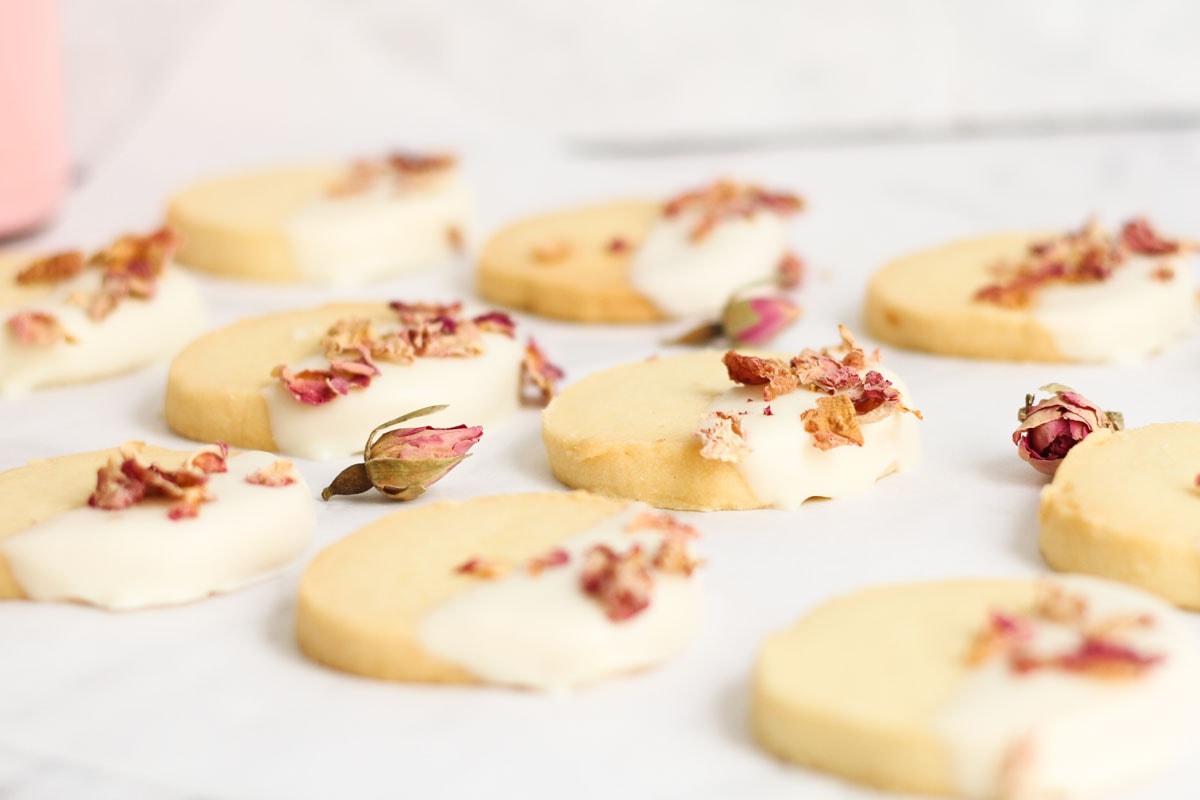 Kitchen Tools needed
Electric stand mixer or hand mixer
Mixing bowl (if using an electric hand mixer)
Plastic wrap / Cling wrap
Cookie sheet
Knife
Expert Tips for making Rose Water Cookies
Ensure the butter is softened for easy beating with the sugar.
Measure flour correctly by fluffing up the flour with your flour scoop before scooping.
Roll the dough evenly into a log so that the cookies end up an even size.
If the cookie dough is too hard to cut after freezing, leave it for 5-10 mins to soften slightly before cutting.
Cut the slices evenly, approximately 1cm thick.
Use compound chocolate for decorating – compound chocolate is chocolate that does not include cocoa butter in the ingredients, it is not real chocolate and can set once melted. It is sometimes referred to as melting chocolate or melts. The best way to check is by reading the ingredients and making sure there is no cocoa butter. Real chocolate needs to be tempered where as compound chocolate does not making it easier to use for things like this.
Other filling ideas
If you want to add some added crunch or flavor
Pistachios – it works so well with rose water
Cardamom – another great combination with rose
Orange blossom – for a Middle East flavor
Pink food coloring – for that rosey color
Other Decoration Ideas
Nothing – these taste great on their own, you don't need to add any decorations if you don't want to
Drizzle with white chocolate instead of dipping
Drizzle with milk chocolate or dark chocolate for contrast
Decorate with sprinkles for a fun touch
Other edible flowers
Drizzle with a rose glaze
Special occasions this is great for
Valentine's day
Mother Day
Eid
Ramadan
More buttery shortbread cookies
Frequently Asked Questions about Shortbread Cookies
Can you freeze Shortbread Cookies?
Yes, you sure can, in fact this is a great cookie for freezing. Wrap the dough log well in plastic wrap and foil, then place in an airtight container if possible. The cookies will store in the freezer for up to 3 months. This makes a great option for when a craving strikes or for unexpected guests.
How long will Shortbread Cookies last?
Store the cookies in an airtight container for 4-6 days. They'll probably be finished by then.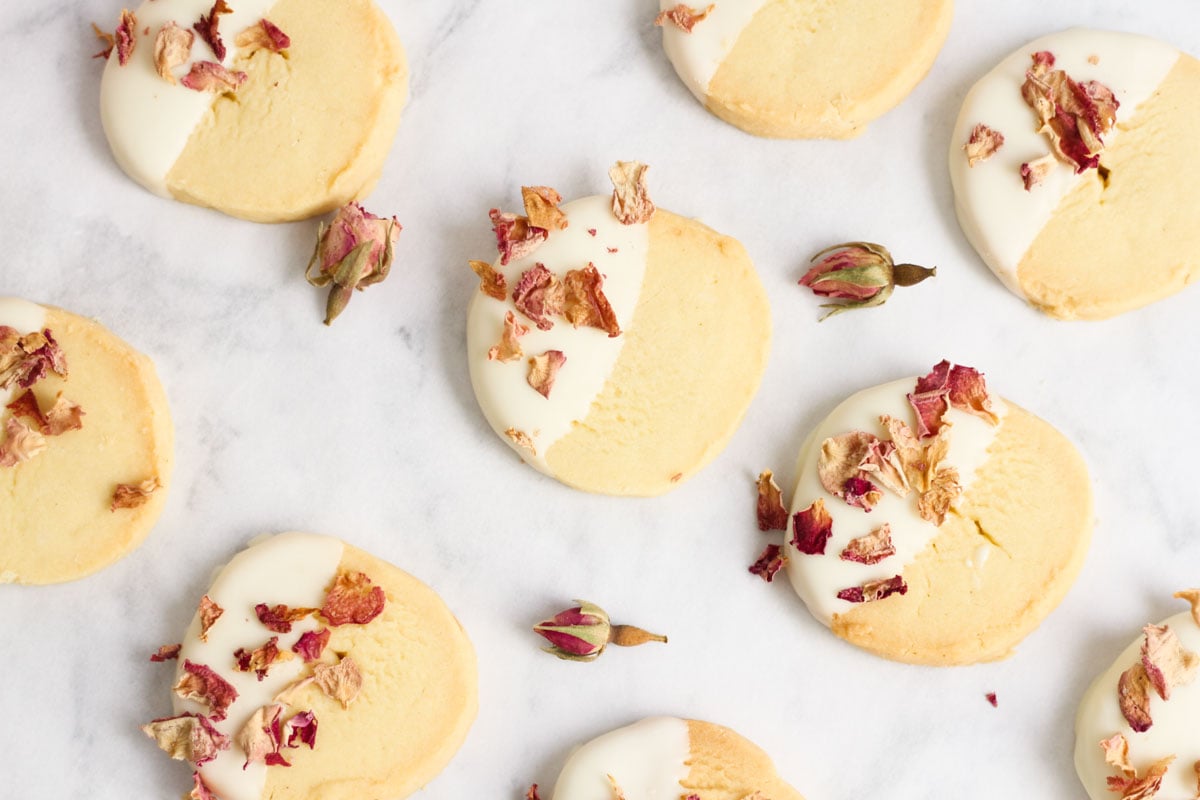 Print Recipe
Rose Shortbread cookies
These Rose Shortbread cookies are sweet and crisp. They have a light rose flavour from the added rose water and are topped with white chocolate and rose petals.
Ingredients
Chocolate Cookies
115

g

softened unsalted butter

⅓

cup

powdered sugar

¼

corn starch

1

cup

plain flour

3

tsp

rose water
Decoration
½

cup

white compound chocolate

*see notes

1

tbsp

edible rose petals
Instructions
In a stand mixer or bowl for a hand mixer, place in your butter and powdered sugar.

Beat the butter and sugar until light and creamy.

Add in your rose water, corn starch and flour and beat until everything is well combined and a dough forms.

Remove the dough and roll into a log shape. Approximately 5cm in diameter and 20cm long.

Place the log into a piece of plastic/cling wrap and place in the freezer for 30-60 minutes until hard.

Pre heat oven to 160c and line a baking sheet with baking paper.

Remove the dough from the oven and slice into approx. 1cm slices.

Place onto baking sheet and place in the oven for 15 – 17 minutes.

Remove from the oven and set aside to cool.
Decoration
Place the chocolate in the microwave for 20 seconds at a time until it is melted.

If the chocolate is too thick, a 1/2 teaspoon of flavourless oil can be added to thin and smoothen it.

Dip each cookie edge into the chocolate and sprinkle with rose petals. Set aside to cool.
Notes
*compound chocolate does not have cocoa butter in the ingredients and can be reset once melted.
Nutrition
By