These Biscoff Shortbread cookies are delicious and so so easy to make. They are delicious with a caramel spiced flavor.
Check out more cookie recipes like, Kinder Cookies, Toblerone Cookies, or Cardamom Chocolate Cookies.
Why this recipe is great
Really easy recipe to make with simple ingredients
No need for cookie cutters or a rolling pin, you just need a knife
Can be stored in the freezer so it's great to use when a craving strikes or when you have unexpected guests
Egg free – this is especially great if you have egg allergies or don't eat eggs
What is Biscoff?
Biscoff is a cookie spread made from speculoos cookies. The spread is sometimes called lotus biscoff or cookie butter. It has a spiced caramel flavour. There is a crunchy version or a smooth version, which is a peanut butter-like spread. The smooth version is best for this recipe.
What is a slice and bake cookie?
Slice and bake cookies are cookies that don't require cookie shapes cutters or a rolling pin. Instead of using cookie cutters, the cookie batter is rolled into a log and placed in the fridge or freezer to firm up, once firm you can slice it into rounds and bake. They're a great option to try if it's one of your first recipes.
Is this recipe for homemade Biscoff Cookies?
No, this isn't a homemade biscoff cookie recipe, instead it has it's own unique flavor like a crisp spice cookie with a rich buttery flavor.
Ingredients needed for Biscoff Shortbread Cookies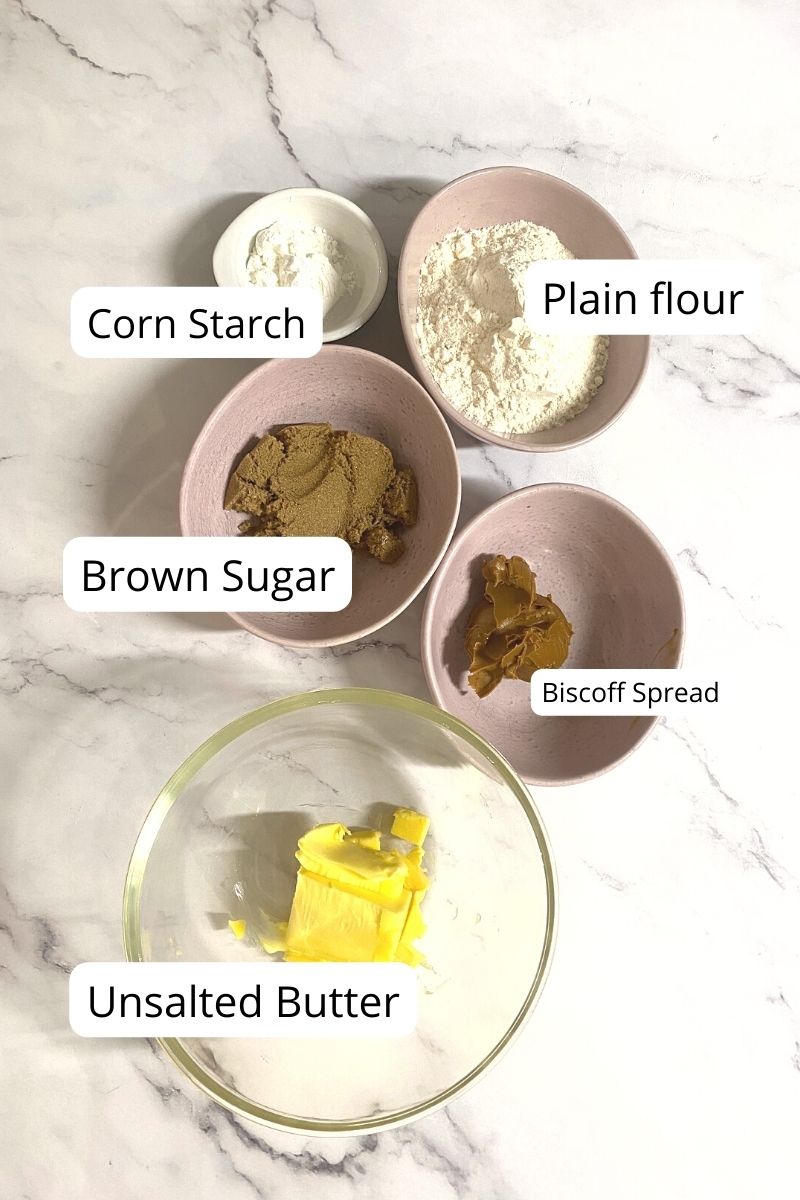 Unsalted butter – softened at room temperature- take this out 30-60 minutes before you need to use it, this may need longer in cold weather
Lotus Biscoff Spread – the creamy version is best for this
Brown sugar – this in addition to the biscoff gives the cookies a deep caramel flavor
Corn Starch – Also known as corn flour
Plain / All Purpose flour – measured correctly – fluff the flour with your cup scoop before measuring and scooping.
How to make Biscoff Shortbread Cookies
Full instructions for these biscoff biscuits in the recipe card below.
Place your butter and biscoff with the brown sugar in a bowl of an electric mixer or a bowl for an electric hand mixer. Beat on a medium speed until smooth and creamy.
Add in the dry ingredients (flour and corn starch). Beat until it forms a dough.
Remove the cookie dough from the bowl and lay on your work surface, roll it into a log approximately 4cm x 20cm.
Cover in a piece of plastic wrap and place in the freezer for 1 hour or until firm.
Lay parchment paper on each baking sheet. Slice into the Biscoff butter cookies into 1cm discs and bake in a preheated oven. (If the dough is too firm to cut, leave it to soften for 5-10 minutes before slicing).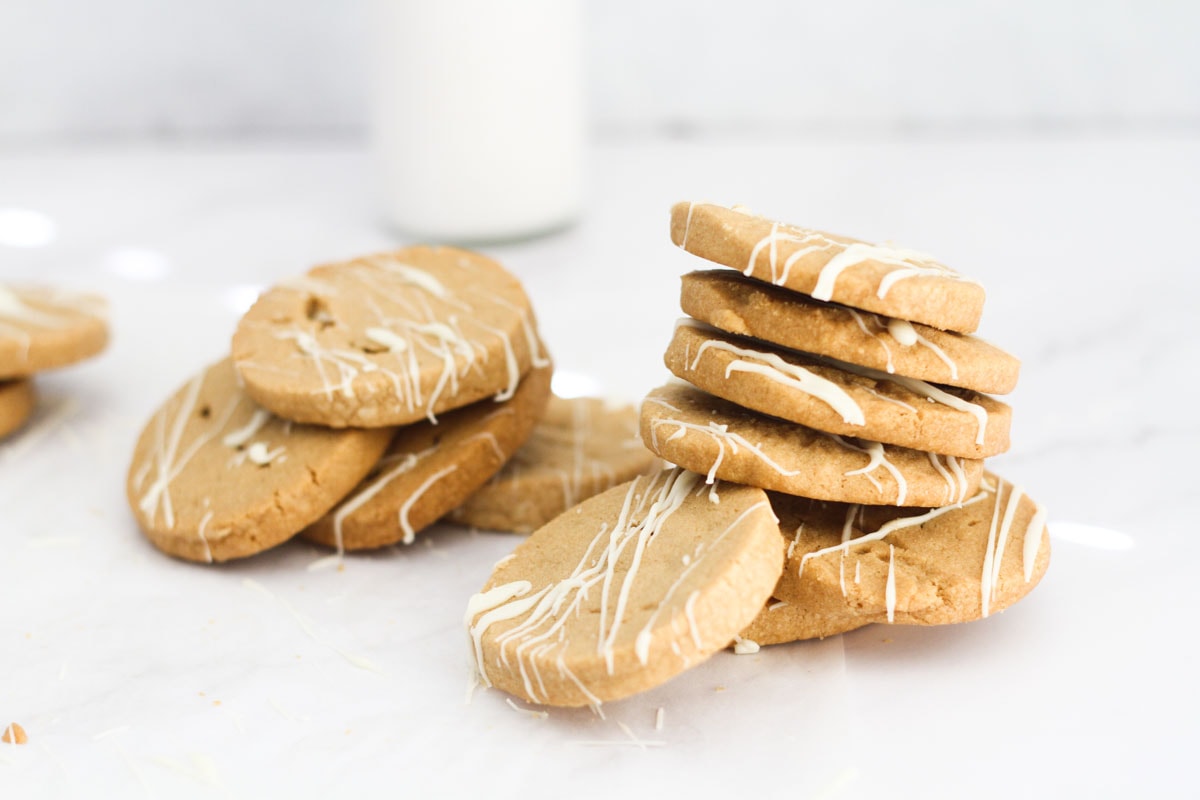 Kitchen Tools needed
Electric stand mixer or hand mixer
Mixing bowl (if using an electric hand mixer)
Plastic wrap / Cling wrap
2 cookie sheets
Knife
Expert Tips for Cookie Butter Cookies
Ensure the butter is softened for easy beating with the sugar and Biscoff.
Measure flour correctly by fluffing up the flour with your flour scoop before scooping.
Roll the dough evenly into a log so that the cookies end up an even size.
If the cookie dough is too hard to cut after freezing, leave it for 5-10 mins to soften slightly before cutting.
Cut the slices evenly, approximately 1cm thick.
Use compound chocolate for decorating – compound chocolate is chocolate that does not include cocoa butter in the ingredients, it is not real chocolate and can set once melted. It is sometimes referred to as melting chocolate or melts. The best way to check is by reading the ingredients and making sure there is no cocoa butter. Real chocolate needs to be tempered where as compound chocolate does not making it easier to use for things like this.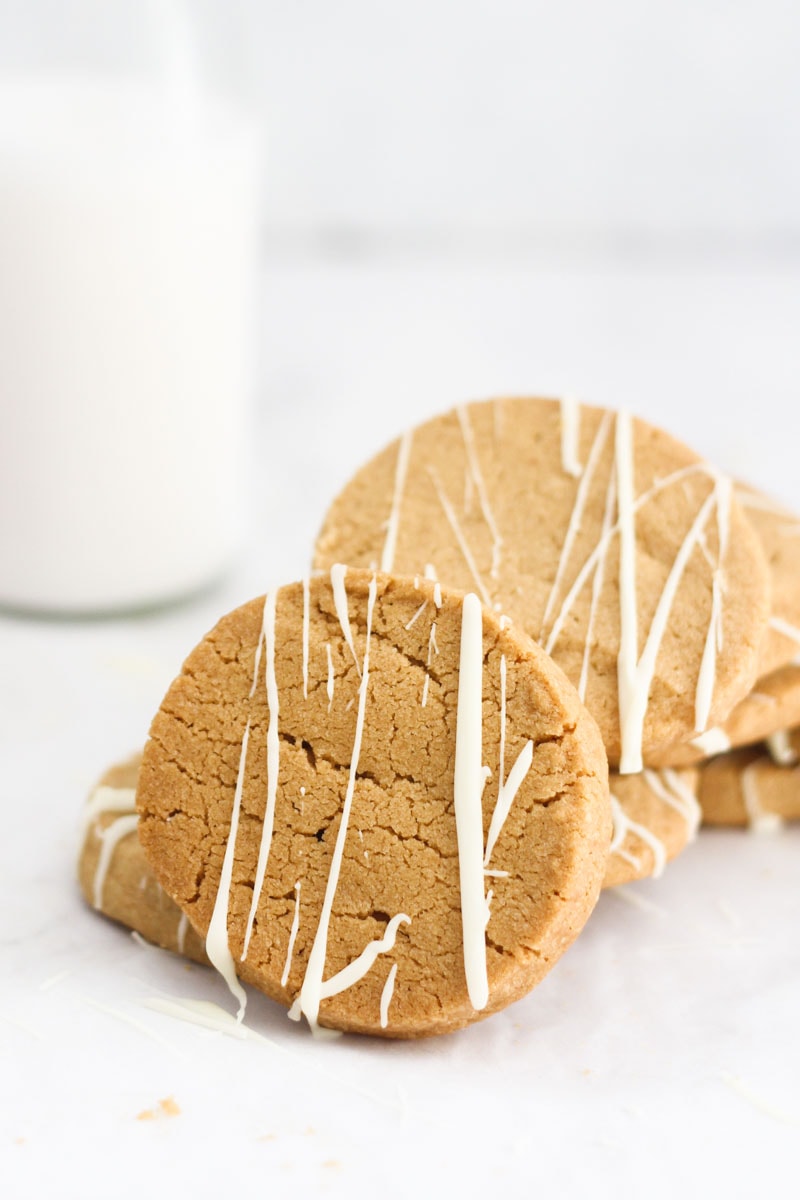 Decoration Ideas
Nothing – these taste great on their own, you don't need to add any decorations if you don't want to
Drizzle with chocolate and top with nuts – pecans and walnuts would work really well with the spiced flavour
Drizzle with milk chocolate or white chocolate for contrast
Dip the cookies in chocolate instead of drizzling
Drizzle with extra Biscoff spread
Dip or drizzle with chocolate and lotus biscuit that's been crushed into fine crumbs
Decorate with sprinkles for a fun touch
You could press chocolate chips into the cookies before baking
More Biscoff Recipes
Frequently Asked Questions about Biscoff Shortbread Cookies
Can you freeze Biscoff Shortbread Cookies?
Yes, you sure can, in fact this is a great cookie for freezing. Wrap the dough log well in plastic wrap and foil, then place in an airtight container if possible. The cookies will store in the freezer for up to 3 months. This makes a great option for when a craving strikes or for unexpected guests.
How long will Biscoff Shortbread Cookies last?
Store the cookies in an airtight container for 4-6 days. They'll probably be finished by then.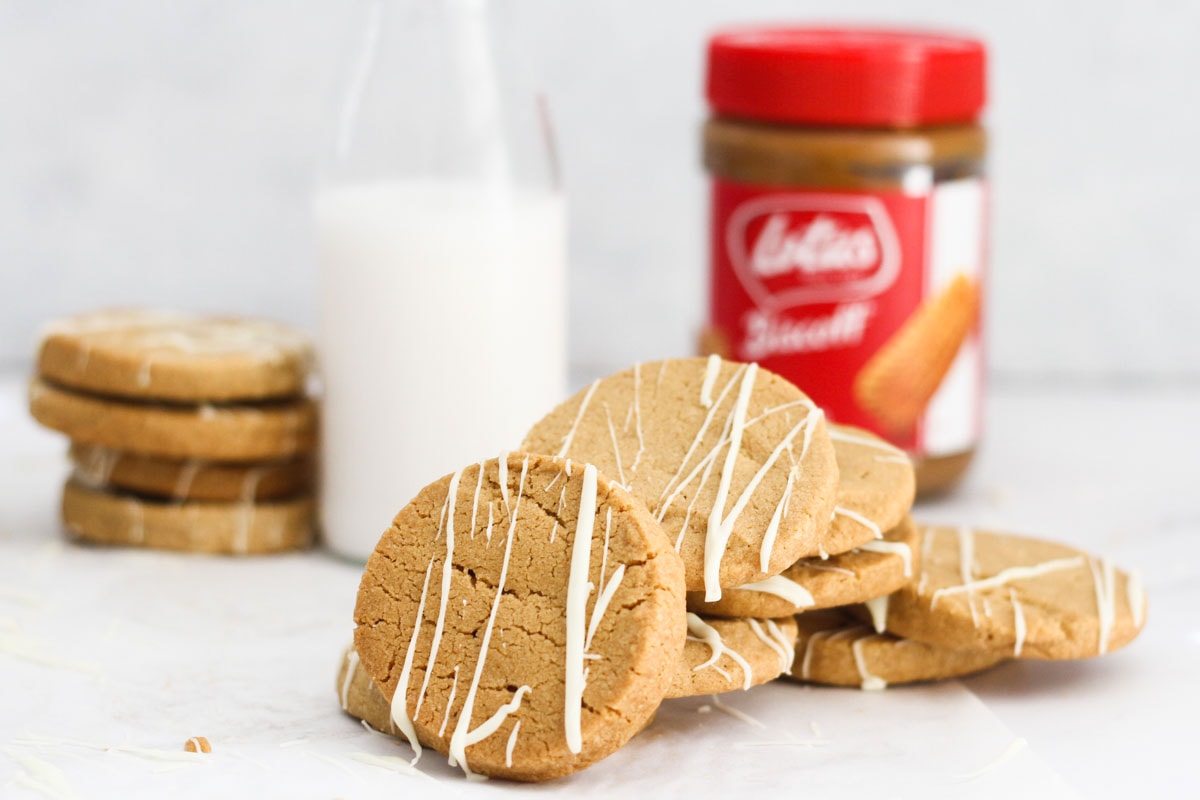 Print Recipe
Biscoff Shortbread cookies
These Biscoff Shortbread cookies are delicious and so so easy to make. They are delicious with a caramel spiced flavor.
Ingredients
Cookies
115

g

softened unsalted butter

⅓

cup

smooth biscoff spread

⅓

cup

brown sugar

1 1/4

cup

plain / all purpose flour

2

tblsp

corn starch / flour
Decoration (optional)
¼

cup

compound white chocolate

*see notes
Instructions
In a stand mixer or bowl for a hand mixer, place in the butter, biscoff spread and brown sugar.

Beat the butter and sugar until light and creamy.

Add in the corn starch and flour and beat until everything is well combined and a dough forms.

Remove the dough and roll into a log shape. Approximately 4cm in diameter and 20cm long.

Place the log into a piece of plastic/cling wrap and place in the freezer for 30-60 minutes until hard.

Pre heat oven to 160c and line 2 baking sheets with parchment paper.

Remove the dough from the oven and slice into approx. 1cm slices.

Place onto baking sheet and place in the oven for 20-22 minutes.

Remove from the oven and set aside to cool.
Decoration (optional)
Place the chocolate in the microwave for 20 seconds at a time until it is melted.

If the chocolate is too thick, a 1/2 teaspoon of flavourless oil can be added to thin and smoothen it.

Drizzle the chocolate over the cookies. Let set.
Notes
*compound chocolate does not have cocoa butter in the ingredients and can be reset once melted.
Nutrition
By