Do you like different flavours in your sweet treats? I can't say I'm extremely adventurous but I do like when a good flavour combo works, in this case it's these Cardamon Chocolate Almond Cookies. The flavour of the cardamon lends itself so well to the almonds and the chocolate drizzle has the perfect amount of sweetness to top of the taste.
I made these cookies last Eid as gifts for friends and family. There was some trial and error while making them, I think my first couple of batches lacked slightly in sweetness and cardamon flavour, the last few turned out perfectly. If you're my friend, or family member, sorry if you got cookies from the first lot, I'm sure they were still great though!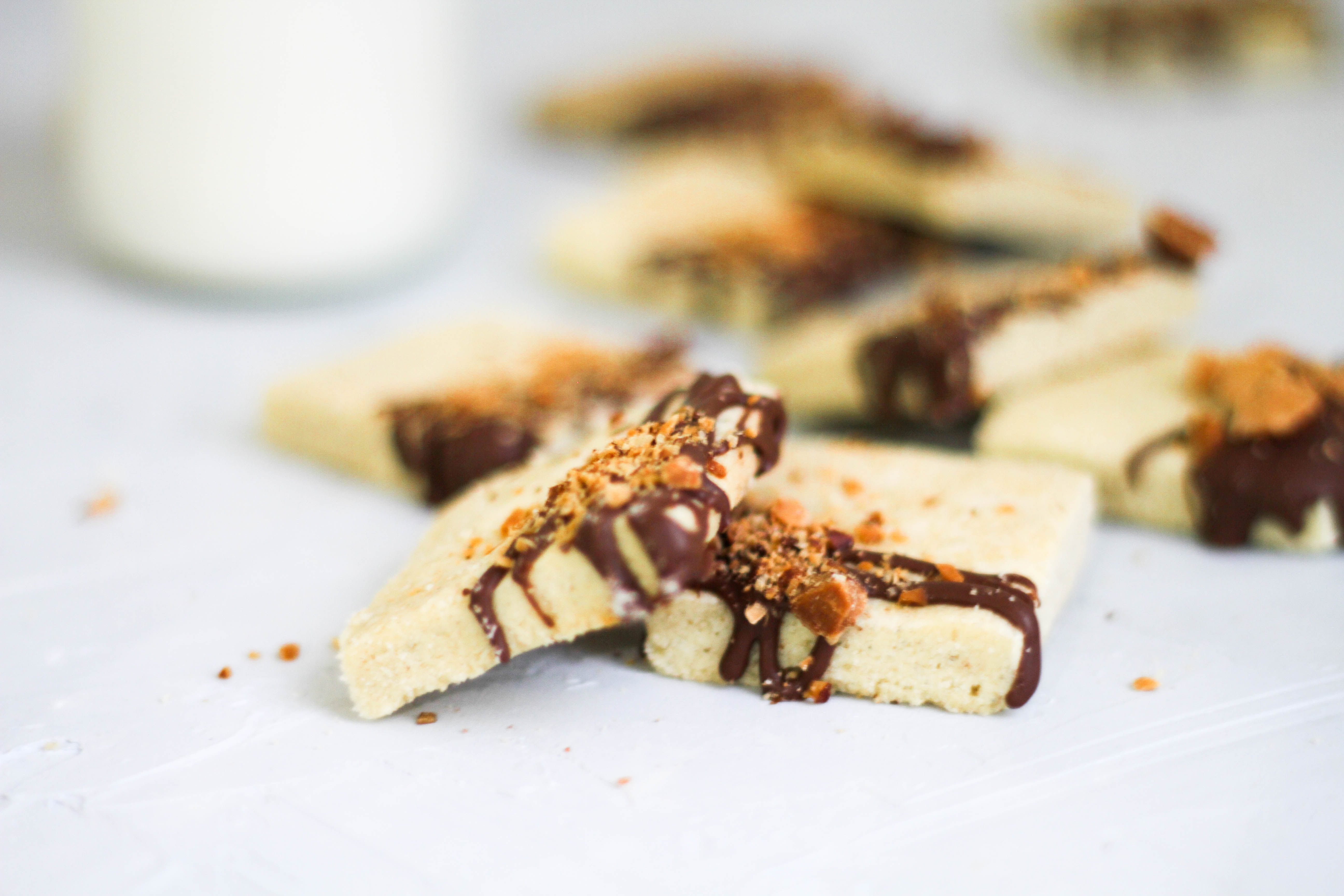 Anyway, back to the recipe… One of the reasons I like this so much is because it's so easy to throw together and easy to cut. I chose not to use cookie cutters, especially since I was making such big batches, instead I just rolled out the dough on a piece of baking paper to fit my tray and just cut them up the cookies to the best fit. Mine worked out to 4.5cm each side and made a total of 54 cookies (48 fitted on one tray, and 6 on another).
Print Recipe
Cardamon Chocolate Almond Cookies
Ingredients
250

g

softened butter

3/4

cup

icing sugar

1/2

cup

corn flour

2 1/4

cups

flour

2 1/2

tsp

cardamom powder

1/4

cup

almonds

1/2

cup

chocolate melts
Instructions
Pre heat your oven to 160c.

Beat your butter and sugar until smooth and creamy.

Add in the vanilla and flours.

Beat until dough forms.

Place your dough onto your counter, I find it easier to place onto a sheet of baking paper.

Roll out your dough to fit your cookie tray.

Place your rolled cookie dough onto the tray.

Cut your dough into 4.5cm squares (or the best fit size for your tray).

Place in the oven for 15-17 minutes.

Remove the cookie sheet, the cookies will still be a bit soft and will have spread so your lines may not be present anymore. Re cut your cookies and let them cool.

In a small pan on a medium heat, add in your almonds, turn them every 30 seconds until they're lightly toasted, this should take about 5 mins. Once toasted, roughly chop your almonds.

Melt your chocolate in the microwave, checking and stirring every 20 seconds until it's completely melted.

Once melted drizzle or dip your cookies in the chocolate and top with crushed roasted almonds.
By