I don't know about you but I'm a big fan of chocolate and pistachios together. They may not make the top of 'great combos' lists but they are a fantastic combination. If I had to choose a favourite nut then pistachio would be my pick (it's actually peanuts but they aren't technically a nut, lol). You all know how much I love chocolate so for me these Chocolate Pistachio Cookies are a total winner.
This cookie is so easy to make, it's a simple chocolate cookie which only requires 5 ingredients. It's filled and drizzled with an amazing pistachio ganache that you could just lick straight from the bowl. The pistachio ganache would make a great filling for anything, just make sure to save some for the cookies before you eat it all. These don't have to be drizzled cookies, but I love the way it looks, check out my Cardamon Chocolate Almond Cookies if you like a good drizzle too.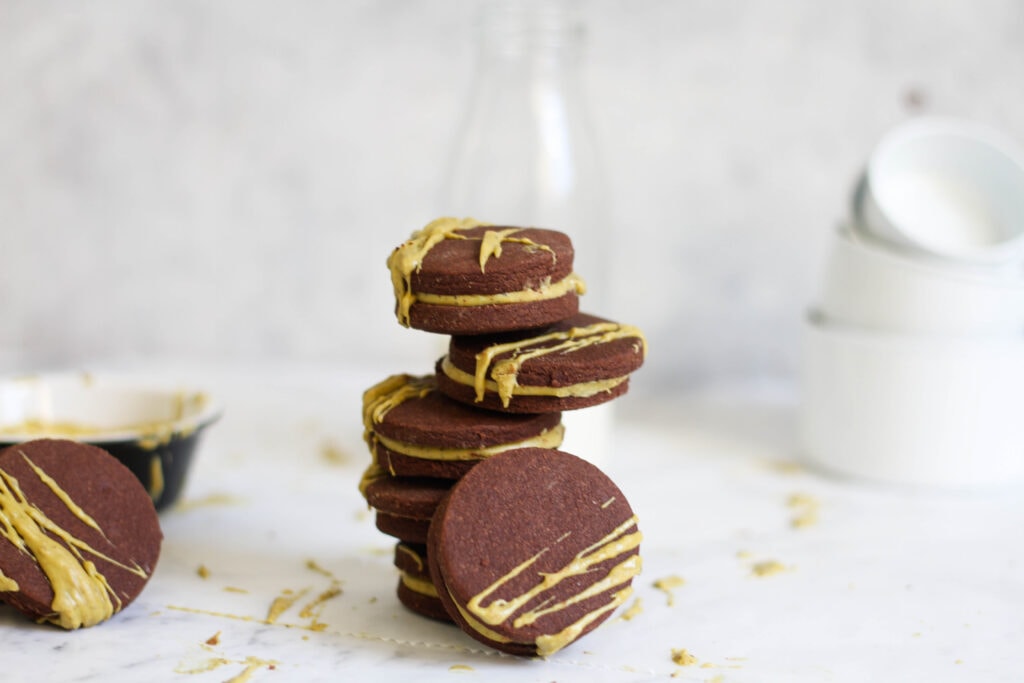 Where can you find pistachio spread?
This may be a little trickier to find than other spreads. I get mine from my local health food store and you're most likely to find yours there as well. If your local doesn't carry it, then ask them if they can get it in for you. If all else fails, you could try making your own, Serious Eats has a recipe that looks great. I'm planning to try it some time.
How do I make pistachio ganache?
This may sound tricky to make but it's actually really simple. The ganache is no different to make than a standard ganache. All you need is pistachio spread and white chocolate, the spread is used in place of cream. The spread is added to the white chocolate to create a creamy sweet deliciously fragrant pistachio ganache. The ganache is what makes these Chocolate Pistachio Cookies so decadent.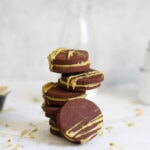 Print Recipe
Chocolate Pistachio Cookies
Ingredients
Chocolate Cookies
125

g

softened unsalted butter

½

cup

icing sugar

¼

cup

cocoa powder

pinch

salt

1

cup

plain flour
Pistachio Ganache
1

cup

white chocolate

4

tbsp

pistachio spread
Instructions
Pre heat oven to 160c and line 2 baking sheets with baking paper.

In a stand mixer or bowl for a hand mixer, place in your butter and icing sugar.

Beat the butter and sugar until light and creamy.

Add in your cocoa powder, salt and flour and beat until everything is well combined and a dough forms.

Remove the dough onto a piece of baking paper or floured surface and roll to 1/2cm (less than 1/4 inch) thick.

Use a 5cm round cutter (or cutter of your choice) and cut the cookies.

Place onto baking sheets and place in the oven for 15 – 17 minutes.

Remove from the oven and set aside to cool.
Pistachio Ganache
Place your white chocolate in the microwave for 20 seconds at a time until it is mostly melted.

Give the white chocolate a good mix till it is fully melted and add in the pistachio spread.

Mix well and put aside to set.

When the cookies are cool, place the ganache into a piping bag (if your ganache is too runny you can place in the fridge for a few minutes, if it is too firm place it in the microwave for a few minutes). Pipe a mound into the centre of half the cookies. Place the other half cookies on top of each filled cookie.

Drizzle with left over ganache.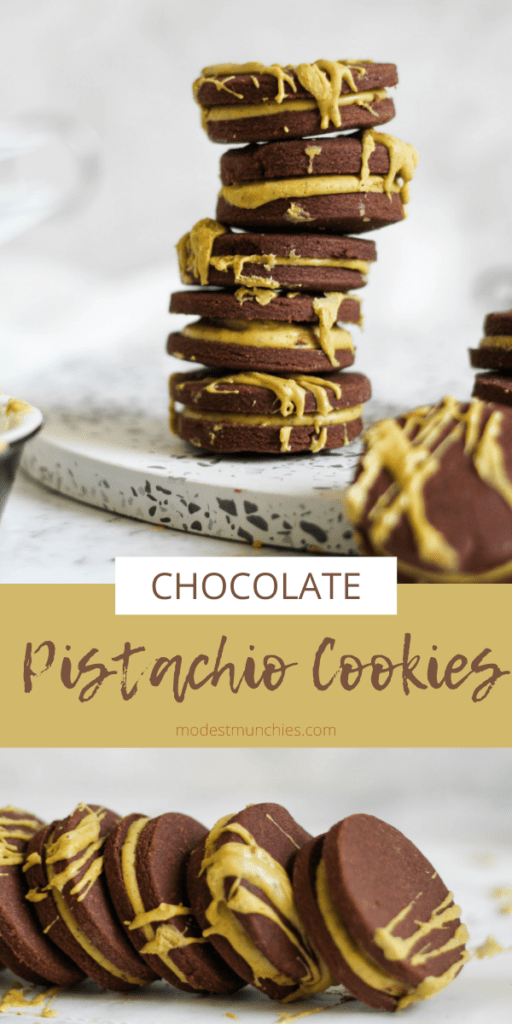 By