This year has been a little busier than usual. I thought having a 4.5 year old and a 1.5 year old would be easier than last year having a 3.5 year old and a 6 month old. But let me just tell you, I was wrong!! While my 4 year old is pretty good most of the time, Alhumdulillah, it's my 1.5 year old that gave me a hard time this year. Between her staying up for 2-4 hours at night or her need to not be more than 2 feet away from me – or attached to my hip when out, to her tantrums and lack of eating it has been a little harder than I expected. They call it the terrible two's but I'm starting to think they had it all wrong, this starts way before they even hit 2. However I'm grateful to have gotten through and I'm so glad to say with a full nights rest these last couple of days she has been an absolute delight, Alhumdulillah. 
Rant aside, I wanted to be a part of Eid Eats this year, but when it came down to it, things got a little too crazy and I didn't get a chance to make something specifically for the occasion. However I've had these Sweet & Salty Pecan Cheesecake Bars tucked away and now seemed like the perfect time to put it to good use. Wouldn't it be great for Eid? My mum asked me to make these a while ago. She sent me a recipe but it turned out the recipe was American and had a lot of ingredients thats weren't in my Aussie pantry, so I made my own version instead and it turned out wonderfully.
Eid Eats is an annual virtual potluck hosted by Sarah of Flour and Spice Blog, Asiya of Chocolate and Chillies and Henna of My Ninja Naan. I participated last year with a burfee recipe. Be sure to head over to one of their blogs and check out the other recipes.
Print Recipe
Sweet and Salty Pecan Cheesecake Bars
Ingredients
Base
125

grams

salty crackers

2 heaped cups

60

g

butter

approx 1/4 cup

1/2

cup

brown sugar
Cheesecake filling
500

g

Softened cream cheese

3/4

cup

sugar

1/2

tsp

vanilla essence

2

eggs
Pecan topping
1 1/2

cups

pecans roughly chopped

50

g

butter

1/2

cup

brown sugar
Instructions
Base
Prepare a 8 x 8-inch pan with baking paper and cooking spray. Preheat your oven to 170c. Crush your crackers until fine like breadcrumbs, don't be concerned about bigger chunks among the crumbs. Add your melted butter and brown sugar. Mix well and press into prepared pan, place in the fridge for 15 minutes.
Cheesecake Filling
Beat cream cheese on a medium speed until smooth. Add sugar and vanilla and beat until combined. Add in eggs one at a time until combined. Spread over prepared base and place in the oven for 25 minutes.
Pecan topping
Roughly chop pecans and add in brown sugar and butter. Mix well. After the cheesecake has baked for 20 minutes, remove and gently top with the pecan mixture. Spreading over gently, but firmly pressing into the cheesecake. By placing this on top after some baking time, it ensures the pecan mixture doesn't settle to the bottom and doesn't burn. Place back in the oven for 15 more minutes.

Allow to cool completely, then place in the fridge for a couple hours to chill. It is easiest to cut these when it is chilled. Remove and slice into squares. if you feel you may break the cheesecake when removing, then slice them first and remove one slice at a time. Store in the fridge until ready to serve.
Notes
Variation: For this recipe I used salty crackers and salted butter. You could use unsalted butter and biscuits instead if you don't like salty sweet desserts. If using sweet biscuits, there'll be no need for the brown sugar in the base.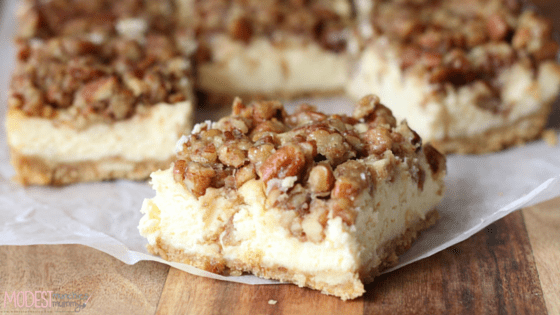 By