I've been wanting to create these cookies for a long time. There's been different variations popping up all over the place. I thought it would be fun to create these Star and Moon Shaker cookies for Ramadan (or Eid), they're so much fun and the kids will absolutely love them.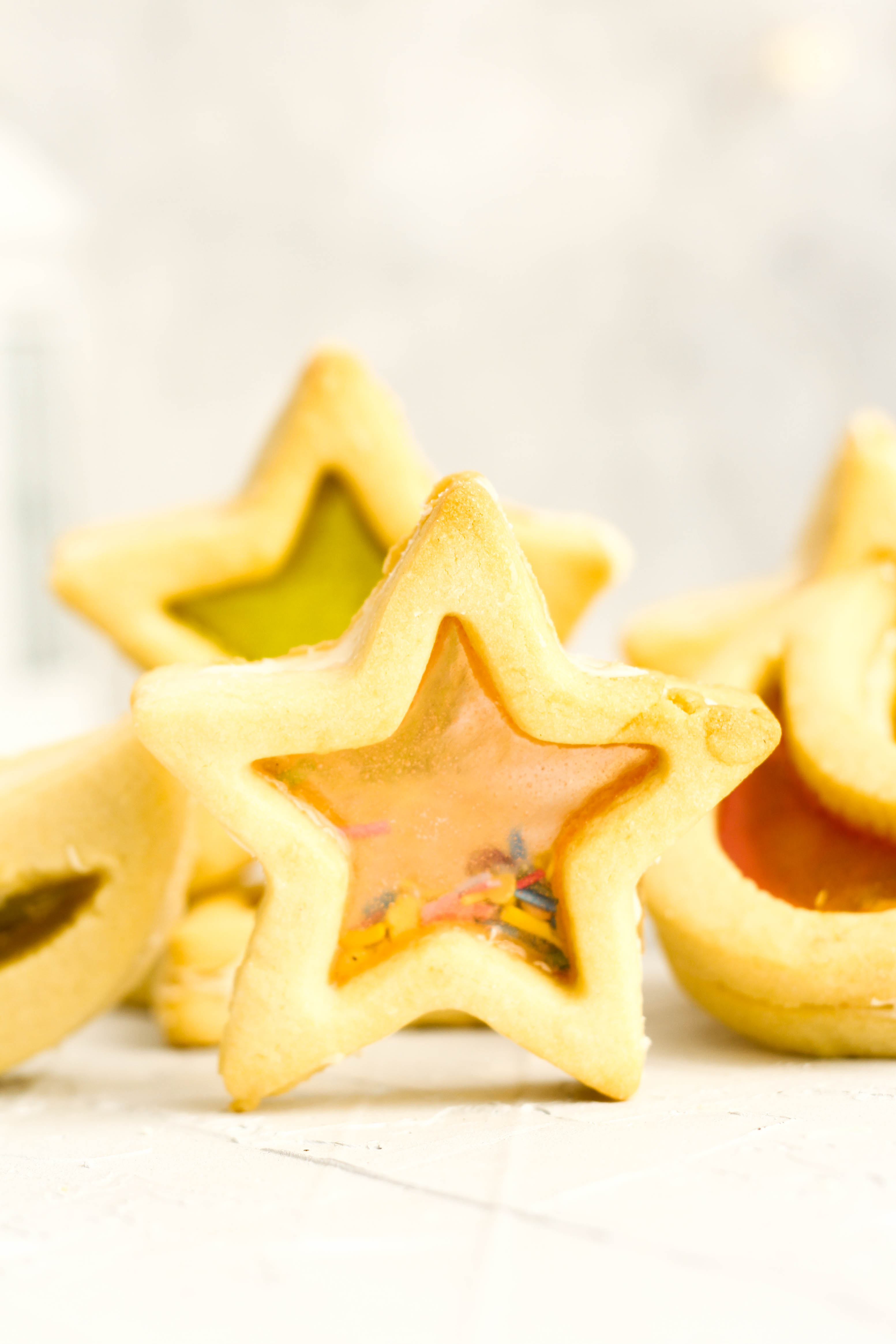 The cookies aren't too much harder to make than a normal cookie. You just need to make the dough, chill, roll and cut the cookies, then using a small cutter, cut a gap in the middle. The gap is filled with crushed sugar /isomalt lollies and baked further to melt. I wasn't sure if I'd be able to find the sugar lollies needed for the cookies. If you're in the US I think Jolly Ranchers are the candy that's commonly used, however we don't get those in Australia so I had to go on a bit of a search in my local supermarket. I was lucky to find some clear sugar free lollies. The lollies are made with isomalt (a sugar substitute, with properties similar to sugar) it can also be melted and set back to clear which works perfectly for something like this. If you aren't in the US, look for a lolly/candy that has isomalt in the ingredients, this definitely works really well, but any clear hard sugar lolly would work too, just make sure they start out clear. The lollies I found are called Double D from Woolworths Supermarket.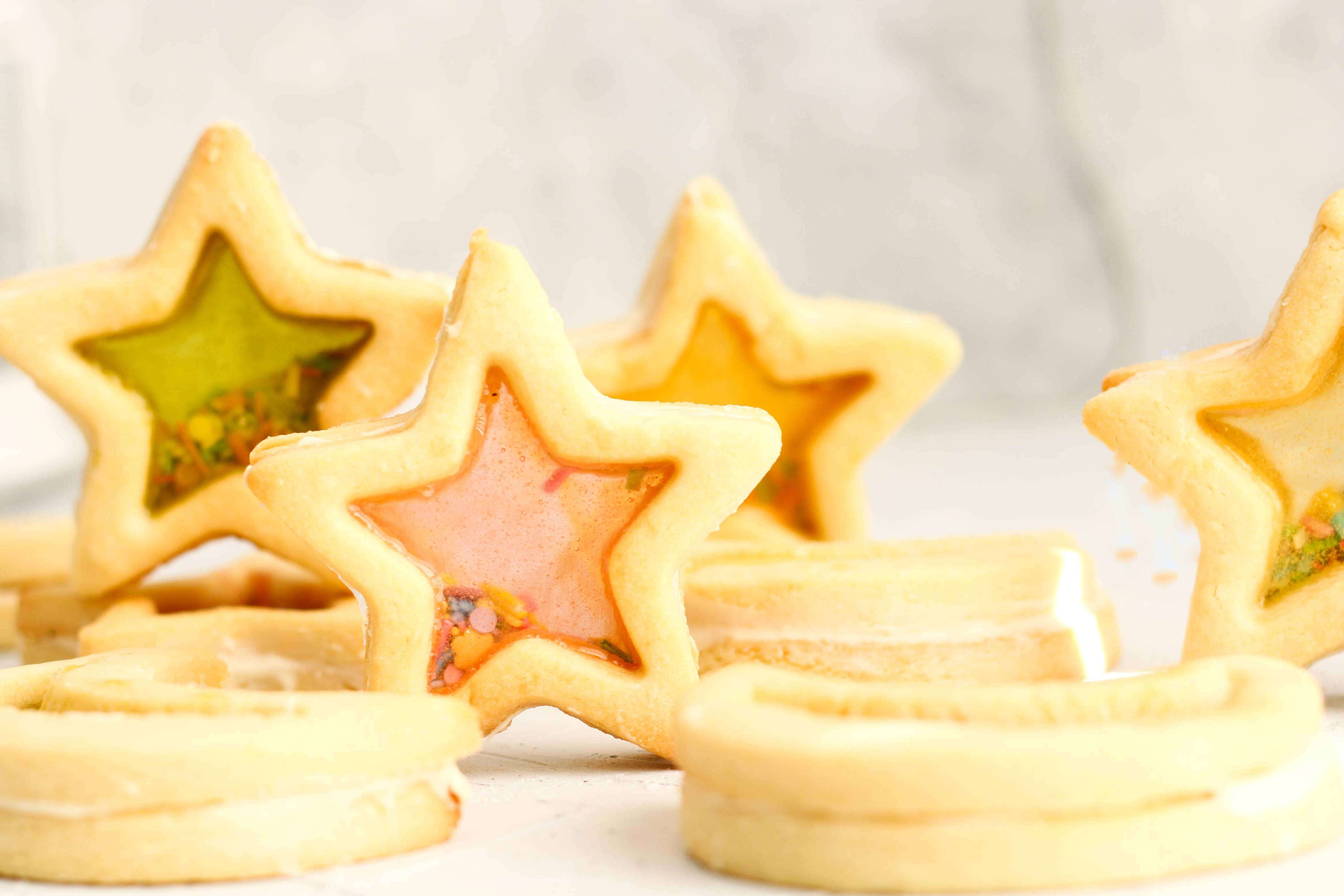 Another tricky thing to find was the sprinkles. I've avoided using too many of these in the past since a lot of them contain gelatine, but I was lucky to find one from Queen here in Australia that is vegan suitable. The next big issue was that the mix had unicorns which I had to sift out. Time consuming, but fun nonetheless.
Print Recipe
Star and Moon Shaker Cookies
Servings:
12
stars with some to spare
Ingredients
113

g

softened unsalted butter

1/2

cup

sugar

1

egg

1

teaspoon

vanilla

1 1/2

cups

flour

1/4

teaspoon

baking powder

pinch

of fine salt
Decorations and Assembly
2/3

cup

White compound chocolate

90

g-100g clear sugar or isolmalt lollies

sprinkles
Other
8

cm

star cookie cutter

5

cm

star cookie cutter

mine measured 5.5cm

10

cm

circle cutter

6

cm

circle cutter
Instructions
Place the butter and sugar in the bowl of a stand mixer or electric hand mixer and beat until light.

Add in your egg and vanilla and beat till combined.

Combine your flour, baking powder and salt in a bowl.

Turn your mixer off and add your flour mixture.

Beat slowly at first to incorporate the flour, then higher until it forms a dough.

Form your dough into a ball and place into cling wrap and place in the fridge to chill for 1 hour.

While the dough is chilling, crush each colour of your lollies separately. You can do this with a ninja blender or you can place the lollies in a ziplock bag and give it a good whack with a rolling pin.

Roll out your dough to 7mm (approx. 1/4 inch) thickness.

First cut out the large cookie star. Place on the baking tray and cut the inner star with the smaller cutter.

For the moons, you can cut out a circle using a large circle cookie cutter. Then a smaller cookie cutter on the edge of the circle to create the moon shape. Cut the inner of the moon with a small moon cutter. If you don't have a cutter you could use a knife instead to cut the inner moon.

Pre-heat oven to 160c.

Place in the fridge for 10 minutes.

When the oven is heated, place the cookies in.

Bake for 7 minutes.

Remove from the oven and place 1 1/2 teaspoons of the crushed lollies into each gap.

Bake for a further 5 minutes (or until sugar has melted and filled the gaps).

Remove cookies and set aside to cool.
Assembly
Place a teaspoon of sprinkles into the gap of the cookie.

Melt white chocolate (you can do this by heating it in the microwave for 20 second increments until it is melted), spoon or pipe some white chocolate onto the edges and stick 2 cookies together. Make sure there are no gaps and all edges are sealed together.

Then give them to the kids and let them shake the cookie in fascination. Remember to have a bowl nearby to catch the sprinkles that might fall after a bite 😉
By