This Rose Milkshake is a deliciously fragrant milkshake made from rose water syrup, ice cream and milk. It's the perfect texture and a perfect treat on a hot day.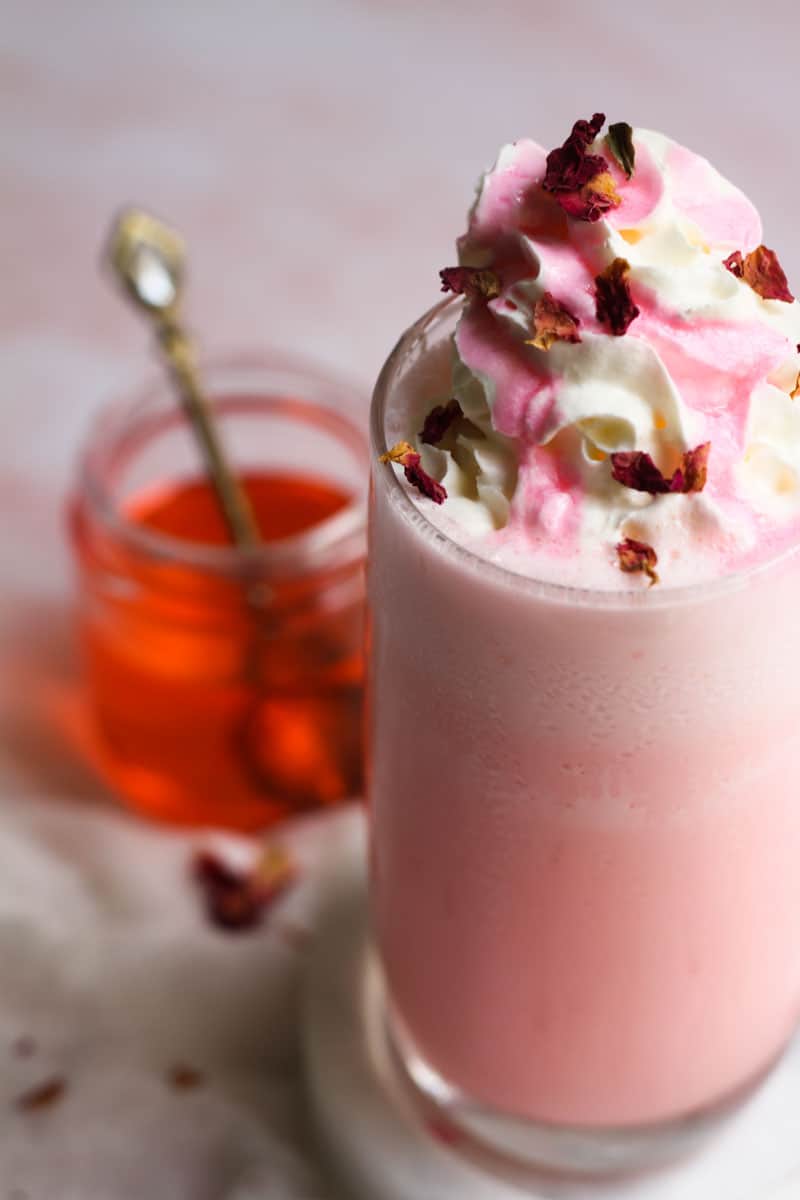 What is milkshake?
Milkshake is a thick creamy drink usually made with ice cream, milk and flavoring.
What is rose water?
Rose water is the a flavored water that is made by steeping rose petals in water. Rose water is used for the skin but most commonly used to flavor different sweet foods. It's a very common addition to desserts in both Middle Eastern and Indian cooking.
Where can I find Rose water?
Most grocery stores stock rose water. You can also find it at speciality food shops, delis and Indian or Middle Eastern stores.
About this rose milkshake recipe:
Rose milkshake is a milkshake that is made with vanilla ice cream, milk and flavored with a rose syrup.
Simple to make
Only used 5 simple ingredients
Delicious and refreshing
Can be made in the comfort of your own home with a homemade rose sugar syrup
Ingredients needed for Rose syrup milkshake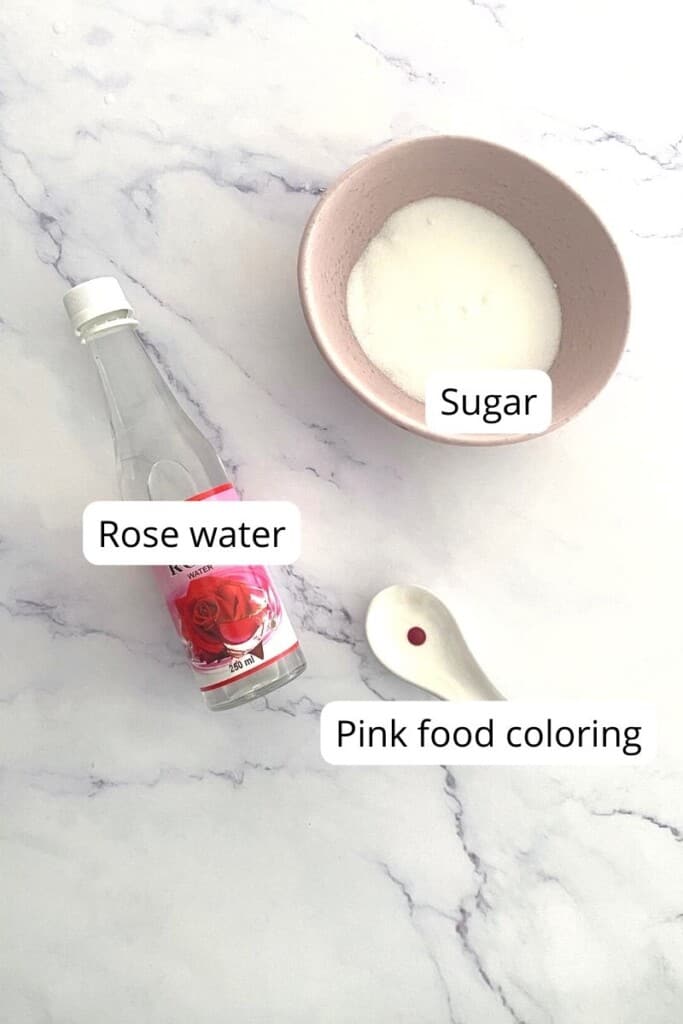 Rose water – be sure to use one that is food grade
Pink or red food coloring – this is mainly for aesthetics but it definitely helps to sell the rose flavor, plus adding it makes the drink look so pretty
Sugar – to make a rose simple syrup
Vanilla ice cream – any plain ice cream will do – use a coconut or plant based ice cream to make this vegan
Milk – full fat milk is great, but you could use coconut milk, almond milk or plant based substitute if you prefer.
How to make Rose Milk shake
Full rose milk recipe with amounts and instructions are in the recipe card below.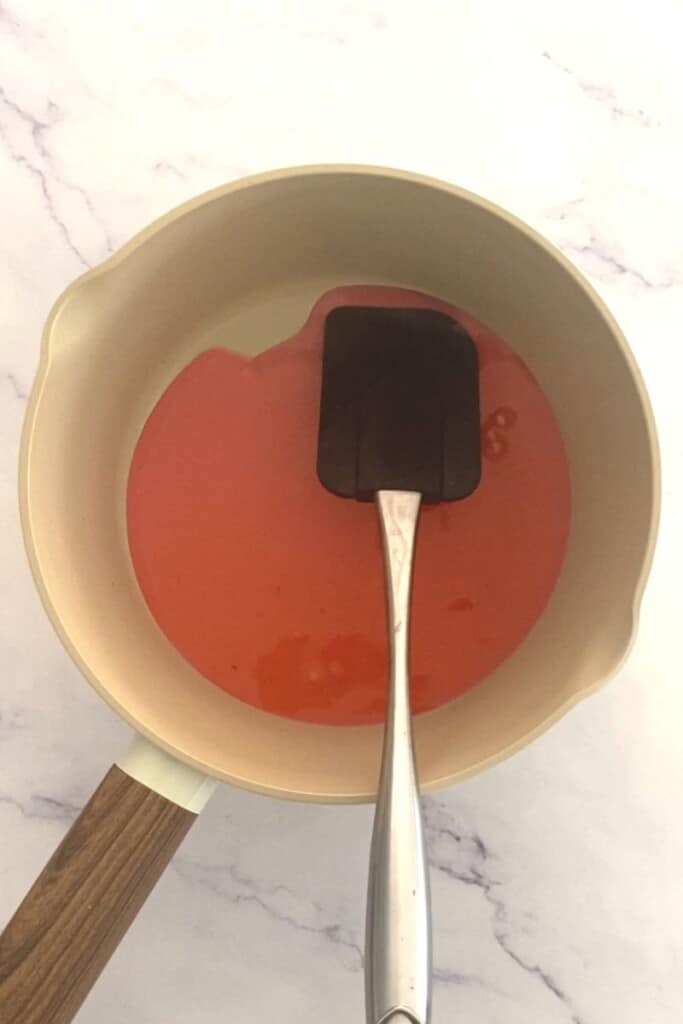 Make the rose water syrup:
Place the rose water and sugar in a small pan and bring to the boil. Once the sugar has dissolved add in the pink food coloring. Let simmer for a few minutes then remove from the heat. Place into a heat proof jug or jar and set aside to cool completely before use.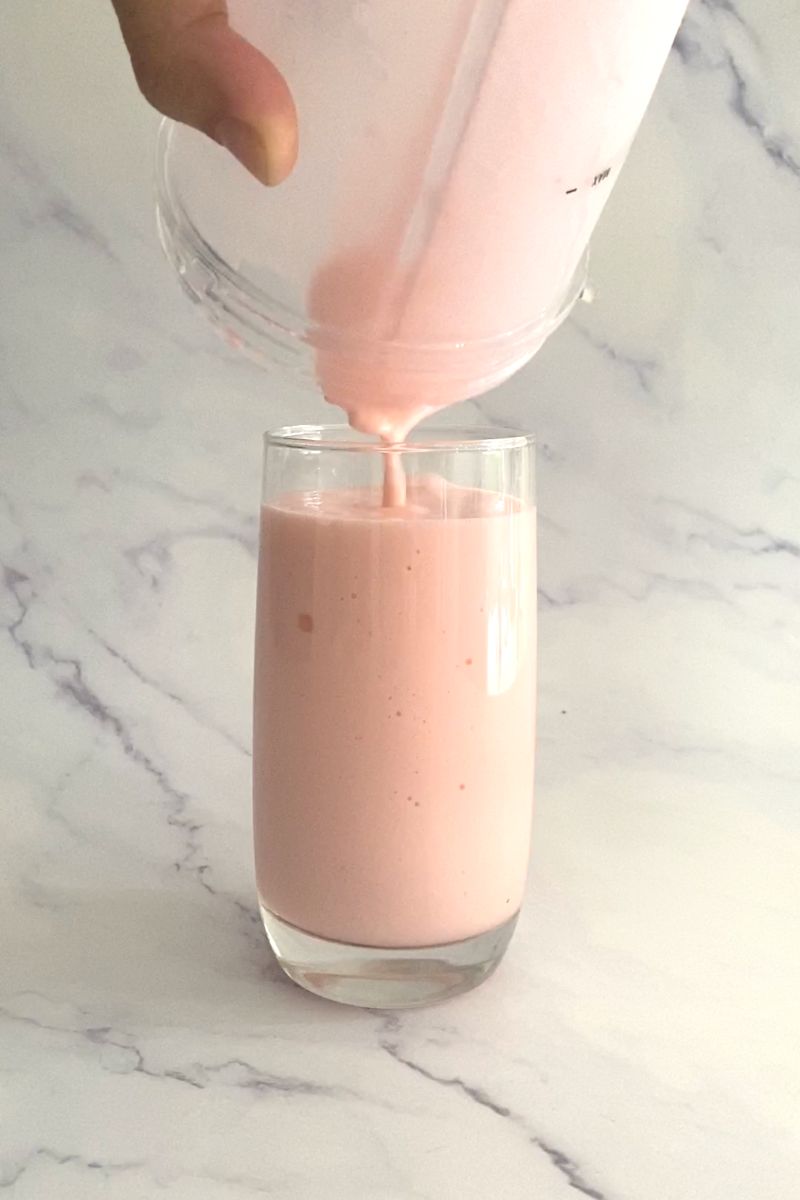 2. Make the milkshake:
Place the ice cream, milk and rose syrup in a blender or bullet blender. Blend until everything is just combined. Pour into a tall glass and enjoy. You can top the milkshake with whipped fresh cream, canned whipped cream or a scoop of ice cream. Add some additional rose syrup, and rose petals to decorate your finished milkshake.
Variations
Falooda milkhshake (also called Bombay Crush in south Africa):
Add sabja seeds (also called tukmaria, these are basil seeds which have a similar taste and texture to chia seeds) and grated red agar agar jelly. For another delicious Indian drink, try Mango Lassi.
Strawberry Rose Milkshake
Use strawberry ice cream for a fresh, floral and fruity strawberry rose milkshake.
Rose milk
Skip the ice cream and use 1-2 tablespoons of the rose water syrup and 1 cup of milk.
Substitutions
Instead of making the rose syrup you can opt for a store bought rose syrup instead, rose sharbat or rooh afza syrup are great alternatives. These can be found in the Indian section of your grocery store, Indian grocers or online.
If you can't find rose water, you can use rose essence or extract with normal water to make the rose syrup.
Frequently Asked Questions
How to store milkshake?
Milkshakes are best to drink right after making, but if needing to be stored, you can keep them in the fridge for a few hours. If topping the shake with cream or more ice cream, it's best to do this right before serving.
Can I make this without ice cream?
Generally milkshakes are thickened with ice cream, that's what gives it the smooth creamy texture needed. However you can make a rose milk with 1-2 tablespoons of the rose syrup and 1 cup of milk.
Can I make this without a blender?
Yes, you can, put the ice cream into a bowl or jug and let it melt slightly. Using a spoon combine the ice cream, milk and syrup until it all comes together.
Why is my milkshake too thick/runny?
If your milkshake is too thick, there may be too much ice cream, add in a little more milk until you reach your desired consistency. If your milkshake is too runny you may have over-blended or added too much milk, add in more ice cream to thicken.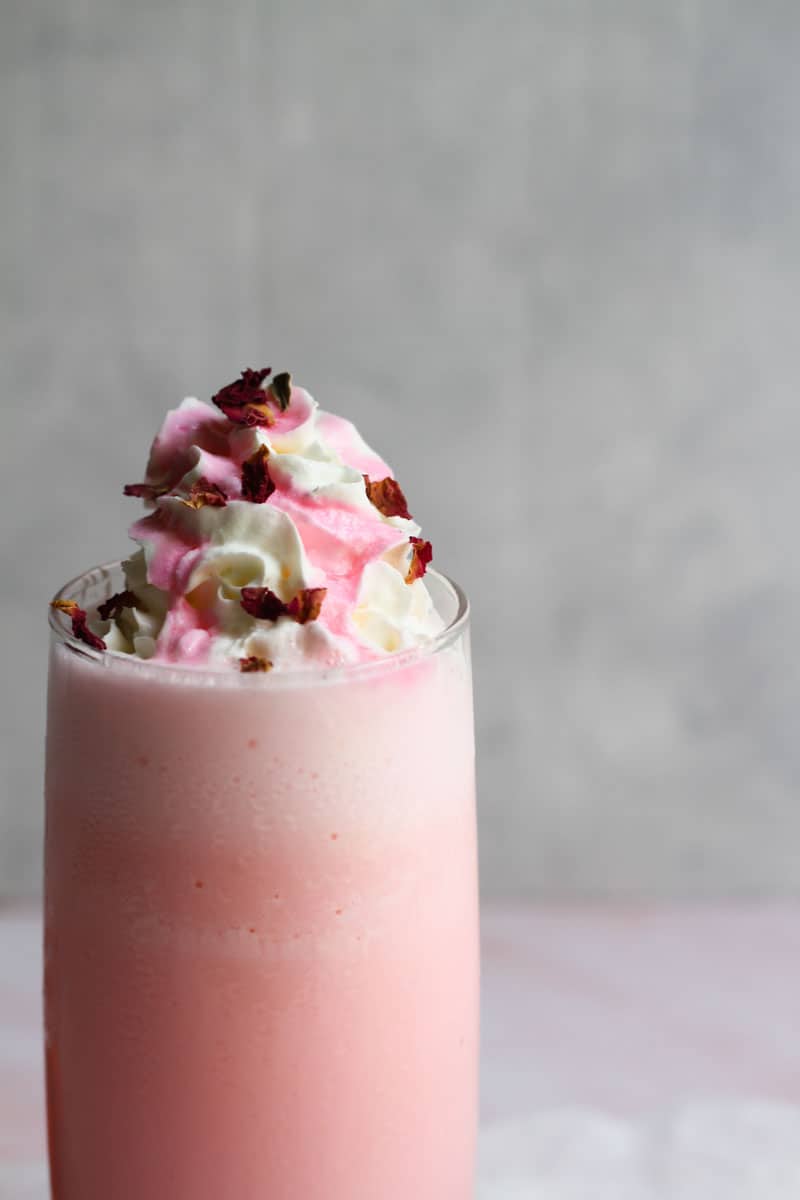 Print Recipe
Rose Milkshake
This Rose Milkshake is a deliciously fragrant milkshake made from rose water syrup, ice cream and milk. It's the perfect texture and a perfect treat on a hot day.
Equipment
blender, bullet blender or food processor
Ingredients
Rose syrup
½

cup

rose water

½

cup

sugar

½

tsp

pink food coloring
Rose milkshake
1

cup

plain / vanilla ice cream

⅓

cup

milk

¼

cup

rose syrup
Instructions
Rose syrup
Place rose water, sugar and pink food coloring in a small saucepan.

Place on a low to medium heat and bring to a boil. Simmer for 5 minutes and set aside to cool and thicken.
Rose milkshake
Place the ice cream, milk and rose syrup in the blender.

Blend until smooth and everything has just mixed together, don't blend too much as this will make the milkshake runny.

Pour out into a tall glass (approx. 300-400ml / 10-12 oz).

Optional: Top with cream, more rose syrup and rose petals.
Notes
Tips:
Don't over-blend, this will cause the milkshake to be runny
Add more ice cream if milkshake is too runny, add more milk if it's too thick.
Storage: Store without toppings in the fridge for 2-4 hours. Top before serving.
Nutrition
By