I love paneer, I think I've told you all that before. I could honestly eat it everyday. I sometimes even make my own. After having some really tasty palak (spinach) paneer at a restaurant recently, I decided to make an at home version. It doesn't taste the same, but it's just as good (hubby says mine is better, but he's biased).
I'm totally digging my Indian serving bowl, what do you think?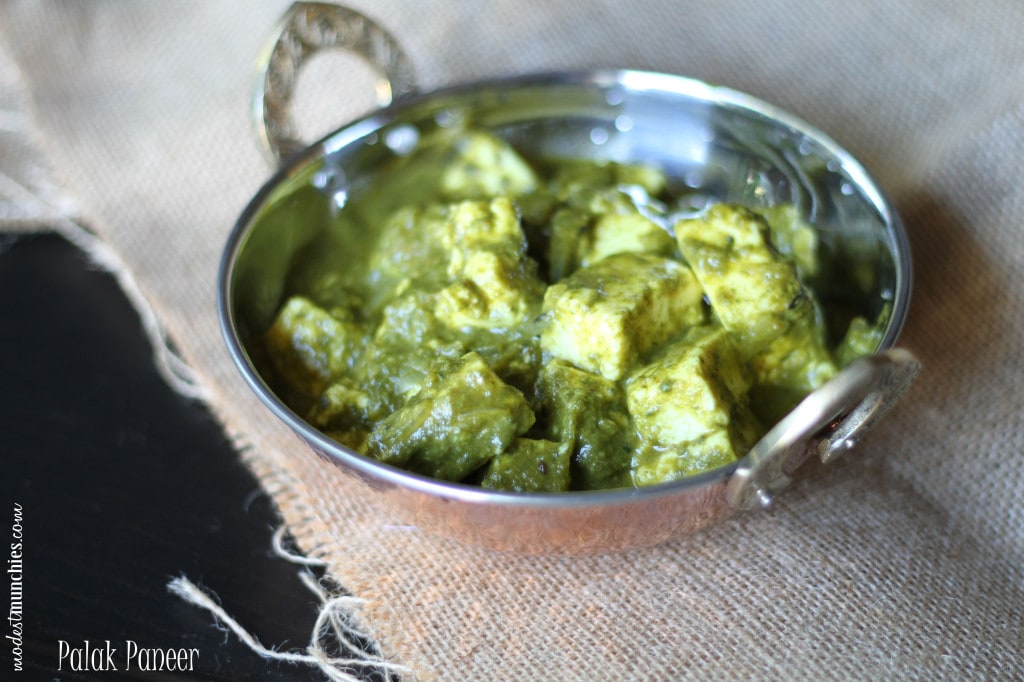 Print Recipe
Palak Paneer
Ingredients
2

tblsp oil

1

med onion

1/2

tsp

whole cumin seeds

1

tsp

cumin powder

1

tsp

chilli powder

1/4

turmeric powder

1

tsp

salt

1

tsp

garlic

1/4

ginger

2

handfuls baby spinach

approx. 3 cups and a little water

1

med tomato

Paneer approx 300g

3

tblsp cream
Instructions
Finely chop your onion and add to a pan on medium heat with the oil. Sauté until onions are soft and translucent. Place all the spices including the ginger/garlic into the pan.

While spices are toasting, throw the spinach and a few tablespoons of water (use more if you need to) into a blender and blend until you have a runny purée consistency. Add the spinach purée to the pan and cook. Blend your tomato and add this to the pan to cook with the spinach purée.

While this is cooking, chop you paneer into cubes (approx. 1,5 cm) and throw this into the pan as well. Cook this for about 5-10 minutes or until paneer is tender. Add in your cream, and gently stir through. Serve hot with some rice or naan.
Please don't buy your paneer from an average supermarket, I've tried it and it doesn't taste very good, instead try a deli or even better an Indian grocer or spice shop.You could serve this with rice, but I enjoy it best with naan.

Many of you have asked me and I promise I will try to get up a recipe/tutorial for home-made paneer as soon as I can. I just have a backlog of so many things I need to blog first. Trust me though, it'll come, even if it takes me another year 😐

By