I thought it was about time I dusted the cobwebs off the blog and posted a recipe, plus 96% of you requested this recipe on my Instagram story poll. And this is a great one. Quick, easy and just 5 ingredients! I've been watching Jamie Oliver's Quick and Easy Food TV show recently and it inspired me to create this dish for dinner. If you haven't heard of the show or watched it, I suggest you drop what you're doing right now and check it out. He shares insanely easy meals, that are all 5 ingredients (plus some pantry basics) and all pack a good hit of flavour. The recipe I'm sharing today, was inspired by his baked rice and tikka roast chicken. One of the things I like about the show recipes is that he's not afraid to use short-cuts in the recipes, I know that can be a no-no for some, but we're all busy people and this makes the idea of cooking achievable. His mission is to make eating real food easier for everyone and I think this show (and book) does the trick.
It's always difficult finding something the kids will eat, but this one definitely ticked all the boxes. This Tandoori Chicken Rice was a hit, we ate it for dinner, lunch and dinner again the next day. Yay for leftovers! It has 5 main ingredients and is quick to throw together. I used a store-bought tandoori paste for this recipe, but if you prefer you can make your own. The other 4 ingredients are rice, red onion, chicken and frozen peas, it also contains some pantry staples like salt, water and oil.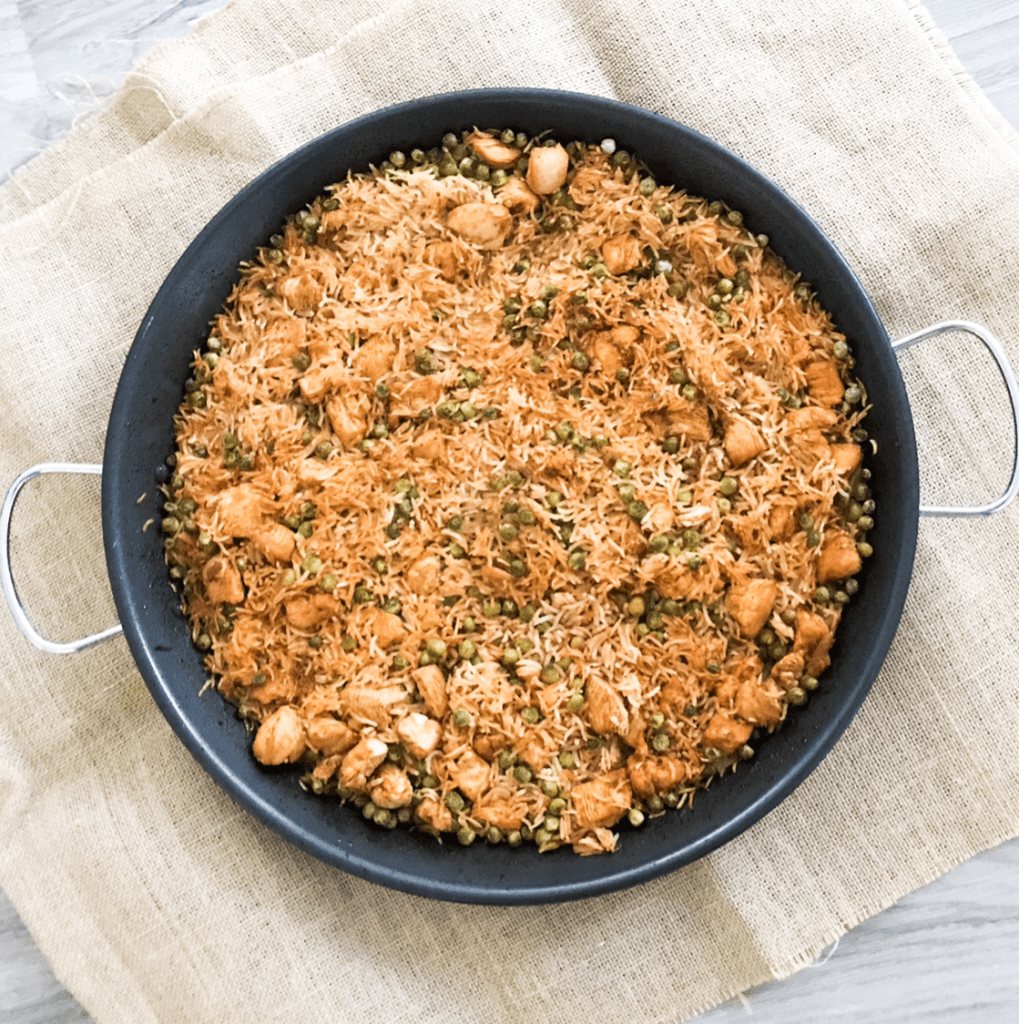 Disclosure: This post may contain affiliate links, which means I may receive a commission if you click a link and purchase something that I have recommended.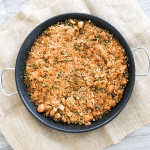 Print Recipe
Tandoori Chicken Rice
Ingredients
500

g

Boneless chicken

Tandoori paste

2

tablespoons

Oil

1

small Red onion

1 1/2

cups

Rice

1

teaspoon

salt

1/2

cup

Frozen peas

3

cups

of water
Instructions
This dish is best made before you plan to eat it, as reheating the rice in the oven or keeping it in there for too long will dry out the chicken. So I recommend starting this 30-40 minutes before you serve. If you do plan to cook this earlier, you could leave the baking stage until the very end or reheat in the microwave or stovetop with some additional water.

Pre-heat your oven to 180c.

Cut your chicken into 1inch cubes, keeping them all a similar size.

Follow your tandoori paste instructions to marinate your chicken (in my case it was 4 tablespoons of tandoori paste to 500g of chicken, I used the Patak's brand).

Set your chicken aside to marinate as you prepare the other ingredients.

Finely chop your red onion.

Place the oil in an oven-safe pan.

Add your onion to the pan.

Cook the onion until it starts to soften.

Add the chicken to your pan and brown on all sides,

Once the chicken is browned add in your rice and salt.

Give this a quick stir through and add 3 cups of water.

Place your pan on a high heat and bring the water to a boil.

Once your water starts bubbling, add in your peas.

Place in the oven for 15 minutes or until the rice is cooked through and fluffs up.

Serve as is or with some greek yogurt.
Notes
If your children don't like peas, you can swap this out for another vegetable.
You can also cook this on the stovetop, by following the directions of cooking rice with the absorption method, which should be on the packet of rice.
You can top the rice with some greek yogurt tanginess.
By