You get a pavlova, you get a pavlova, you all get a pavlova. Seriously I wish I could gift all of you a Pavlova Oprah style, but alas I'm not a super rich talkshow boss lady. What I can gift you however is this delicious recipe so you can make it yourself at home, because everyone needs to have pavlova in their life.
Now the jury's still out on where this dessert originated, New Zealanders claim it's theres but Australians have adopted it as their own. Whoever it belongs to, it has definitely become a classic summer dessert, not only in Australia but in our household as well.
The absolute best part of pavlova is breaking into it, it has a hard outer shell just waiting to be cut and a soft marshmallowy centre. Pavlova is also one of those desserts that can be used as a base for so many flavours. From light and fruity to rich and decadent. You can top it however you wish. For this version I've kept it super simple, topped with cream and delicious strawberries, making it the perfect summer treat.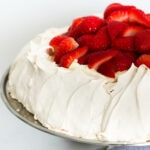 Print Recipe
Strawberry Pavlova
Ingredients
6

egg whites

room temperature

1 1/2

cups

castor sugar

3

teaspoons

cornflour

1

teaspoon

vinegar

1

teaspoon

vanilla essence
Topping
300

ml

cream

chilled

1-2

cups

fresh strawberries

chopped or whole
Instructions
Preheat oven to 120c.

Cut a piece of baking paper to fit a baking sheet. Mark an 8inch circle in the middle of the baking paper. Flip over and place on the baking sheet. Lightly grease the baking paper and dust with cornflour.

In an electric mixer with a whisk attachment, place in your egg whites.

Whip until your egg whites are soft and foamy.

Slowly pour in your sugar as you continue to beat your egg whites.

Add all your sugar and mix until sugar has dissolved, the best way to tell is to rub a bit of the meringue between your fingers, if it's smooth you're ready for the next step, if not, keep on mixing.

Add in your cornflour, vinegar and vanilla and mix until combined.

Spoon out your meringue onto the middle of your marked baking paper.

Slowly spread your meringue, working it to the edges of the circle.

Smooth the top and sides as best you can

If you want to fancy up your pavlova, take your spatula or spoon and swipe up on the sides to create lines.

Place in the oven for 1 hour 15 minutes.

Once baked, leave the pavlova in the oven to cool completely.
Topping
Place your cream into a bowl and whip until it reaches soft peaks. Slowly continue to whip until it becomes thicker.

Spread cream onto pavlova and top with strawberries or fruits of your choice.
By