Ramadan is now far behind us, I know, but if you're like us (we tend to stock up on dates, 7kgs worth), you might still have some left over. If you want to use up some dates or just want a datey (totally a word, right?) treat, try these!
These macarons are slightly different to the norm, brown sugar is used to make the meringue instead of the usual white sugar. The brown sugar gives a subtle taste difference as well as a slight creamy tinge.
Brown Sugar Macarons
40g egg white (1 egg white at room temperature)
56g almond meal
72g icing sugar
20g light brown sugar
Measure out your ingredients. Combine almond meal and icing sugar and grind till a fine powder. Whip egg whites till foamy, slowly stream in the brown sugar until egg whites are stiff and glossy. Sift almond meal and icing sugar mixture on top of egg whites and fold until just combined.
Pre heat oven to 150°c. Fill mixture into piping bag and pipe 3cm rounds onto baking paper lined trays. Let mixture sit for 15-30 minutes. Place in oven for 17 minutes (I found that the substitution of brown sugar required the macarons baking for a little longer then usual) or until tops don't move when pushed with a finger.
Sticky Date Filling
1/2 cup pitted dates (I use medjool)
100g softened butter
3 tblsp cooled butterscotch sauce (recipe below, alternatively you could use 1/4 cup of brown sugar)
Pit dates and place in a bowl, fill with hot water until all the dates are immersed, leave to soak for 10 minutes. Cream butter till fluffy. Drain all excess water from the dates and process till smooth and pasty. Add date paste and butterscotch to butter, beat until combined. Fill a piping bag, ready to fill macarons.
Butterscotch sauce
1 tblsp dark brown sugar
1 tblsp butter
3 tblsp cream
Place sugar and butter on a medium heat on the stove. Mix till sugar dissolves. Add in cream and mix till combined, set aside to cool.
To assemble macarons, pipe sticky date filling into one macaron shell and sandwich with the other. Sticky, datey, yummy macarons!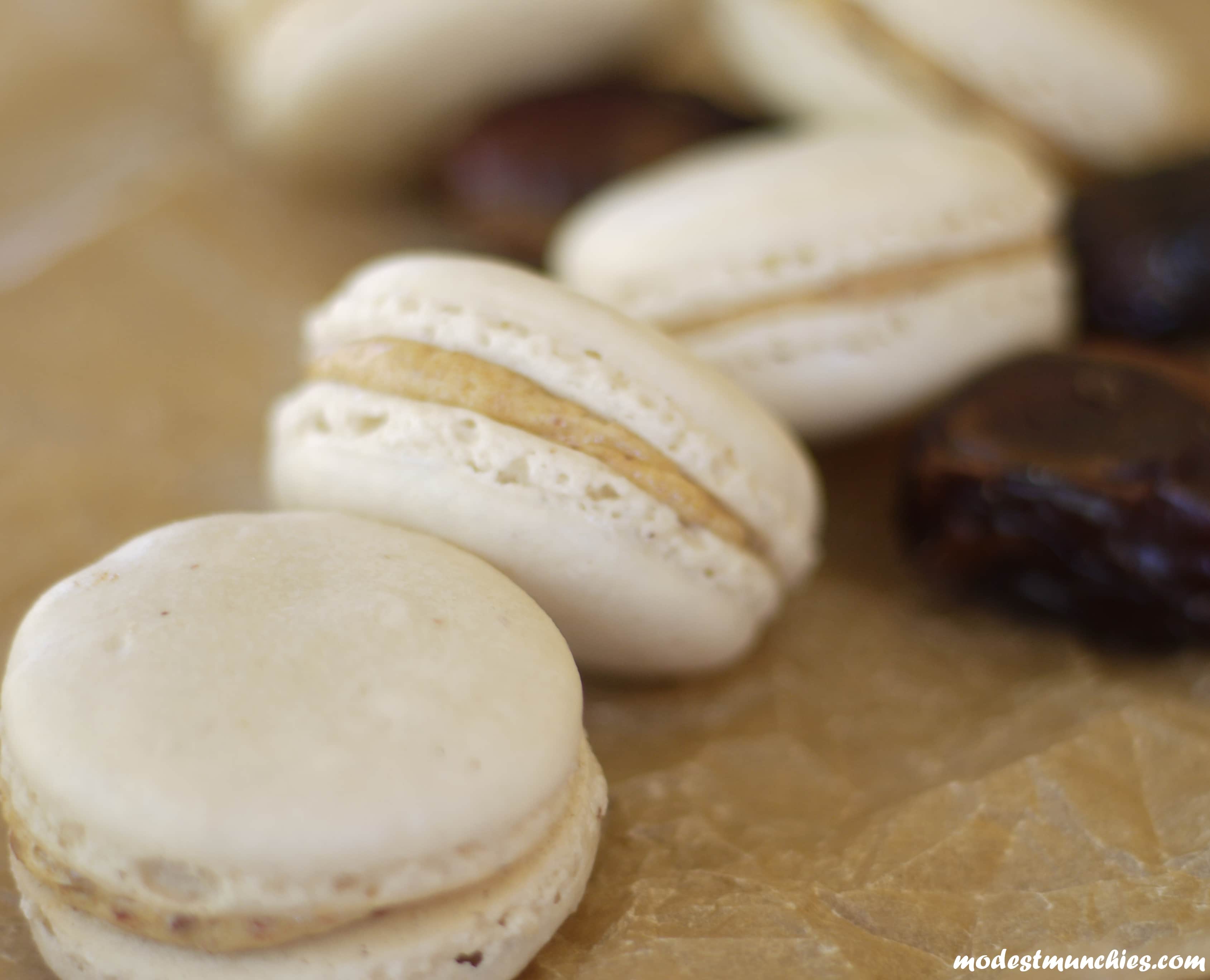 By