This blog is all about desserts but that doesn't mean that they have to be sugar loaded and unhealthy. Like today's dessert, these Peanut Butter Chocolate Chip Chickpea Blondies, they're a mouthful to say and an even better mouthful to eat. They are dairy free, refined sugar free, gluten free, grain free and even vegan friendly. They have been a recent favourite and I've been making them almost every week recently. If there's one thing you should know about me by now it's that I have a sweet tooth, but I have to be realistic, I can't be eating desserts all day every day, even though I'd like to, lol. Having these on hand has made satisfying my sweet tooth a lot easier and with a lot less guilt.
What makes these Peanut Butter Chocolate Chip Chickpea Blondies vegan?
They don't require eggs, the chickpeas and the chickpea brine provide the right base to make these great. I do use honey in mine which isn't vegan, but you can use any syrup (maple, agave, rice malt).
What do Chickpea Blondies taste like?
Erm, can I say absolutely delicious, because they are. If you're wondering if they taste like chickpeas, they don't. These are gooey, soft and fudgy plus full of peanut buttery flavour. If you're a peanut butter lover like me, you will devour these. If I didn't tell you these were made from chickpeas, you would not know. The peanut butter flavour comes through more than anything else. You could just call them Peanut butter Chocolate chip blondies and your friends and family will be none the wiser. I adapted this recipe from the original Chickpea cookies from Texan Erin which are amazing, they taste like cookie dough.
What ingredients make these Chickpea Blondies healthy?
Healthy means different things to different people. I'm sure these are much lower in calories than standard blondies (although I haven't counted). They don't use dairy, gluten, grains or refined sugars and are vegan which means they suit most different types of dietary requirements. Having a recipe with no heavily processed ingredients can't be a bad thing, right?
Print Recipe
Peanut Butter Chocolate Chip Chickpea Blondies
Ingredients
1

can

chickpeas

(400g-425g can)

1/4

cup

almond meal

1/4

cup

chickpea brine

(reserve the brine from the can of chickpeas)

2/3

cup

peanut butter

1/2

cup

maple syrup

(honey / agave syrup / rice malt syrup)

1

tsp

baking powder

1/2

cup

dark chocolate

(chips or chopped)
Instructions
Preheat your oven to 180c and line a 20 cm (8inch) baking pan with a piece of baking paper.

Drain your chickpeas with a colander, be sure to place a bowl under to catch the chickpea brine.

Place the chickpeas into the bowl of a food processor or blender.

Add in the almond meal, chickpea brine, peanut butter, syrup and baking powder.

Blend until smooth and creamy.

Add in your chocolate chips and mix through. You can reserve some of the chocolate to place on top of the blondies.

Place in the oven for 22-25 minutes. I like mine slightly gooey inside so 22 works great, if you prefer a more cakey texture bake them for the full 25 minutes.

Remove from the oven and set aside to cool. Chop into 16 squares.

These work great cold but I love eating them warm soon after baking.
Notes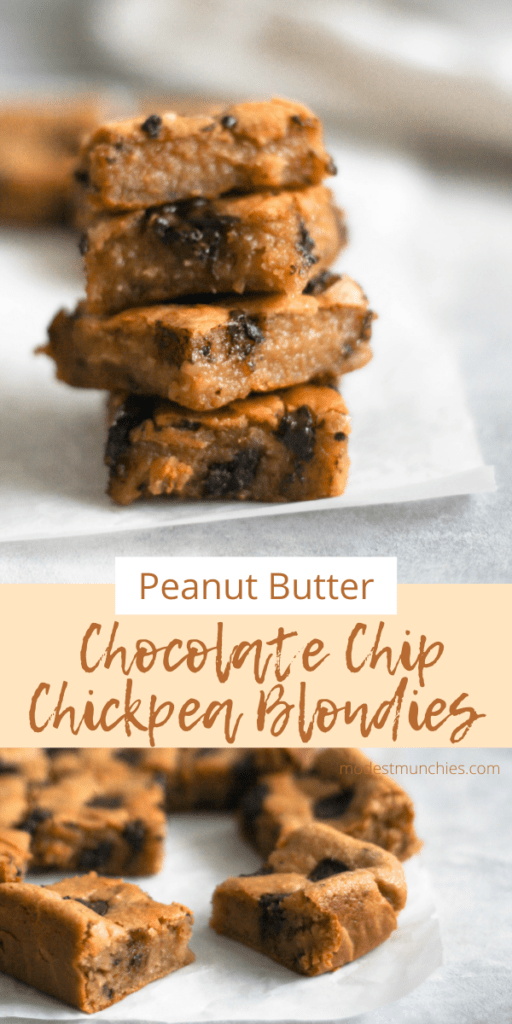 By