Have you ever had Khowsuey? Pronounced cow-seh, it's a dish that originates in Burma. I had never heard of the dish until moving to Australia, funnily enough from fellow South Africans. For some reason it never appealed to me.  A few years ago my sister in law moved back to Australia, she was pregnant – close to the end and I was at the beginning. I was sick, so, so sick. She made Khwosuey and I didn't want to be anywhere near that table, to be fair, all I could stomach at the time was ice tea and dry cereal. She made it again much later on, this time I was feeling better, and it was delicious. Soft spaghetti, flavoursome meat, silky smooth soup, crispy onions, crunchy potato chips, spicy chopped chilli and coriander. The textures and flavours work so well together, what's not to love?
Find Aasiya's recipe below. Enjoy!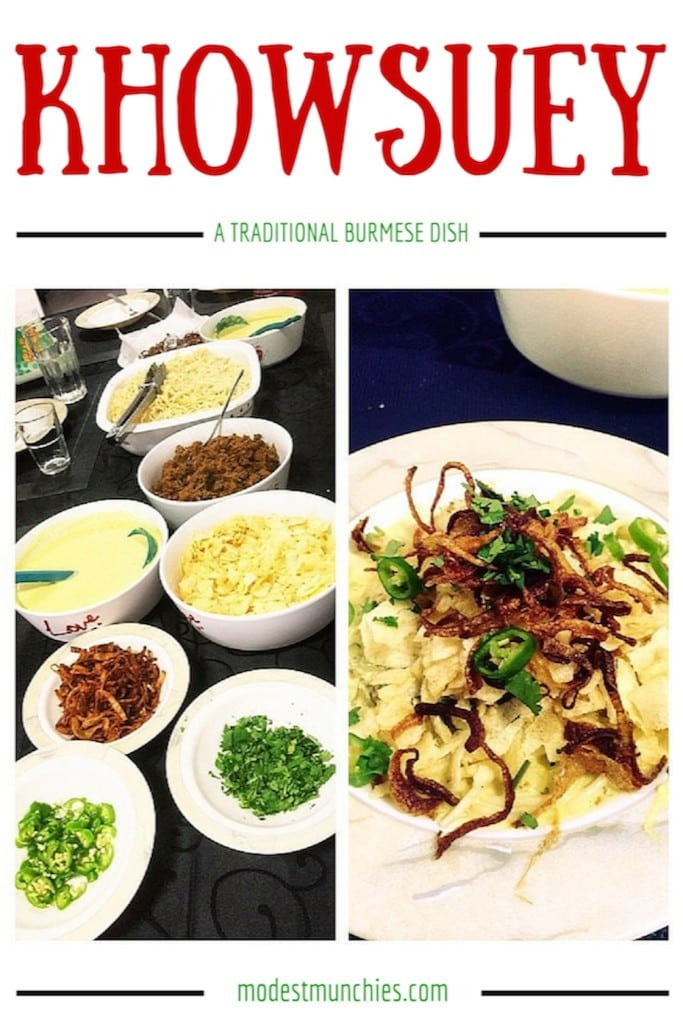 Khow suey – a signature Burmese dish
This recipe was shared with me by a good friend. After trialling the dish a few times, I have made a few changes and modifications to suit the taste of my family. The number of components to this dish is enough to scare anyone away, however they are fairly simple to make and they complement each other incredibly! All the different tastes and textures together feel like a party in your mouth! Next time you have family or friends over try surprising them with this treat… It's sure to be a hit!
Print Recipe
Khowsuey
Ingredients
Noodles
250

g

half a packet spaghetti

½

tsp

salt

2

tblsp oil
Saucy beef/chicken
500

g

diced beef or chicken

1

onion

2 to

matoes

2

tblsp oil

½

cup

water

may need more

1

tsp

crushed garlic

1/4

tsp

crushed ginger

1

tsp

salt

1

tsp

chilly powder

adjust for desired level of spice

1

tsp

cumin powder

1

tsp

coriander powder

1/4

tsp

turmeric powder

1/4

tsp

garam masala

this can be made by crushing black pepper, clove, elaichi and aniseed
Spiced potatoes (optional)
2

potatoes

1

tblsp oil

½

tsp

crushed garlic

½

tsp

turmeric powder

½

tsp

cumin powder

Salt to taste

½

lemon/lime
Coconut soup
1

onion

1

tin coconut milk

1

cup

whole milk

1

cup

water

1

tblsp desiccated coconut

2

tblsp chick pea flour

2

tblsp oil

1/2

tsp

crushed garlic

Pinch

of black pepper

1/4

tsp

turmeric powder

1/4

tsp

salt
Toppings
Finely chopped fresh coriander

Red chilli flakes/ sliced fresh green chillies

Sliced lemon

Original/ plain/ lightly salted potato chips
Instructions
Noodles
Bring spaghetti to boil with salt , once cooked strain and mix through oil and keep aside
Saucy beef/chicken
- Finely chop onion and place it in a pot with oil, braise till slightly brown.

- Add diced beef or chicken, crushed garlic and crushed ginger and stir

- Add all the dry spices and braise for a few minutes on low (add water if mixture is too dry)

- Add finely chopped tomatoes and braise till tomatoes are soft

- Add water and cook on low, stir occasionally and add more water if needed.

- Cook until meat is tender and gravy is reduced to a thick consistency just enough to coat the pieces of meat. (Keep in mind this is not a curry)
Spiced potatoes
- Peel and cut potatoes into small cubes

- Boil until potatoes are cooked through but still firm and strain

- In a pan add oil, cooked potatoes, tumeric powder, cumin powder, crushed garlic , salt and juice of half a fresh lemon or lime

- Stir and keep aside
Coconut soup
- Finely chop and braise onion in oil till golden brown

- Add crushed garlic, black pepper, tumeric powder and salt. Stir and lower heat

- Blend together milk, coconut and chick pea flour, once blended add coconut milk and whisk together

- Increase the temperature of the pot to high and add milk mixture to the braised onions

- Add water and bring to boil, stir and lower for a few minutes until it reaches a soup-like consistency. (Add more water if too thick or boil it a bit longer if too weak, keep in mind as it stands it will thicken slightly).
Fried onions
-Finely slice onions

-Deep fry till brown and crispy
Assembly
In a bowl add noodles and top with beef or chicken gravy and spiced potatoes, spoon coconut soup over and around the noodles. Garnish with chilli flakes/sliced chillies, crushed potato chips, fresh coriander and fried onions. Finally finish with a squeeze of fresh lemon and enjoy!:)
Add pieces of chicken and steamed vegetables to the spaghetti and top with coconut soup for a deliciously wholesome dinner for kids 🙂
By