Honeydew Milk Tea is a delicious refreshing drink. It only requires 5 ingredients and is a simple recipe that can be made at home.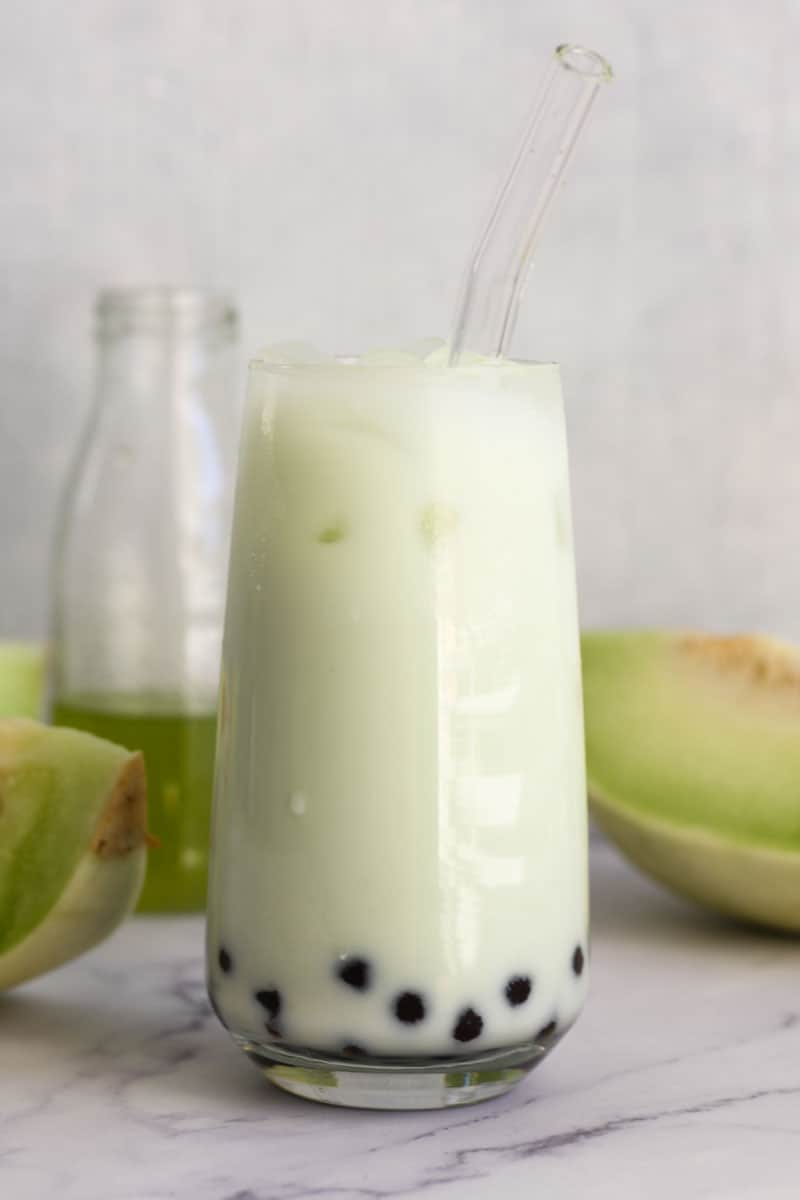 What is bubble tea?
Bubble tea is a drink that is made with tea and boba pearls. The tea that is used can vary, the most commonly used are bags of green tea, jasmine or black tea. The boba or black tapioca pearls are usually black in color and are a chewy consistency. This adds texture and flavor to the tea drink. Boba is another term for the chewy pearls which is why Bubble tea is sometimes referred to as Boba or Boba drink. Milk tea is another name that is used for this tea drink, as it is a tea that contains both tea (obviously) and milk. Bubble Tea and Boba can be both with and without milk.
Tapioca pearls are made from tapioca starch and are generally vegan/vegetarian. Always check the ingredient labels if you have dietary concerns in case there are any additives that might not suit.
What is Honeydew melon?
Honeydew is a delicious melon, it has a green smooth skin and green flesh. It is sweet, yet has a subtle flavor. The fresh melon is great eaten on it's own, it also works really well on fresh fruit platters and in drinks such as this Honeydew Boba.
What is Honeydew Bubble Tea?
Honeydew bubble tea, also referred to as Honeydew Boba or Honeydew Melon Milk Tea or is a refreshing milk tea drink with a honeydew flavor. Most boba recipes call for store bought honeydew powder or honeydew syrup however, these ingredients aren't always easy to find in the average store. This recipe will curb those honeydew drink cravings without the need for speciality ingredients, it's made with ripe honeydew melon and sugar to make a honeydew melon syrup at home.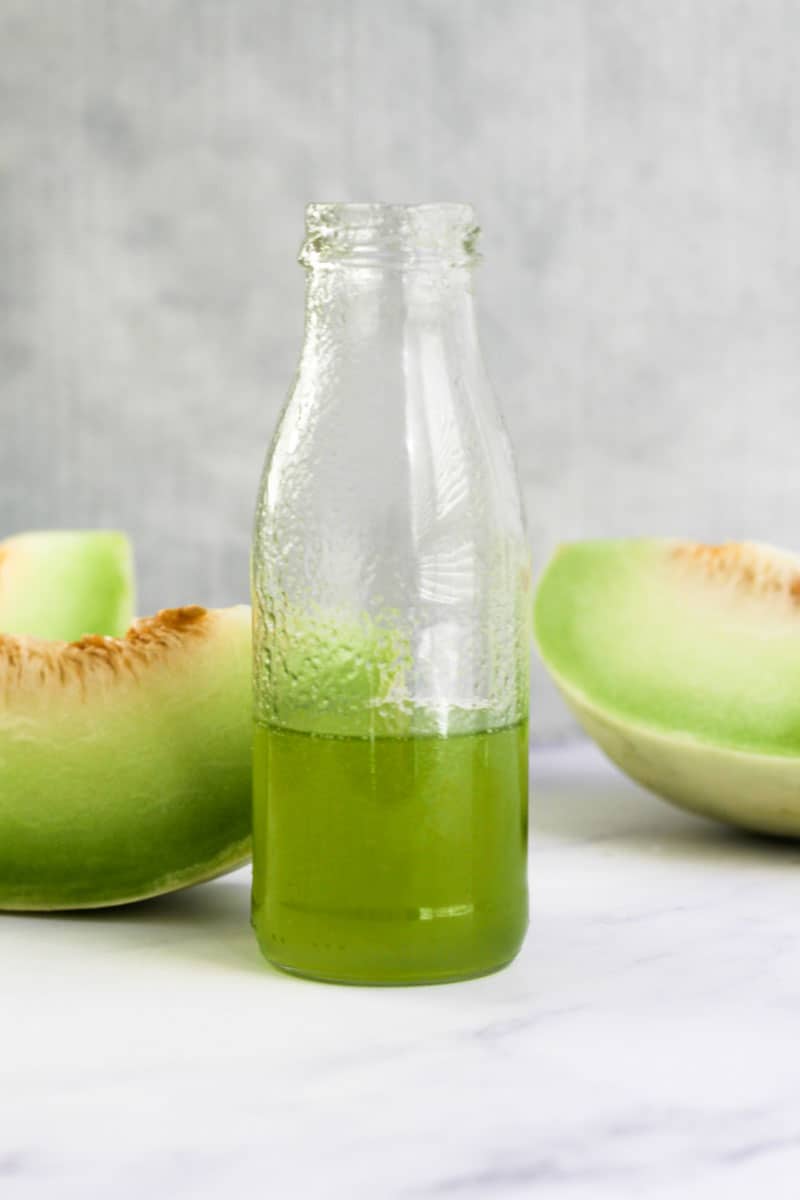 Where can I find Boba bubbles?
Most grocery stores stock them these days, but if you're having trouble finding them there check your local Asian grocer, you can also find and purchase them online.
Why this honeydew boba recipe is great!
Simple to make
Only used 5 main simple ingredients
Delicious and refreshing
Can be made in the comfort of your own home just like the bubble tea shops
Ingredients needed for Honeydew Boba Tea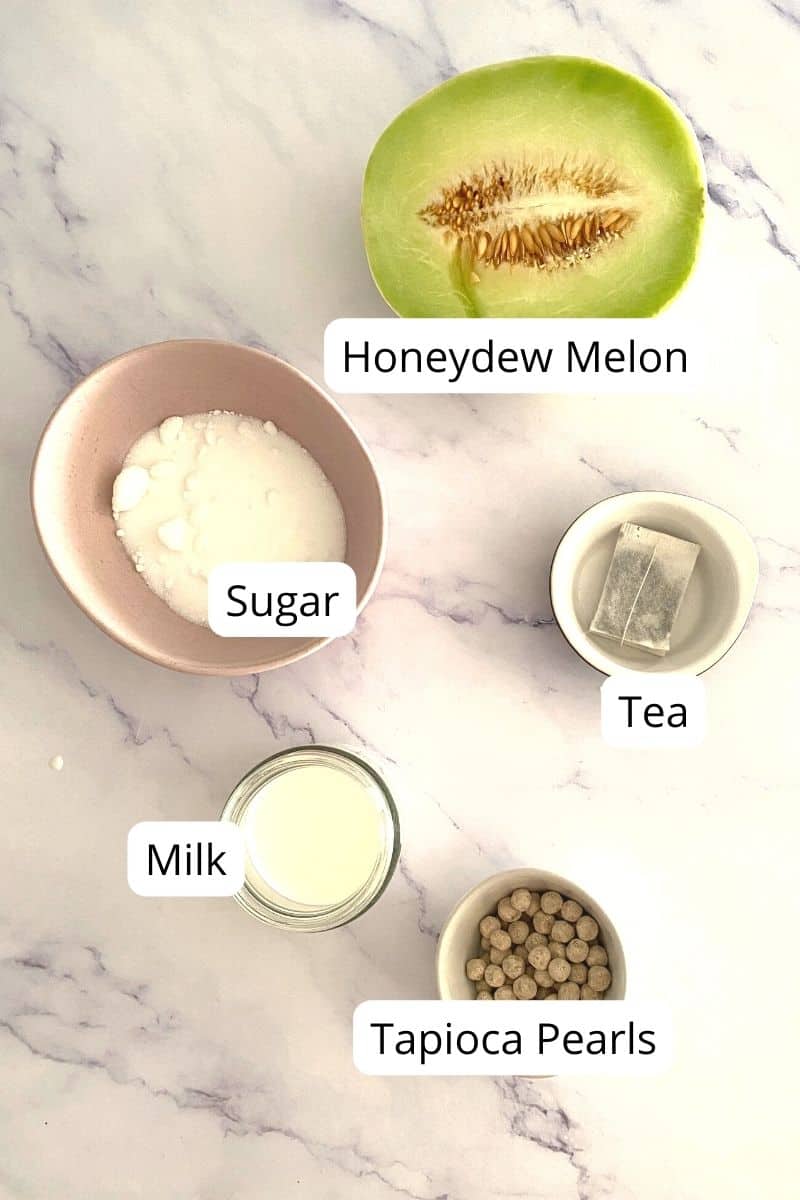 Honeydew – use fresh honeydew melon that is ripe – it should have a sweet smell.
Sugar – to make a honeydew simple syrup
Green tea – you could use jasmine or black tea instead
Tapioca pearls/boba – use quick cook or instant boba to make this even quicker and easier.
Milk – full fat milk is great, but you could use a milk substitute if you prefer.
Water (not pictured) – you'll need some to boil the boba and for the tea as well
Green food coloring (optional – not pictured)– this isn't necessary but I like to add a little to give that green color so it really feels like a honeydew drink, the syrup on it's own doesn't add a lot of color.
How to make Honeydew boba?
Full Honeydew milk tea recipe with amounts and instructions are in the recipe card below.
Make the honeydew syrup:
Blend a quarter of a honeydew in a blender, bullet blender or food processor. Place a sieve on a measuring jug and pour out the blended honeydew until you have 1/2 a cup. Place the honeydew juice and sugar in a pan over medium to high heat. Continue to cook until it boils and the sugar dissolves. Set aside to cool.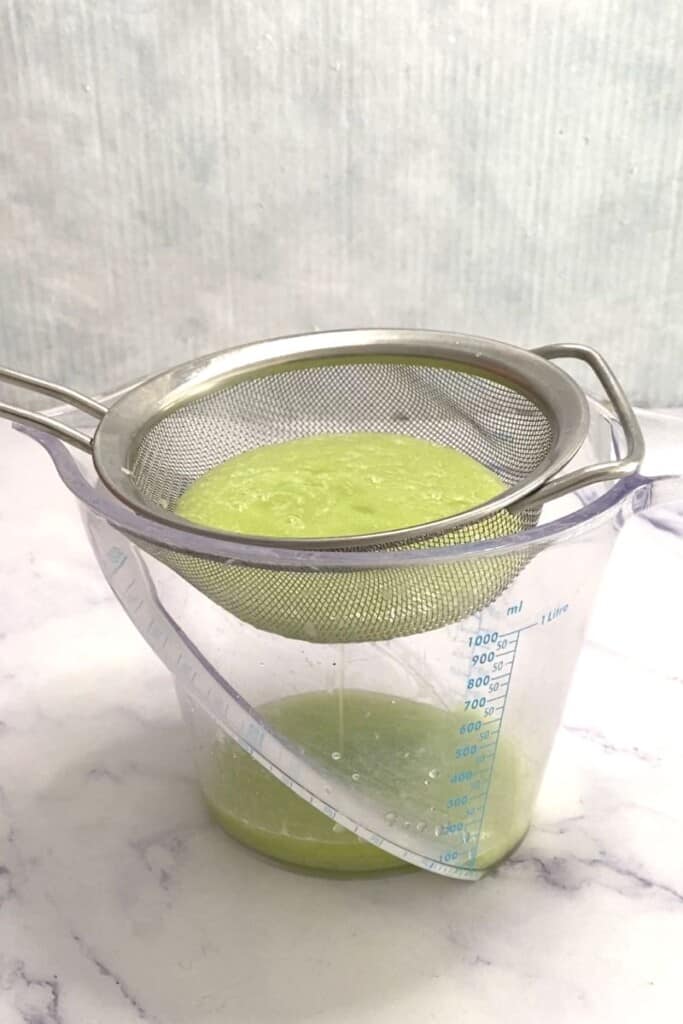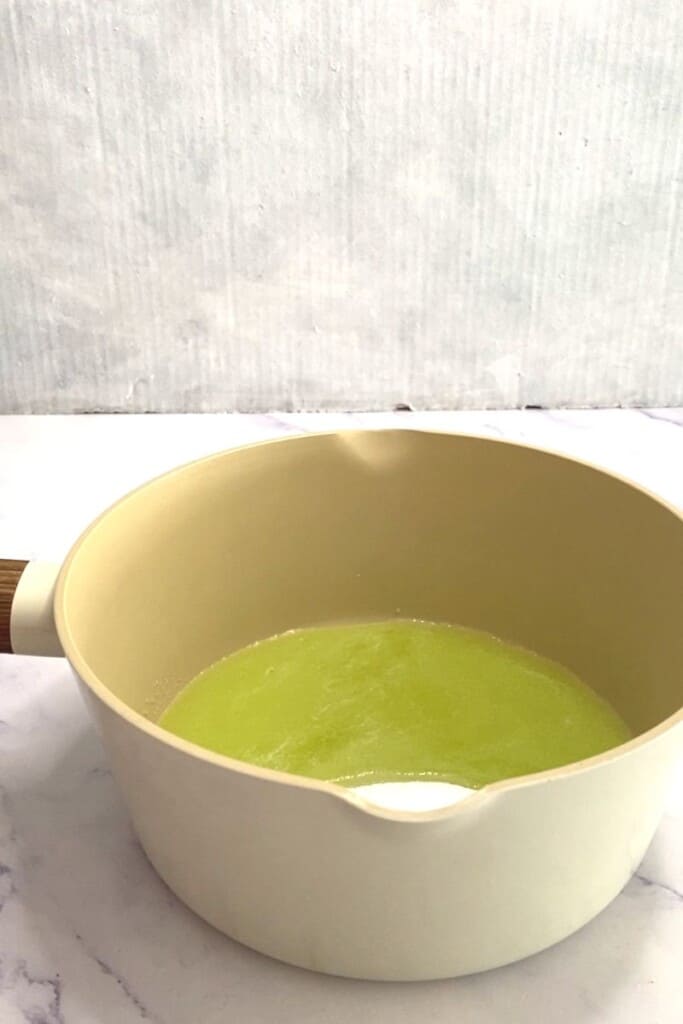 2. Make the boba:
Boil a few cups of water and place the boba inside to cook for 5-6 minutes then remove from water. Drain tapioca pearls and place in cold water so the boba doesn't continue to cook. These are my instructions but it's important to follow the packet instructions as every brand and type of boba is different.
3. Steep the tea:
Place the teabag into boiling hot water, let steep for 3 minutes then remove the teabag and set aside to cool.
4. Assembly:
Place the boba in the bottom of a glass (approx 300-400ml / 10-14oz). Top with the honeydew syrup and mix. Pour over the green tea and milk. Add in a small bit of green coloring if using. Stir. Add ice cubes for an extra cold refreshing drink.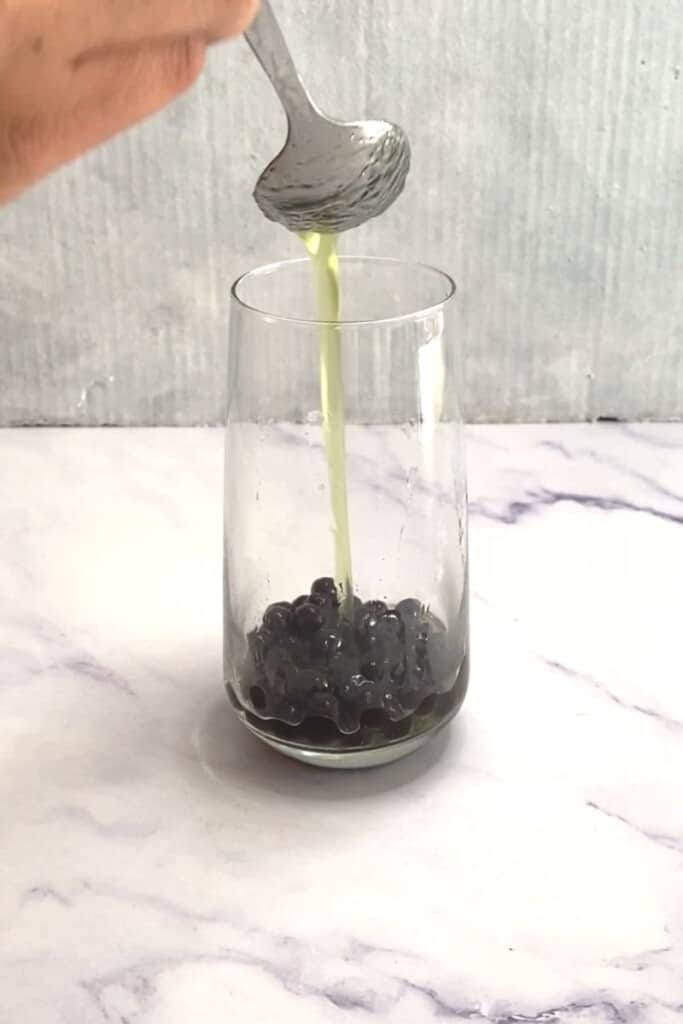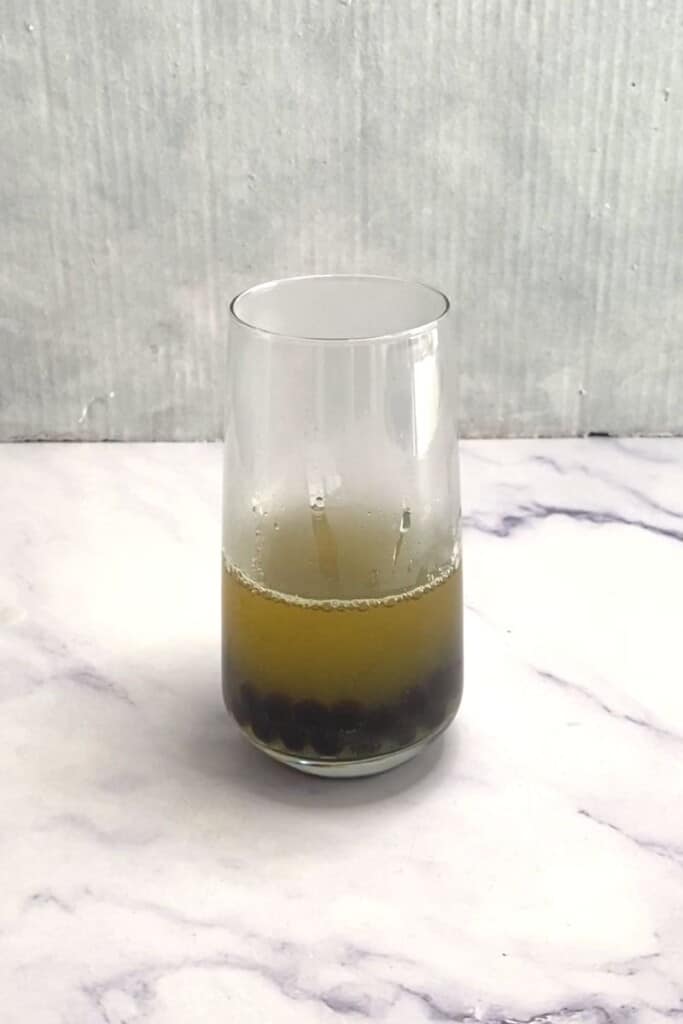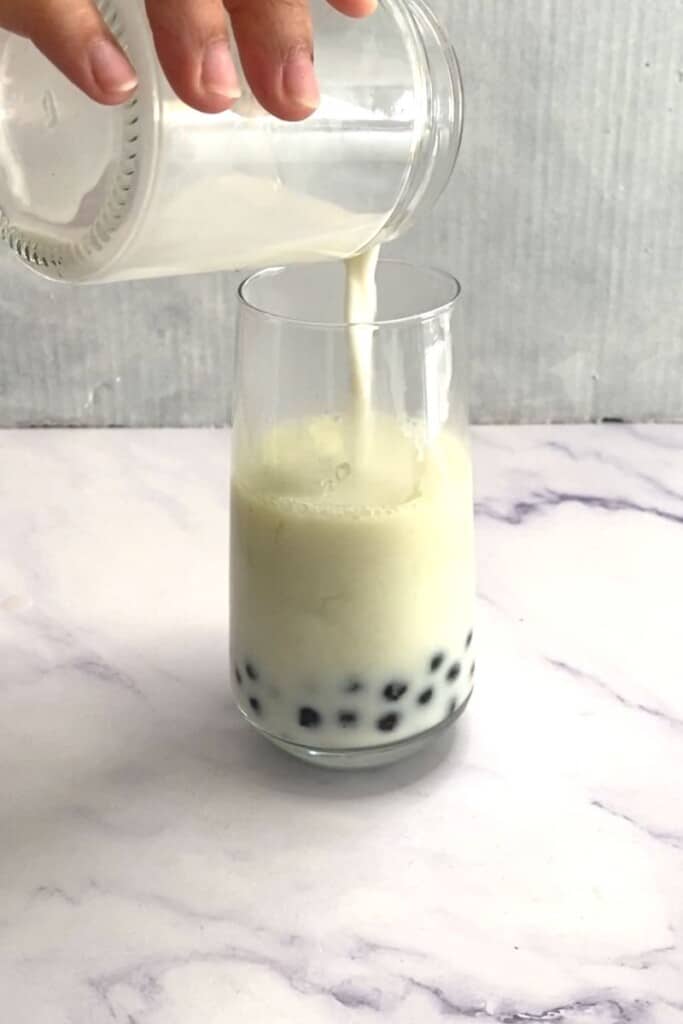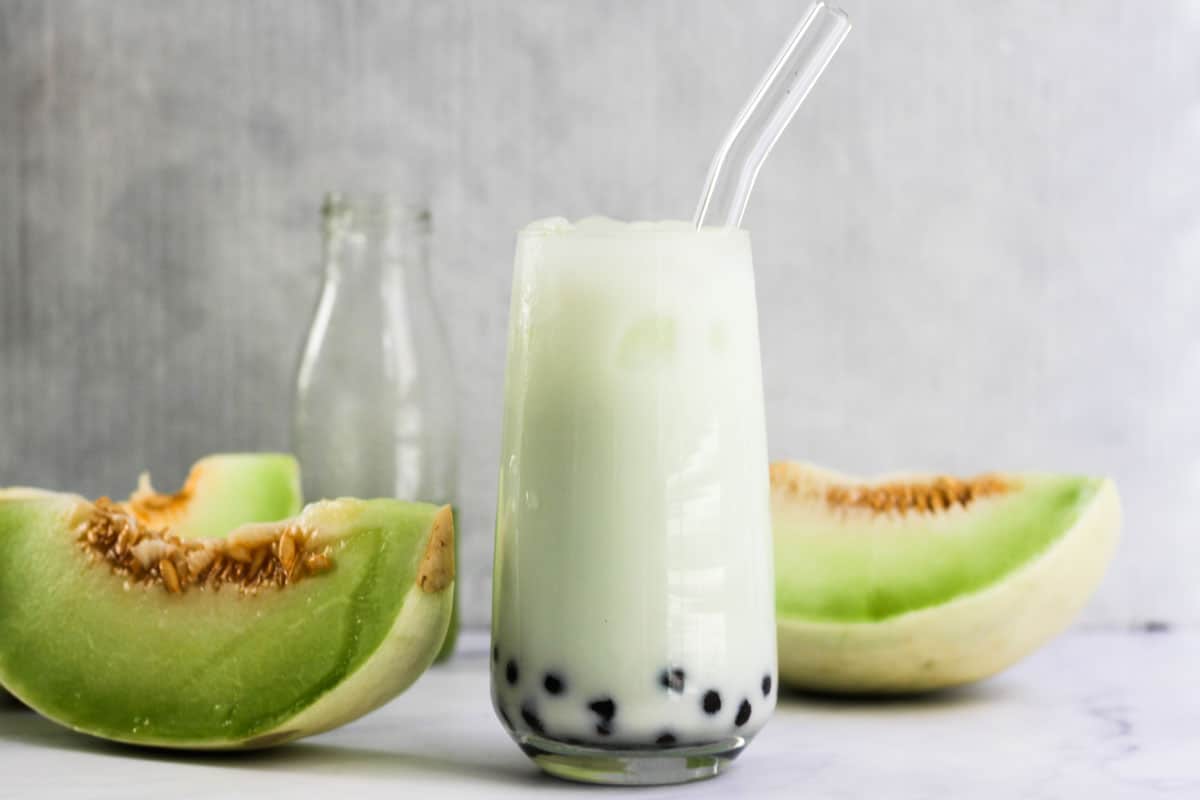 Best tips for honeydew boba
Use quick cook or instant boba, they usually have a 5 minute cooking time which makes for a quick recipe.
Don't overcook the boba as that can make it too soft. Follow the package instructions on the boba for best results.
Place the syrup onto the boba as soon as possible to sweeten the boba.
Use good quality green tea bags (or tea of your preference) for good strong flavor.
Best made right before drinking, you can steep the tea, and make the syrup ahead of time, but boba should be made right before using.
Substitutions and Variations
Use soy milk, almond milk, oat milk or other plant based milk for a vegan option.
Use your favorite tea, jasmine, black tea, green tea or even oolong tea. In fact you can use any tea you like.
This is a honeydew bubble tea recipe, but if you prefer a different flavor, you can use a different syrup you have on hand, or alternatively for plain milk bubble tea you could use a plain sugar syrup, brown sugar or maple syrup to sweeten the chewy tapioca pearls.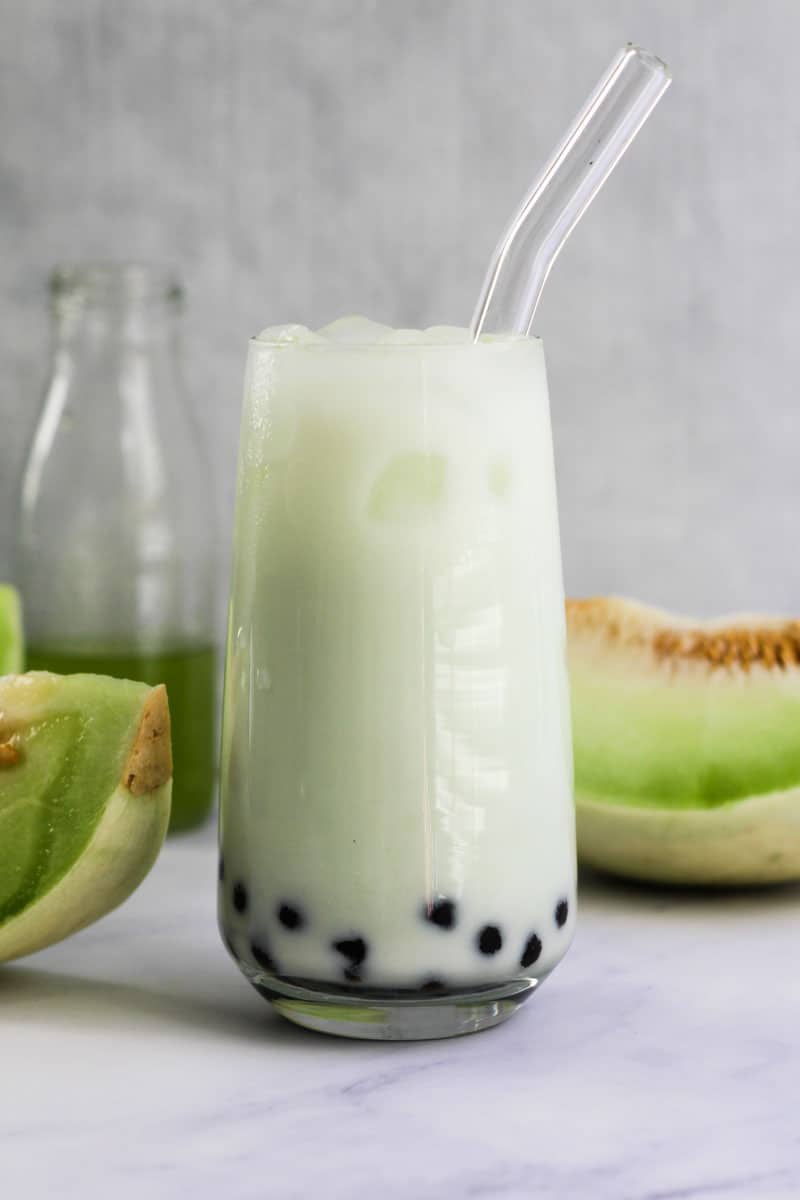 Frequently Asked Questions
Can I use a different fruit?
Yes, most fruits can be turned into syrups and used for boba milk tea.
How do I store honeydew milk tea?
It's best to drink this soon after mixing everything. However you can prepare the syrup and tea in advance, then make the boba fresh and add in the syrup, tea and the rest of the ingredients.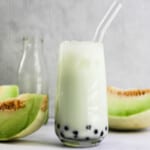 Print Recipe
Honeydew Milk Tea
Honeydew Milk Tea is a delicious refreshing drink. It only requires 5 ingredients and is a simple recipe that can be made at home.
Ingredients
Honeydew syrup
½

honeydew juice

blended from fresh honeydew

½

cup

sugar
Honeydew Milk Tea
¼

cup

instant tapioca pearls

2

tbsp

honeydew syrup

recipe above

1

green teabag

or other tea

½

cup

milk

1

drop

green food coloring

optional

water

for brewing tea and cooking pearls
Instructions
Honeydew syrup
Peel and roughly chop up approximately 1/4 honeydew and place into a blender or bullet blender.

Place a sieve on top of a measuring jug and pour the blended honeydew juice. Measure out 1/2 a cup of juice.

Place the honeydew juice with the sugar in a small saucepan over a low – medium heat.

Let the juice and sugar come to a boil and simmer for 5 minutes until the sugar has dissolved. Set aside to cool. You'll only need 2 tbsp for the bubble tea.

Store the remaining syrup in the fridge for 1-2 weeks.
Honeydew Milk Tea
Boil 1/4 cup of tapioca pearls in 2 ½ cups of water for 5-6 minutes until the boba have cooked, strain immediately and run cold water over the pearls so they don't continue to cook. (Always check the instructions on the packet and follow those for best results).

Place the pearls into the bottom of a tall glass (approx. 300-400ml).

Immediately place on 2 tbsp of syrup so the boba can soak in the flavor.

Pour over the green tea, milk. Add ice if you like.

Serve straight away with a wide enough straw. Enjoy.
Notes
Use quick cook / instant tapioca pearls. Follow the packet instructions for cooking the tapioca for best results and don't overcook the pearls.
Use good quality green tea bags.
Make and serve immediately for the best flavor. 
Top with ice for an even more refreshing drink.
Nutrition
By