One of the activities on our Hajj Activity list last year was to make sheep cupcakes, unfortunately we never got down to it. So, this year when an opportunity came up to write a post for Multicultural Kids Blog I thought why not make them. I searched Pinterest and Google to see what it offered in terms of sheep cupcakes and most results came back with cute little sheep covered in mini marshmallows. Now, mini HALAL marshmallows aren't the easiest things to find. We've been lucky a few times to have them at our local butcher but not this time. After putting a call out on my personal Facebook page, I realised there were many others in the same boat. So, I decided that I needed to come with some other ways to make cute little sheep cupcakes instead. I hadn't planned to re-invent the wheel on this, but it just seemed necessary.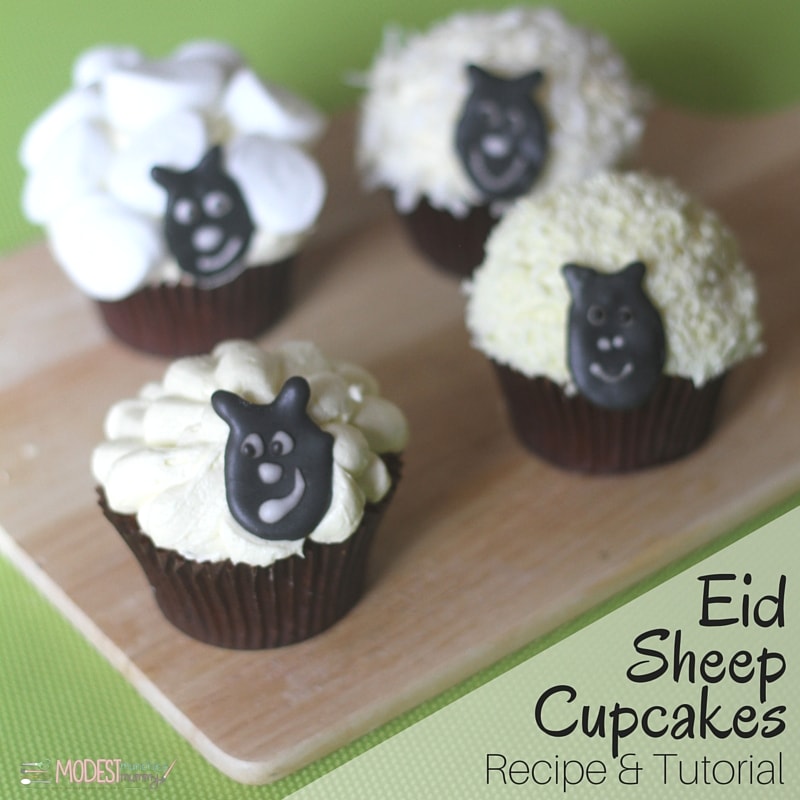 I made 4 different versions of sheep cupcakes, they all create the same fluffy effect. There's cupcakes covered in grated white chocolate, cupcakes covered in shredded coconut, cupcakes covered in marshmallows (the big ones – which are much easier to find) and lastly cupcakes frosted to look like wool. Of course if you can't find halal marshmallows at all, then just use one of (or all of) the other 3 versions and if you're lucky enough to find minis then use those instead. The faces/heads were created with royal icing, but you could use compound chocolate or candy melts instead. Click the image below for the template or here – Sheep head Template.
I even went so far to create a video tutorial. This is my first 'voiced' tutorial and I have to admit, I am a little nervous. I don't like the sound of my own voice, but I faced my fears just so I could better show you all how to make these cuties. The Eid Mubaaarak cupcake toppers are also free to download. You just need to print them out, cut them, stick onto some toothpick or lollipop sticks and place into your cupcakes.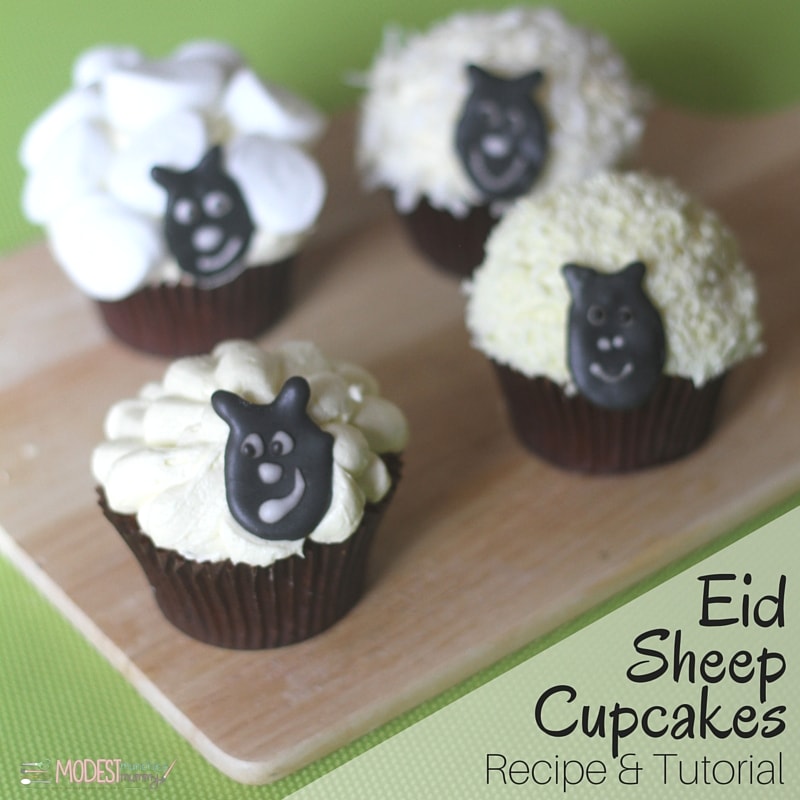 Print Recipe
Eid Sheep Cupcakes Tutorial
Ingredients
Vanilla Cupcakes
1 3/4

cup

+ 2 tablespoons flour

2

tsp

baking powder

1/2

tsp

baking soda

Pinch

of salt

3

eggs

1 1/4

cup

sugar

2

tsp

vanilla

3/4

cup

veg oil

3/4

cup

buttermilk

1/2

cup

milk
White Buttercream
250

butter

350

icing sugar

sifted

2

tblsp milk
For decoration
White chocolate

grated

White Marshamallows

Desiccated coconut or coconut shreds

White Buttercream/frosting

Royal icing sheep faces

prepared in advance
Instructions
Cupcakes
Pre heat oven to 180c and prepare your muffin/cupcake pans with cupcake liners. In a mixer combine your eggs and sugar and beat for about 1 minute. Add in your oil and vanilla and beat for another minute. Mic together your flour, baking powder, and salt and set aside, you can sift these if you prefer. Measure out your milks and set aside. Add in half the the flour mixture then half the milk then the rest of the flour and follow with the last bit of milk. Mix until just combined.

Fill cupcake liners until 2/3 full and place in the oven. Bake for 13-15 minutes. The tops will be slightly golden and the cupcakes will spring back if touched. Alternatively a clean skewer through a cupcake can be used to check if they're baked. Set aside your cupcakes to cool.
Buttercream
In the bowl of a mixer, place your butter and beat on a medium to high speed for as long as you possibly can. Anywhere from 5-10 is a good time. This will ensure a fluffy and creamer coloured buttercream (instead of a more yellowy one). Reduce the mixer to a very low speed and add in your sifted icing sugar. Beat until combined. Add in you milk and beat until combined.
Sheep faces/heads
Make some royal icing in black and white (you could also use compound chocolate). Pipe out the faces over the template and leave aside to set for an hour. Pipe the facial features on top and leave aside to set for 24 hours. Peel off and keep aside ready for use.
To decorate
Fill a piping bag with your frosting. Pipe a small dome onto the cupcake. Roll into coconut or grated white chocolate. Then pipe on a tiny dot of frosting and attach a face.

If making with marshmallows, cut them in half and place the marshmallows around the cupcakes. Leave a blank spot to attach the face. Alternatively you could just frost the cupcakes in a dome shape and attache the face. Or pipe around the cupcakes, starting at the edges dragging in and continuing the process for a few layers which creates a cloud like effect. Then attach a face.
By