You know when you're invited somewhere and you ask 'what can I bring?' and they say 'don't bring a thing'. Well this is what you 'bring'. These easy almond pastries, because I know a lot of us don't like showing up empty handed, especially to iftar invites.
I was invited out recently and I had about an hour before we had to leave, without much in the house I was able to whip these up, with time to bake, get myself and the kids ready and have time to spare. This recipe is inspired by Jamie Olivers Almond Pastry in his 5 ingredient cookbook. If you're familiar with frangipan (almond pastry filling), it's basically what it is.
Jamie uses whole blanched almonds in his recipe, but I made these with almond meal which is so much easier. You can just mix everything together instead of having to process it. My version also has a touch of vanilla for some extra flavour.
Print Recipe
Easy Almond Pastries
Ingredients
100

g

almond meal

1

tablespoon

thickened cream

75

g

icing sugar

sifted plus a little extra to dust

2

eggs

1

teaspoon

vanilla extract

3

sheets puff pastry*

*Australian puff pastry comes in square sheets approximately 24cm x 24cm. This easily cuts into 9 squares

8 x 8cm, making a total of 27 pastries.
Instructions
Preheat oven to 220c and line 2 baking sheets with baking paper.

Combine almond meal, icing sugar, cream and vanilla.

Beat eggs really well and reserve 1 tablespoon for brushing the pastry.

Add eggs into the almond mixture and mix thoroughly with a fork.

Cut each pastry sheet into 9 squares and make diagonal cuts on the edge of each pastry, moving from the corner to about 2.5cm/1inch in. Leave a space in the middle for the filling. Check out my post on

Instagram

for a quick tutorial on the folding technique. Or see below.

Place 1 teaspoon of filling into the centre of each pastry.

Take one corner of each diagonal cut and fold it on top of the almond filling, continue with the same corner for all pastries.

Bake in the oven for 15-20 minutes or until the pastry is puffed and golden.

Cool down completely and dust with icing sugar.
View this post on Instagram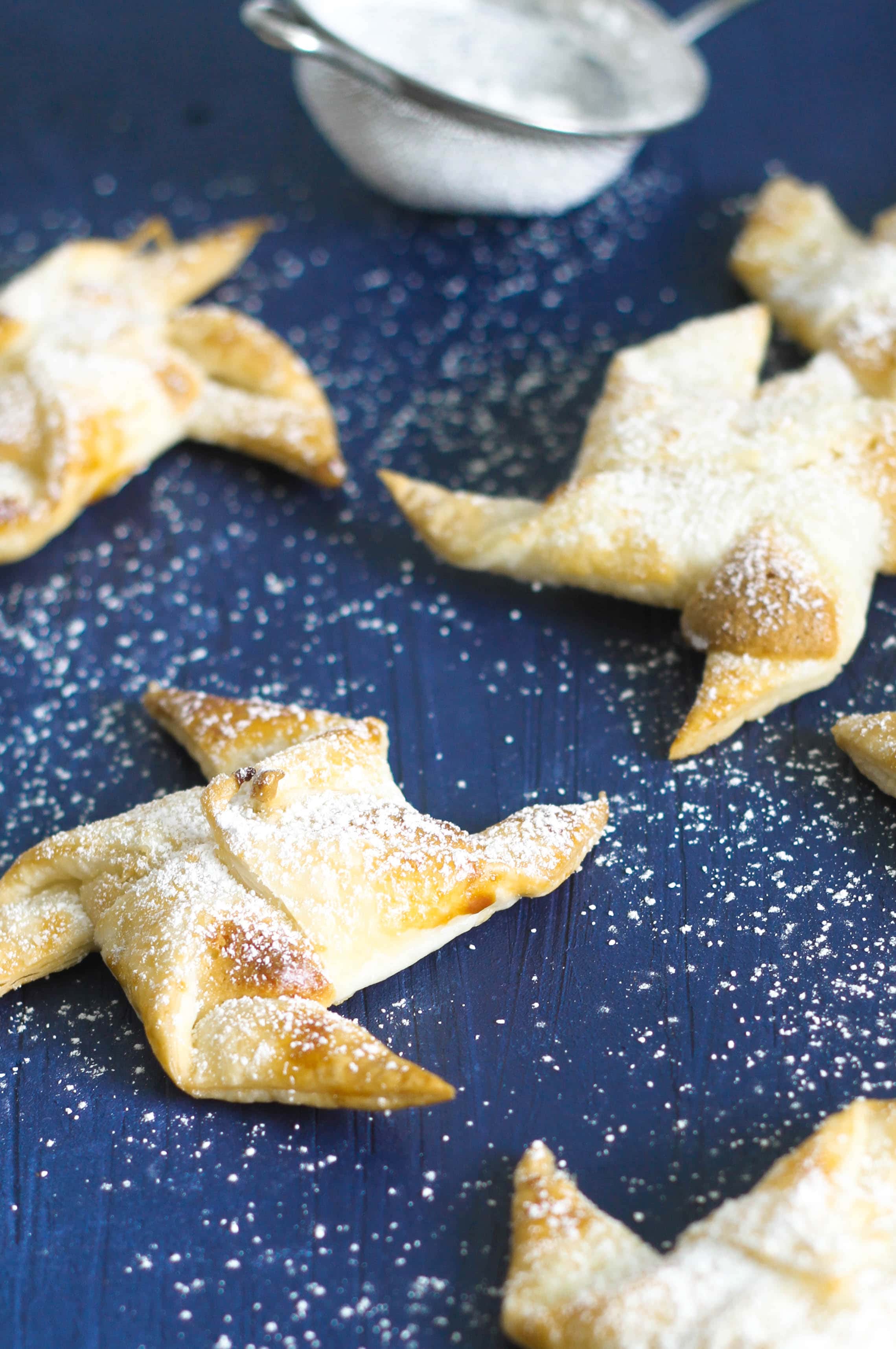 By