If you're a fan of Biscoff cookies, then these are going to blow your mind. These Biscoff Truffles are an amazingly rich and decadent treat. I'm sure you've heard of the famous Oreo truffles, well these are similar except we're using the new Biscoff sandwich cookies instead of Oreos. When I first saw the biscoff cookies they reminded me of Oreos and I knew the first thing I had to make were these Biscoff Truffles.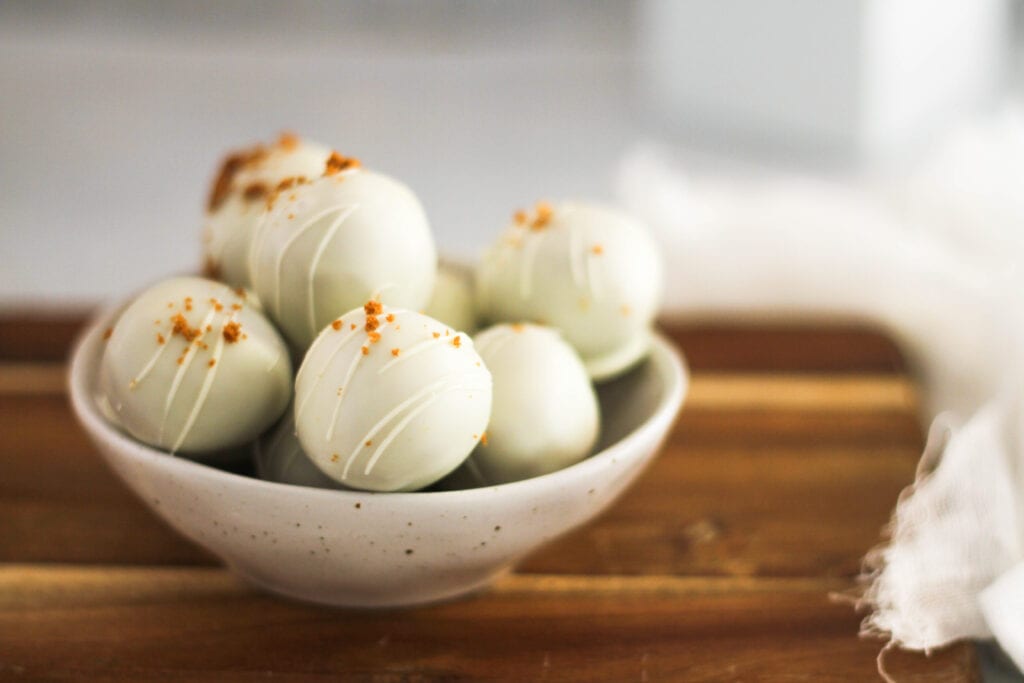 What is Biscoff?
Biscoff is a cookie spread made from speculoos cookies. The speculoos biscuits are also called lotus biscoff cookies or biscoff cookies. It is flavored with warm spices and has a toasty caramel like taste. The spread comes in smooth or crunchy just like peanut butter. This recipe uses the Biscoff sandwich cookies and not the spread, however if you have the spread on hand you can use it to decorate the balls.
Where can I find Biscoff Cookies?
Most grocery stores now sell Biscoff cookies, but if not you can find it at speciality confectionary stores, or even purchase online.
About this recipe Biscoff Truffle recipe
Uses 4 simple ingredients
Is so decadent and delicious
It is so easy to make
This is a no-bake recipe
Makes a great gift
Ingredients you'll need for these Biscoff Cookie Truffles
Full recipe, amounts and details for this Biscoff truffles recipe can be found in the recipe card below.
Cream cheese: full fat cream cheese is best, take this out early it is softened
Lotus Biscoff Cookies: the new filled sandwich cookies
White chocolate melts: compound chocolate
Oil: any unflavoured oil, like vegetable or even coconut works well if you don't mind the taste
Kitchen tools needed
Food processor
Baking tray or plate
Microwave safe bowl or mug
Parchment paper to line the tray
How do I make Biscoff Truffles
Start by taking out cream cheese so it is softened. Once softened you can get to work on the main part of this recipe.
Step 1: Crush the cookies
Place cookies in a food processor until they resemble fine crumbs, this is best done in a food processor. If you're in a bind you can do this by hand by placing the Biscoff biscuits in a ziplock bag and bashing it with a rolling pin.
Step 2: Add the cream cheese
Set aside 1 tablespoon on cookies for decoration. Add the softened cream cheese into the crushed cookies. Mix and mix and mix until the cream cheese is completely incorporated and there are no white streaks.
Step 3: Roll into balls and place in the freezer
Take about a teaspoon of the mixture and roll into small balls. Place the biscoff balls onto a lined baking tray or cookie sheet. Continue to roll until all the mixture is finished. It should make approximately 36 balls. Place the tray into the freezer for 15 – 30 minutes so they can firm up which will make them easier to coat in the chocolate.
Step 4: Coat balls in chocolate
Melt the chocolate in a microwave-safe bowl (or glass) in the microwave in 30 second intervals until almost melted, mix well until the melts are smooth and silky. Add a teaspoon of non flavoured oil to smoothen out the chocolate further. Remove the Biscoff cookie balls from the freezer. Place a ball on a fork and dip the fork into the chocolate, remove once coated. Gently tap the fork on the edge of the glass to remove any excess chocolate coating. Set the coated ball back onto the tray to set at room temperature
Step 5: Decorate
Drizzle any left over melted chocolate onto the balls and sprinkle with the reserved crushed cookies to decorate. Alternatively you can use melted Biscoff to decorate.
Tips for making these easy Biscoff Truffles
Melt the chocolate in a small microwave-safe bowl or mug so it's easy to dip the balls.
Use compound chocolate or candy melts that set at room temperature.
Variations
Use milk chocolate instead of white chocolate.
Add white chocolate chips into the mixture for white chocolate chip Biscoff balls.
Use melted Biscoff cookie spread to drizzle on the truffles instead of chocolate.
Frequently Asked Questions
What is Biscoff?
Biscoff is a spread made from Lotus Cookies. The original Biscoff cookies, spread as well as the new sandwich cookies are vegetarian. The cookies have a toasty, caramel flavour with notes of cinnamon.
Can you use normal Lotus Biscoff cookies to make these?
You could try, I haven't myself. The reason I chose the sandwich cookies is because I felt they more closely resembled an oreo style of cookie. I also think the filling helps with sweetness and texture.
Is it hard to make Biscoff Truffles?
Nope, they're pretty easy for such an indulgent treat. You only need 3 main ingredients and you're good to go.
Why do I need compound chocolate for the truffles?
Compound chocolate is chocolate that doesn't contain cocoa butter. This means that it is not real chocolate and therefore does not need to be tempered. Tempering is a tricky process and definitely not needed for a quick and simple dessert like this one.
How do I store biscoff truffles?
These can be stored in an airtight container for 1-2 days at room temperature or 3-4 days in the fridge. The chocolate may crack after the first day, however this doesn't change the texture or flavour.
Print Recipe
Biscoff Truffles
Lotus Biscoff truffles made with 3 simple ingredients including the new biscoff sandwich cookies.
Ingredients
36

Lotus Biscoff Sandwich Cookies

(approx 2.5 sleeves of cookies)

250

g

Cream cheese

(softened)

2

cups

white chocolate melts

(compound chocolate)
Instructions
Crush the biscoff cookies in a food processor. Or you can place them in a bag and use a rolling pin to bash them till they're finely crushed. Set aside some crushed cookies for decoration.

Place the crushed cookies in a bowl with the cream cheese.

Mix well with the cream cheese until there are no longer white streaks in the mixture. This may take a few minutes.

Take approx. 1 teaspoon heaps and roll into balls.

Place the balls onto a tray and place in the freezer for 30-45 minutes until they are firm.

When the balls are almost frozen. Place the white chocolate into a microwave safe bowl (or glass) and place in the microwave for 30 seconds at a time, mixing in between until melted.

Dip each ball in the white chocolate using a fork. Tap the fork onto the edge of the bowl to remove excess chocolate and place back onto the tray.

Drizzle any leftover chocolate onto the truffles and sprinkle with reserved crushed cookies.

Can be stored in an airtight container for 1-2 days at room temperature or 3-4 days in the fridge. The chocolate may crack in the fridge but shouldn't affect texture or flavour.
Nutrition
By