Ramadan is around the corner and I wanted to do something fun to get the cookie monster excited about Ramadan and Eid. He is already pretty excited, he even wants to fast (he's only 3, so I'm not going to force that one). Last year I made a Hajj Advent Calendar for Hajj and Eid-ul-Adha, it worked out so much better than I could've expected and it has motivated me to ensure I can make learning at home fun and exciting for him.
I've made a printable with all the things I would like to do with him this Ramadan. I've included a copy for all of you here if you would like to use this as well, the list is in no particular order. (I hope there's no typos)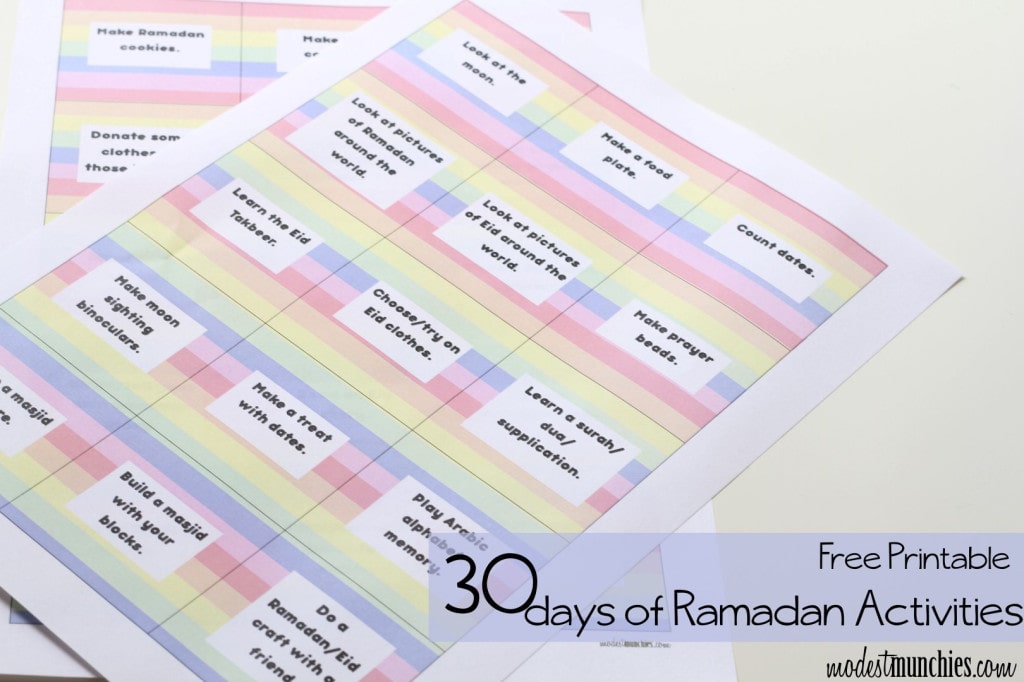 As you can see the they aren't numbered so I can choose them day by day as I see fit. I've also included this blank version if you'd like to print out the cards and fill them with your own ideas. I know these activity tickets don't have a Ramadan feel, but it's all I could come up with right now.
When I did the Hajj Advent Calendar, it was very rushed, I made it on the first day of Dhul Hijjah. I didn't have chance to come up with ideas to fill into the calendar, which meant a lot of lollies and cheap little toy cars. This time I wanted to fill the calendar with things that aren't material, there's crafts, games, colouring and more.
I'm including the list below and will update the list with links to that particular activity, either from my blog, other blogs or links to pics from my instagram and facebook accounts, as the month goes on. Be sure to follow! In the next few days I'll also be making the actual calendar and will try to get a tutorial posted up for that as well in shaa Allah.
Here's the list (in no particular order):
Make Ramadan Cookies – Day 6
Make Eid Cookies – This would have been Day 30, but who am I kidding? Did I honestly think I'd get to do anything on day 30? It's the day before Eid!
Donate some toys to those in need – Day 14
Donate some clothes to those in need
Donate some coins to those in need – Day 8
Plant some seeds – Day 17
Make an Eid Poster – Day 22
Make a Ramadan Poster  – Day 4 we made bunting, if you'd like to make it too, check out my post here for a free printable.
Write/tell your own Ramadan story – Day 15
Read a Ramadan story – Day 3
Read an Eid story – Day 21
Paint/colour a Ramadan Picture – Day 2 – There's a whole lot of options with this, just searching Google and even Crayola has some colouring pages. Our printer wasn't working when I needed this so I drew a picture instead.
Paint/colour and Eid picture – Day 23
Look at the moon  – Day 1
Make a food plate Day 13
Count dates – Day 10
Look at pictures of Ramadan around the world – Day 7
Look at Eid pictures around the world – Day 27
Make prayer beads – Day 25
Learn the Eid Takbeer – Day 24
Choose/try on Eid clothes – Day 26
Learn a surah/dua/supplication – Day 19
Make moon sighting binoculars – Day 29
Make a treat with dates – Day 5
Play arabic alphabet memory – Day 28
Build a masjid with your blocks – Day 9
Here are some other ideas I just absolutely love!!

Amnah from littlelightofmine.com created these gorgeous Ramadan baskets for her girls as well as this Ramadan Bucket List. I adore the bucket list idea and think I will implement it when the kids are older. I also found some great ideas on this blog, on this facebook page and more ideas here and here. This is not an extensive list by any means, just some I've seen recently. If you've seen some interesting stuff around, post the link in the comments 🙂

By