I teased you with this Baklava Cheesecake in my last post. Well here it is. Let me start with a warning: This cheesecake involves a lot of steps. Let me say that again, A LOT OF STEPS. You might even get lost in this recipe. However, if you're up for a challenge and want to go for it, I won't be stopping you! Trust me, it's worth it.
On a small side note, this version (pictured above) was great, but I modified it slightly to take that great to amazing. So yours might not look quite like this one, but it will taste even better. The recipe below will give you a slightly thinner base, a higher, fuller cheesecake filling and the topping and pastry will be sweeter and just as delicious looking. I used digestive biscuits, but a plain dry sweet biscuit would complement this cheesecake just as well.
The great thing about this recipe is that it has all the full flavour of baklava (plus cheesecake) but doesn't feel as heavy. The cheesecake is deliciously creamy and the addition of yogurt really gives balance to the flavours.
I would give you a warning about calories, but I it does't seem like an ideal thing to give 2 warnings in one post. So, how about I just tell you that these are special occasion calories. You know the kind, the calories we totally ignore when special occasions roll around. You could make this on a special occasion like Eid, a birthday or Monday, because Monday's are special occasions, don't you think?
This cheesecake was inspired by this picture on Instagram from Amnah (of Little Life of Mine). At the time of posting I had no idea she had a recipe too, If I had I probably would have just used that instead. Go over and check her recipe out, it looks amazingly delicious.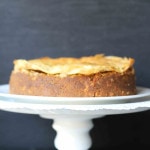 Print Recipe
Baklava Cheesecake
Ingredients
Base

200

g

digestive biscuits

75

g

butter

Nut Layer

1/2

cup

pistachios

3/4

cup

almonds

1/2

cup

cashews

2

tblsp castor sugar

Sugar Syrup

1/2

cup

sugar

3/4

water

Few drops lemon juice

Cheesecake Filling

500

g

cream cheese

3/4

cup

castor sugar

2

eggs

1/2

tsp

vanilla essence

3/4

cup

yogurt

Fillo Top

50

g

butter

2

sheets filo pastry
Instructions
Base and preparing the nut layer

Preheat your oven to 170c and remove the filo pastry from the fridge so it will be defrosted and ready to use in time (you may have to take these out earlier). Crush nuts until fine. Reserve 1/2 a cup aside to be used with the base. Add castor sugar to the remaining nuts and mix. Prepare a 20cm springform pan by laying the bottom with baking paper and greasing. Crush the biscuits and melt the butter. Add biscuits and the reserved nuts to the melted butter. Mix well and press into the springform pan. Be sure to press into the base and up the sides. Refrigerate while preparing the filling.

Cheesecake Filling and Filo Top

Whip cream cheese with sugar until smooth. Add in eggs and vanilla and whip until combined. Add in yogurt and mix again. Pour onto base and place in the oven for 25 minutes.

Remove the cheesecake from the oven and gently top with the nut mixture. Fold your filo sheets in half and place on top of the nuts (you should have 4 layers of pastry). Trim off the edges so the filo fits into the pan. Melt butter and spoon onto each sheet of the filo. Place in the oven for a further 20-25 minutes or until the filo is lightly golden.

Sugar Syrup

While the cheesecake is in the oven get your sugar syrup ready. In a small saucepan on the stove, mix together the water, sugar and lemon juice. Cook on a medium heat until thick and syrupy. It will thicken more as it sits.

Remove the cheesecake from the oven and pour over your sugar syrup. Set aside to cool completely. Remove from pan and refrigerate for a few hours or overnight. Remove from fridge 15 minutes before serving.
By